How to Play Blu-ray Movies on Android Smartphone/ Tablet
Nowadays, Android smartphones and tablets with bright advantages have hit the most part of electronic market, a big rival to Apple. While you may stream movies and TV shows online, sometimes you probably want to get Blu-ray movies you already had played on your Android device. However, things can be tricky as neither your Android phone nor tablet has support of Blu-ray playback natively.
Well, it is not a hassle any more. To make the Blu-ray movies playable on your Android smartphone or tablet (Samsung, LG, Sony, Huawei, Motorola, ZTE, Google Pixel, HTC, etc.), the crucial thing you need to do is extract the film out of the Blu-ray disc and convert into a Android readable format before transferring to your device. In this case, an excellent Blu-ray ripping tool, Blu-ray for Windows (for Mac), will be introduced for your conference in this topic.
Blu-ray Ripper is an all-in-one converting tool that is specialized in removing the protection restrictions to extract the movies off Blu-ray and DVD disc and saving them in all proper formats for any device required. With its in-built editor, you are allowed to manage the movie content easily in the way you like: file merging, media editing, 3D movie creating, parameter adjusting, etc. Importantly, Blu-ray Ripper comes with several device-targeted presets, which are especially useful for those who want to get their movies onto portable mobile devices without fiddling with the conversion settings.
It should be pointed out that Android platform accepts MP4, 3GP, WebM, MKV media formats. The following step-by-step tutorial will walk you through how to rip and convert a Blu-ray to MP4 video for Android handset or tablet. Before we get started, download and install the program on your computer.
Related Article: How to Edit a Blu-ray in Adobe Premiere Pro Application
Step 1: Load Blu-ray Movies to the Blu-ray Ripper software
Place the Blu-ray disk into the drive and open up the program, the application will take a few seconds to detect and open the BD source.
Click Add Blu-ray/DVD (1#) on the top left side of the interface to import the Blu-ray content. After loads, the titles along with correlative details will be presented on the main area of the interface, and it should then bring you to a screen that looks like this:
Or you can easily drag and drop the Blu-ray file into the designated area of the program.
Blu-ray movie might contain several subtitle and audio tracks in one single title, you can choose one desired track for each title in Subtitle/ Audio box.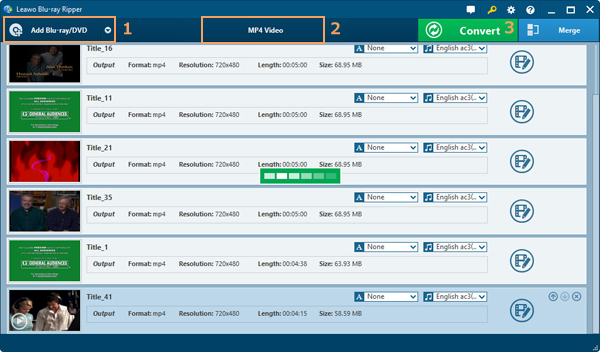 Step 2: Select suitable output format for your Android smartphone or tablet
Now comes to the more complicated yet critical part of the process - defining the output preferences. Hit MP4 Video button (2#) on the top middle of the interface. A pull-down box with three options is displayed as follows: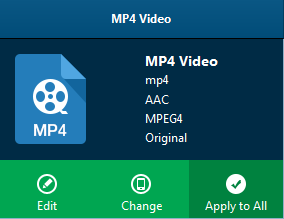 By default, MP4 Video is preset by the utility, which is accepted well Android devices.
The Change option will lead you to the Profile panel. Now you should see a host of sorted format profiles. To play Blu-ray archived movie on Android phone or tablet, you could go Format > HD Video > HD MP4 Video as output format.
Optional: In Profile panel, there are different kinds of streamline pre-defined device profiles listed under Device tab. That said, no matter what Android samrt phone or tablet you carry with, you're free to choose the suitable one according to your Android model.
See next: How to Play Blu-ray movies on iPhone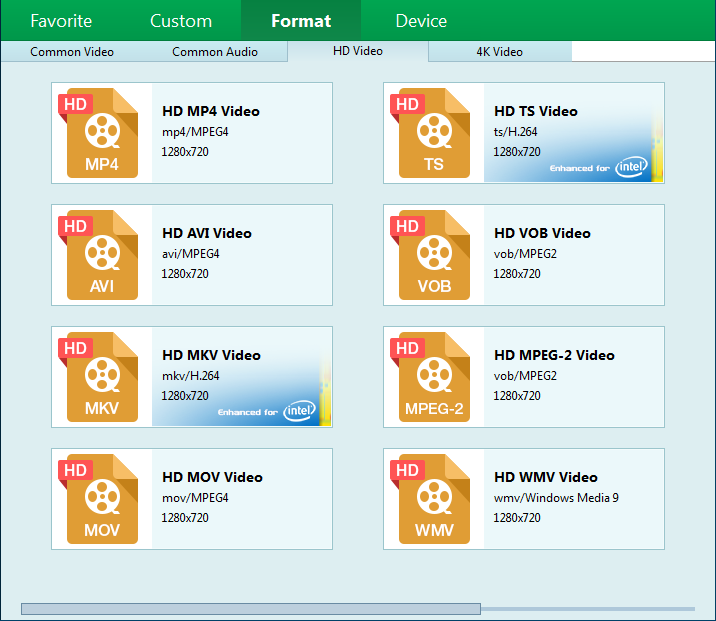 After selecting a format, you could choose to go back to main interface and proceed the next step. Alternatively, you still have some settings to tweak. Simply press the pen icon at the upper-right corner of the decided format and all the compression codecs for audio and video (video codec, bitrate, resolution, frame rate, aspect ratio, audio channel, codec, etc) is available for personal preference in the Profile Settings panel.
Tip: Resolution will affect the vidoe output size pretty heavily. By default, this utility will keep 1080p natively. However, you may want to downscale to 720p, which is still HD movie but takes up quite a bit less space, then you could change into 1280*720 in the Resolution drop-down list.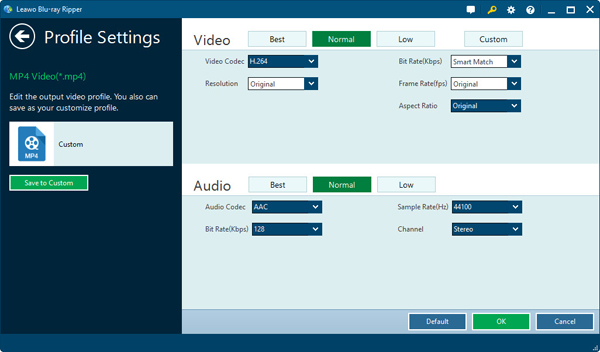 Step 3: Start converting Blu-ray for Android tablet and phone
This step is the simplest, just click green button Convert button and the software should automatically convert your Blu-ray into MP4 video that's playable well on Android smartphone or tablet.
Usually this'll take some time or so, depending on the size of your disc, but once it's done you should have a MP4 file waiting for you in the folder you've chosen.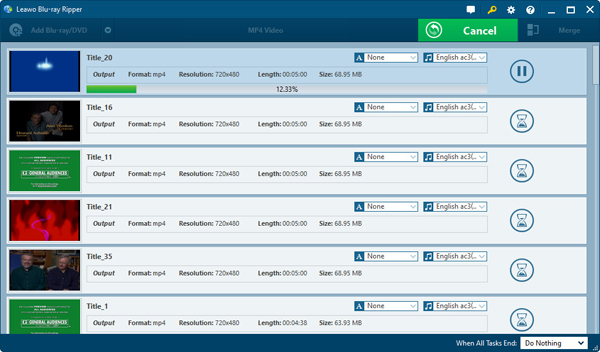 Open output directory folder to locate the new created MP4 files, then you could connect your Android devices with your machine via USB cables and easily transfer resulting fiels, ready for viewing on your Android devices for more enjoyment on the go.
In this way, this is intended to be a fairly simple, hassle-free guide for people who want to get their Blu-ray movies playable on Android gadgets. For more purposes, doing further edits on Adobe Premiere for instance, you can also rip and convert Blu-ray files directly to it without hiccups. Related Guide: How to edit Blu-ray movies with Adobe Premiere