How to Convert Blu-ray Movie to Xvid File on Mac and Windows
With the popularity of internet and smartphones, people have already changed their way of watching movies. Let's say you have a bunch of Blu-ray discs, whether you bought them online or you got them from your friends. What are you going to do with them? Just leave the Blu-ray discs untouched or throw them away? But there are other ways you can handle this. You can rip the Blu-ray movies to Xvid video for playback on your device.
Looking for an easy way to liberate the interesting movies from your Blu-rays to save in Xvid so that you can indulge yourself in the stirring movies on your handset (Smartphone, iPad or other portable devices)? Now, please pay your attention to Blu-ray Ripper and see how it works.
Blu-ray Ripper does what its name indicates. Breaking the encryption on Blu-ray and converting movie to Xvid video file or any other digital format (h.264, mp4, avi, mov, mkv, etc.) is the job that belongs to it. In addition, there are some interesting configuration options available for you to fine tune the output settings to produce the desired results.
If this is your first time to rip a Blu-ray to Xvid video, it is advisable to follow us through the following instructions with three basic steps.
You have a large number of DVD discs lying on your bookshelf? Why not rip them and create digital copies of the movie that you'll be able to transfer them onto your phone or tablet to watch while traveling. Check out how to rip a DVD and convert into MP4 video file.
Step 1: Load Blu-ray files
Prepare a Blu-ray disc and insert it into the Blu-ray drive.
Fire up the application, and you'll be presented with a simple startup interface which helps you quickly get to new ripping projects you'll be working on.
First, import the movie titles that you want to rip over to Xvid onto the software either by clicking "Add Blu-ray/DVD" or by drag-and-drop feature.
When it is done with loading movie chapters, you can see them arranged longitudinally on the interface. At the far right side of the title, you will find the subtitle and audio track boxes which allows you to select the subtitle and the language of audio track in the manner you like.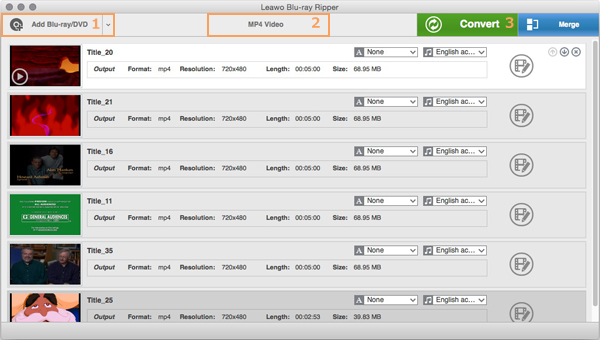 Step 2: Select an output format that uses Xvid codec
Move your mouse cursor pointing to "MP4 Video" on the center of top bar, which is the default output format for the first time you use the Blu-ray Ripper software.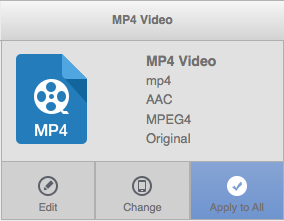 Click the "MP4 Video" option and this will bring up a drop-down menu. You then click the "Change" option in the menu
On the next window that opens, select a profile as output format under "Format" tab.
It is worth bearing in mind that Xvid is just a codec using to encode video in container format, so here you need to choose a format profile that supports Xvid codec. Depending on your convenience and requirement, you can select from many of available formats like MP4, AVI, MKV from the window .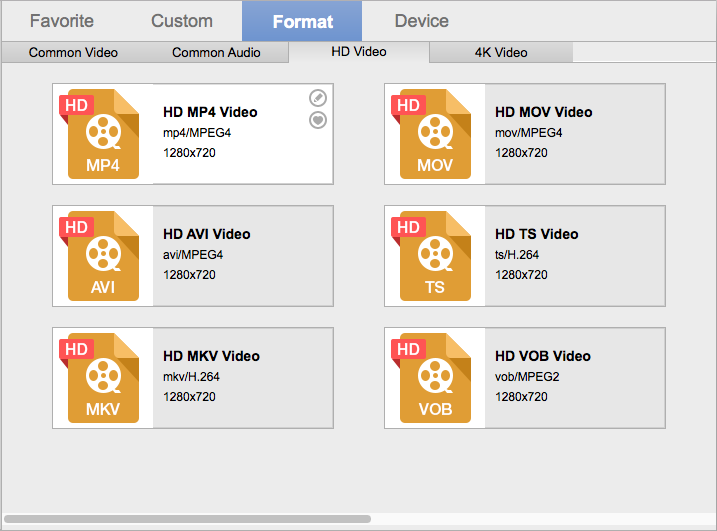 Next, click the PEN icon at the upper right corner of your selected format to get into the Profile Settings window. From there you set the value towards Video Codec to Xvid. Similarly, you can modify other parameters such as resolution, bit rate, frame rate if you know what you're doing.
BTW, you can save the customized format as a custom for regular use.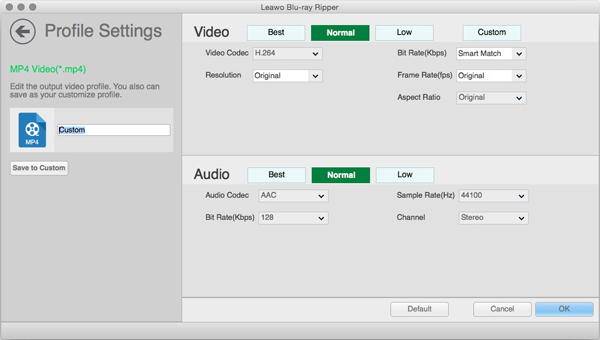 Step 3: Begin converting movie from Blu-ray into Xvid video file
Before you begin getting Blu-ray movies into Xvid file on your machine, please specify a path to save the converted files.
Click the "Convert" button and this will open up a dialog box prompting you to choose a path under "Save to" field to save your movies to.
After that, hit the "Convert" button again in the dialog to kick off the conversion process. You can monitor the process through the progress bar.

By and large, Blu-ray Ripper converts your videos in a very fast way. But if your movies are very lengthy, the process might take a little longer. You could take a cup of coffee as you wait.
In this way, your Blu-ray has been converted to Xvid video files. Now you can pick up a USB cable to load into your devices with these thrilling movies or just watch them on the computer. Have fun!