How to Reset Windows 10 Password (8/ 7/ Vista/ 2012/ 2008/ 2003...)
I bought a HP Pavilion computer half a year ago, unfortunately, I have forgotten the password of my Windows 10 local account, I have tried everything to get into my computer, it failed. Is there any way I can bypass the login password and regain access to my locked account on computer without my files lost.
Microsoft Account vs. Local User Account
Microsoft Account, ever called "Windows Live ID.", is a user account that provides access to all of Microsoft services like Outlook.com, Xbox Live, OneDrive, Windows Phone, Skype, operating systems (Default in Windows 8 and later). When you set up your Windows 10 login connected with MS account, every time you access to your computer, you will find that all the MS features and Apps come alive. While for Admin/ local user account, it is a user account that lets you sign in to Windows OS, and make changes like software installation in computer. See more the difference between them at here.
Reset the Password for a Windows 10 Microsoft Account
The method to bypass a Windows 10 password depends on the account type. If you use a Microsoft account to sign in Windows 10, generally, things get easy. What you need is go to the web page Reset your password - Microsoft account and follow the on-screen instructions to reset your password.
Reset the Password of Your Windows 10 Local (Administrator) Account
Instead of signing in to your computer using a Microsoft Account, you might prefer to use a traditional Windows local account. In that case, the officially way to reset a windows 10 (administrator) password is use a password reset disk you created previously(!). At the Windows 10 login screen after you typing wrong password, a link with the text "Reset your password..." will appear, click the link and insert your reset disk, follow the wizard (few clicks) to complete the process.
We have to admit this is a really convenient and quick way for you to reset password whenever you forgot Windows 10 login password. However, if you don't have one that disk, how can you get access to computer desktop again without formatting and re-installing the operating system?
The Third-party Software - Windows 10 Password Reset
If neither of them works, don't worry, there's always a solution to solve the problem. In today's discussion, we'll use a program named Spower Windows Password Reset to reset your password on Windows 10 if you have forgotten. It's a clean and lightweight tool that works for all versions of Windows. It's capable of resetting Windows domain & local Administrator and regular user password quickly, and supports creating/ deleting account. The program comes in 3 versions: Pro, Ultimate and Special version (Comparison here).
NOTE: this method applies to Windows 10 local account only, it does not work for Microsoft Account. If you lost password of your Microsoft live account, you'll need to get help from Microsoft Official online.
The following will show you how to reset lost Windows 10 password and log on with a blank password. The process of reset your password in Windows 8, 7, XP, 2012, 2011, 2008, 2003, etc. is much the same as it has been in Windows 10. Let's begin:
Step 1: Open the program and create a password reset disk
Download the program and install on an accessible Windows computer. Fire up the application, you'll be greeted with an easy-to-understand interface as shown below:
To create a Windows 10 password reset disk, you'll need a USB flash drive or CD/DVD. Here we are going to use a USB drive for example to run the process.
Plug your USB flash drive into your computer's available USB ports, and then click the blue "USB device" button to create a bootable USB drive. The process of creating a password reset disk will be finished in about one minute.
Step 2: Set your computer BIOS if necessary
Since the problematic computer boots from the Windows normally every time you turn on it, you will have to change the boot order option on BIOS Setup to boot from the Windows 10 password reset disk.
1) If you're using a computer with Windows 10 preinstalled – it shoud use UEFI firmware, the replacement for legacy BIOS, you have to access the UEFI BIOS and disable Secure Boot, then follow the commonl way to set legacy BIOS to boot from CD/ DVD or USB drive.
2) However, if you've installed Windows 10 on an existing computer (e.g. upgrade from Win 7 to Win 10) that uses the legacy BIOS, you can simply follow the article about how to set legacy BIOS to boot from CD/DVD or USB drive.
Step 3: Reset Windows 10 administrator password or common user password
Save your settings you set up in BIOS, it will automatically boot your locked PC from the bootable Windows 10 reset password USB drive. The program starts working to detect users and their attributes, and then display information on the screen. You should eventually see the screen like something shown below.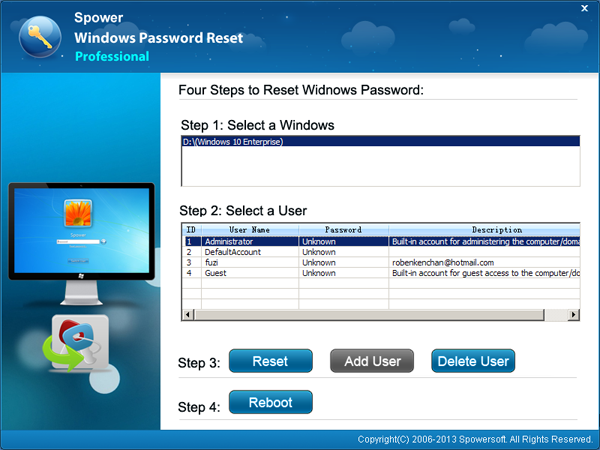 Next, select Windows 10 system, and an target Admin or common user account you want to reset password, and click on the "Reset" button, you're done!
After that, press the "Reboot" button on the screen, and then remove the USB drive (important!) from the USB port of computer. The computer will start "normally" and enter the Windows login screen without password.
The process of resetting forgotten Windows 10 password will take a few seconds. It should be noted that in Windows 10/ 8/ 7/ Vista/ XP, the password of target account will be set to blank (empty password) after the process, while it would be Spower@2011 by default if you're resetting a password in Windows Server 2012/ 2008/ 2003/ 2000.
That's it. It's that simple!
Now you have full access to your Windows 10 computer again without password.
How to Delete a password or create a new account (Special version only)
Aside from resetting a password of an administrator or regular password on Windows 10, the Special version of the program also allows you to add a new account to the administrator group or common user group, and even delete any of accounts of your choice.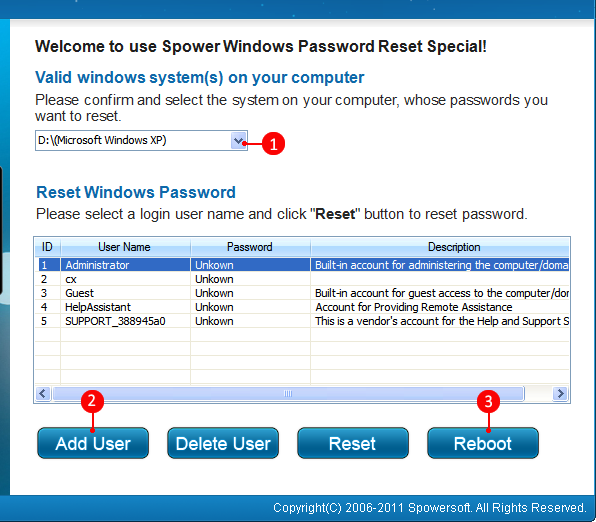 List of computer brands Supported


















More Related to Windows 10 Password Reset