A Quick Way to Move Contacts from One iPhone to Another
Nowadays, some users switch their smartphone in order to keep abreast of the latest development in smartphone technology while others change their smartphone because their old phone has just died, hence the need to get a new one. Among the multifarious types of smartphones, a series of new iPhone (i.e. iPhone 7) released by Apple every few years always capture most users' attention, triggering snap-up on a large scale. Upgrading to a brand-new iPhone is delightful, but one of the biggest complaints from iPhone users is how can you transfer contacts between two iPhones.
Contacts in our smartphone is a must for our social network, whether we are calling or texting our friends. When you upgrade to a brand-new iPhone, I believe contacts is on the top of your to-do lists when you transfer stuff from old iPhone to new iPhone. You may get cold feet at the overwhelming task of moving countless contacts. The good news is that Phone Transfer has you covered!
With Phone Transfer, it is as easy as 1-2-3 to migrate your contacts from one iPhone to another. You just connect your both iPhones to the computer, select contacts from the old iPhone, and press Start Copy button to transfer over to your new iPhone. The entire contacts migrating process is quick and seamless. Plus, You can even transfer other content such as photos, music, videos, calendars, text messages from iPhone to iPhone, between iOS and Android.
In the following guide, we're going to show you how to move contacts from one iPhone to another iPhone on a Mac machine. You can also download the software on your PC's to get the job done.
Related Article: How to Migrate Data from iPhone to Android Phone
Step 1: Plug your both iPhones into the Mac
Fire up the software, you will see a simple and concise interface. Choose the phone to phone transfer mode and go on to the next step.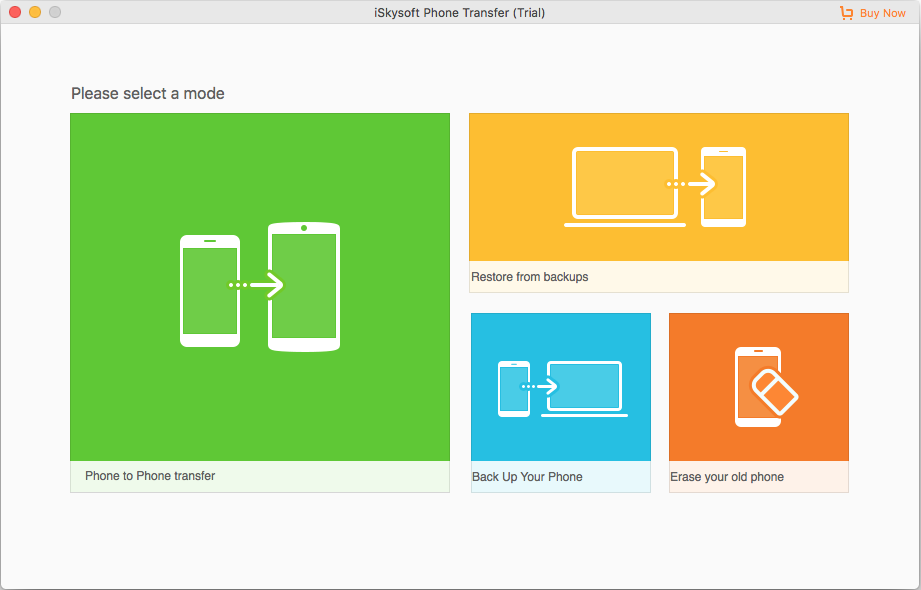 Step 2: Choose contacts option from the scanned list
Use supplied USB cables to hook up two devices with your computer. Tap trust on home screen of iPhones to grant access.
The program identifies the two devices and display them on the both sides of the screen. You can click Flip button to switch their positions (Source and Destination).
When you have the old iPhone in the Source position, the program will start scanning it automatically and return a list of transferrable items in the middle box: contacts, text messages, photos, videos, music, calendars.
In this tutorial, we just tick Contacts option for transferring contacts on old iPhone over to the new iPhone.
Step 3: Press "Start Copy" button
When everything is OK, hit the green Start Copy button to begin copying your iPhone contacts to the new iPhone. You can monitor the transfer status on the new pop-up window.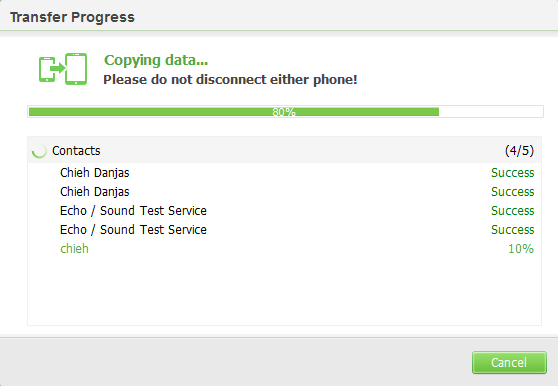 That's it! A message will appear on the window when the transfer process is finished.