A Quick Way to Transfer Contacts from Android to iPhone
Most of smartphone users are in two minds about which handsets to go for: iPhone vs Android. When you make a detailed comparison, you will be surprised by the great differences between these two OS. For example, the ecosystem for iPhone is closed and controls what comes its way. On the contrary, Android is open-sourced and lets you pick whatever software flavor you desire. Therefore, those who love to customize their gadgets will prefer Android devices to iPhone thanks to the former's greater openness. Some like Apple's iPhone better because of its better user experience and ease of use. iPhone or Android, different strokes for different folks.
Switching platform from Android to iOS is an exciting thing. You're experiencing a completely different ecosystem. But it can also be a huge pain—you'll have to deal with a vast swath of important files including contacts, photos, videos, music, call logs that stay on your current handset. Among them contacts obviously are the first thing you wish to do. So, how can you transfer contacts from Android to iPhone quickly, Samsung contacts to iPhone, for example?
Surely, your old iPhone's contacts will automatically come with you to a new iPhone as long as you're backing up the contacts to iCloud (Apple's online backup service). And this goes for your upgrading from an old Android phone to another one if you're using a same Google account to manage contacts. However, when it comes to contacts moving from Android to iPhone, things get a little tricky.
Fortunately, as years go by, new applications sprung up that make our life easier. Phone Transfer is such one out there for copying contacts and the rest between iPhone and Android smartphones.
Phone Transfer—Transfer Data from One Phone to Another Seamlessly
Phone Transfer is the simple and straight-forward software that works on both PC's and Mac. You just connect you both iPhone and Android phone, it scans the source phone automatically to identify the files to be transferred, and you're in business. Aside from moving contacts from Android phone to iPhone and vice versa, other important files you use commonly such as photos, videos, music, call logs, calendar, messages are all supported.
Another great thing of this tool is it includes backup and restore functions, which means you can keep your phone data safe on computer, or retrieve files from your iTunes/iCloud backup and get them onto your any Android & iOS phone. Also see: How to copy songs from an iPhone to a Mac.
Below, we have step-by-step guide for you.
Step 1: Run the program
Start by opening up the Phone Transfer, and plugging your both iPhone and Android smartphone into the Mac or PC's via USB cable.
Its main interface comes up, as the image demonstrated below. Here you make a choice by clicking the simple icon that indicates what it is used for whether it be "Restore from backups", "Phone to Phone Transfer", "Back up your phone" or "Erase your old phone" (Mac version only).
For us, click the "Phone to Phone Transfer" to go to next step.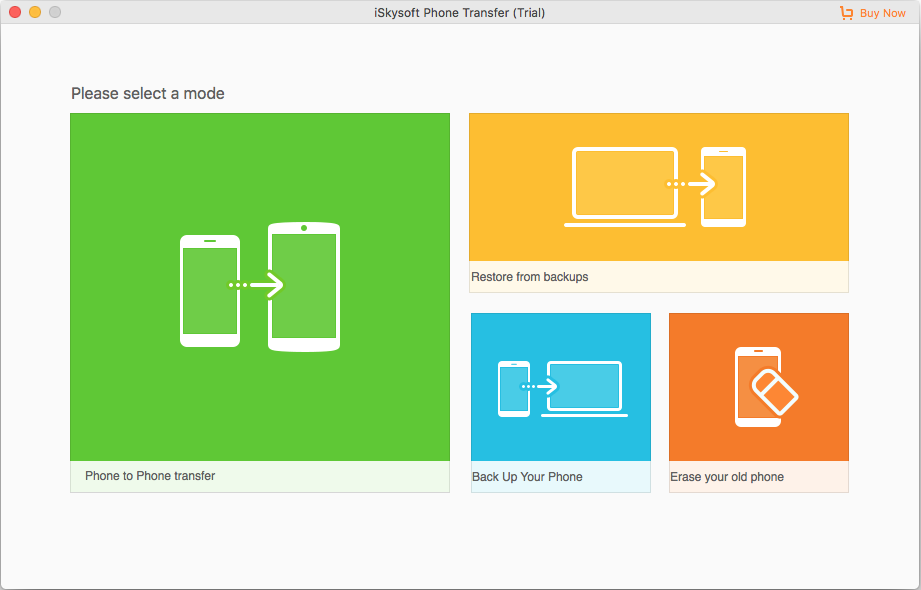 Note: "Back Up Your Phone" feature can be very useful when you need to make a switch from an old phone to a new one, whether it's for Android handset or iPhone. In such a situation you can first create a backup of contacts and other data from your old phone on computer, and then pull it from the backup when you get your new smartphone.
Step 2: Select contacts from the scan result
Once your both Android phone and iPhone connected successfully, they will appear on the left-side box and right-side box separately, as the image shown below.
It is convenient that Phone Transfer lets you switch source and target phones with a simple press of a Flip button on the top middle of the screen.
It's important to note here that your have to enable USB debugging mode accordingly on your Android phone to get authority. Best of all, you can finish it in less than a minute.
The software starts scanning your source smartphone. When it's finished scanning it will present you with a list of files it's found. It sorts the files by contacts, call logs, calendar, music, photos, videos, apps, text messages.
In the list, you can select whatever you want to transfer by checking the boxes. For the purpose of this article, we just migrate contacts from Android to iPhone, we'll be checking "Contacts" option.
Step 3: Start transferring contacts from Android to iPhone
Now you're ready to migrate all your contacts.
Simply press Start Copy button located in the bottom centre of the screen, the program begin copying contacts from the Android smartphone to your shiny new iPhone.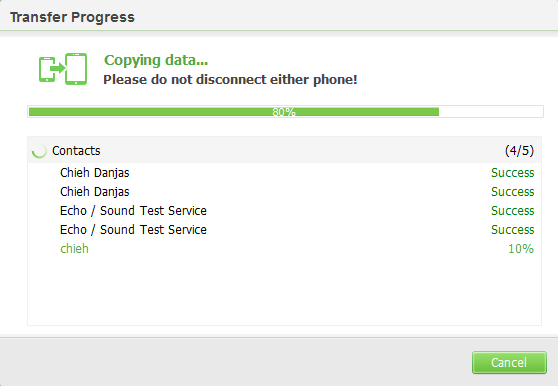 In brief, the Phone Transfer user experience is very simple and straightforward. The whole transfer can take a while, depending on how much stuff you're moving over to your new smartphone. You can monitor the progress of the transferring process via the progress bar in a new small window.
When the transfer is complete, to check everything go well it's worth go to the Contacts app on your new iPhone to see the result.
Congratulation, you're done!
Other Methods to Move Android Contacts to iPhone
In addition to the third-party Phone Transfer desktop application, there are also some other simple ways to migrate your contacts from Android handset to iPhone. This article will walks you through four ways to get this done. Just read on to figure out which one is suitable for you.
Use Apple's Move to iOS App
Apple's Move to iOS app has made transferring contacts from an Android phone to a new iPhone relatively effective and easy during iPhone setup process. If you've already completed the setup, you need to erase your iPhone and start from the scratch. If you don't want to erase, just employ other methods which will be presented below.
Power on your new iPhone, set it up. When you reach the "Apps & Data" screen, tap Move Data from Android option.
On your Android handset, go to Google Play Store download and install Move to iOS app. Then open it and tap Continue to move on. On the next screen, tap Agree, then tap Next.
On your iPhone, tap Continue and a digital code will then appear.
On your Android handset, enter the digital code to connect it to your iPhone. After that, choose the contents to be moved over — specifically the contacts in this case, and wait for the transfer process until it's complete.
When the process is done, tap on Continue Setting UP iPhone on your iPhone to finish the setup for your iPhone. Next, you will be prompted to sign in the account that is used to stored the contacts on your Android phone. Do that and you will see all the contacts on your Android device is copied right in the address book of your iPhone.
Use Google Account
If you've been using Android phone, you will mostly stick with a Google account to keep all of the data in sync. To migrate Android contacts to your iPhone, you should first make sure the contacts have been backed up. On your Android handset, go to Settings and choose Account and Sync option. Enter your Google account login detail and enable synchronization. Your Android contacts will now upload to your Google account.
On your iPhone, open up Settings app, scroll down and tap on Accounts & Passwords (or Mail, Contacts, Calendars in some older versions of iOS), then tap Add Account. Once you're in the next screen choose Google, sign into your Google account and then toggle the Contacts option to ON. Now the Android contacts you added to Google account are syncing to your iPhone. (Also read: How to Back up an iPhone)
Using CardDAV Account
In most cases, the method mentioned above will works, but there are times when contacts sync doesn't occur the way it should go. If this happens to you, follow the steps below:
Go to Settings app on your iPhone > tap Accounts & Passwords (or Mail, Contacts, Calendars in some older versions of iOS) > Add Account > Other > Add CardDAV Account, then type in related details in the required fields:
Server: Enter "Google.com"
User Name: Enter your Google Account.
Password: Enter your Google Account password.
Description: Enter something about the account (e.g. Contacts or something else)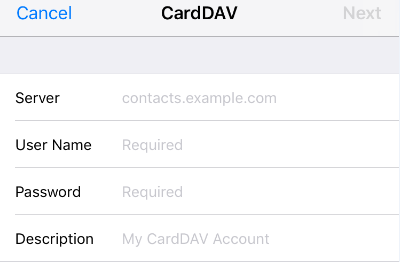 After filled out, tap Next at the upper right of the screen and wait for verifying. Then switch on the Contacts option. When everything done, open your iPhone address book, and the Google contacts will automatically begin syncing back to your iPhone.
Read next: How to recover deleted contacts on Android phone.
Use SIM Card
If you have your Android contacts saved on the SIM card, you can also move over to your iPhone easily. (Note: make sure Android's SIM card is in the same size as your iPhone.)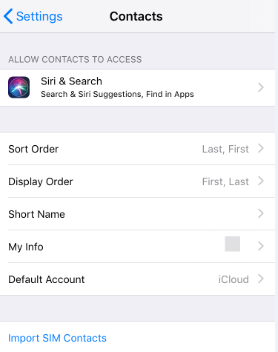 Get the SIM card out of your Android handset and insert it to your iPhone. Head to Settings app on iPhone, scroll down and tap Contacts option. In the Contacts page, tap Import SIM Contacts option and the transfer between SIM card and iPhone will start. When it's done, your contacts should be saved in iPhone. You can then move out the Android's SIM card and put the iPhone's back in.
Import Google Contacts to iCloud
Provided that you have synced the contacts of your Android phone within your Google account, another simple way to copy contacts is by importing Google contacts to iCloud for easy synchronization across iPhone. Here's what you need to do:
On the computer, launch a web browser and go to Google contacts.
Sign up for your Google account to get to the contacts page.
Click on the More option underneath the Search bar and select Export.
On the pop up window, select vCard format, the last option under "Which export format" section, and hit the Export button. You will get a .vcf file on your computer.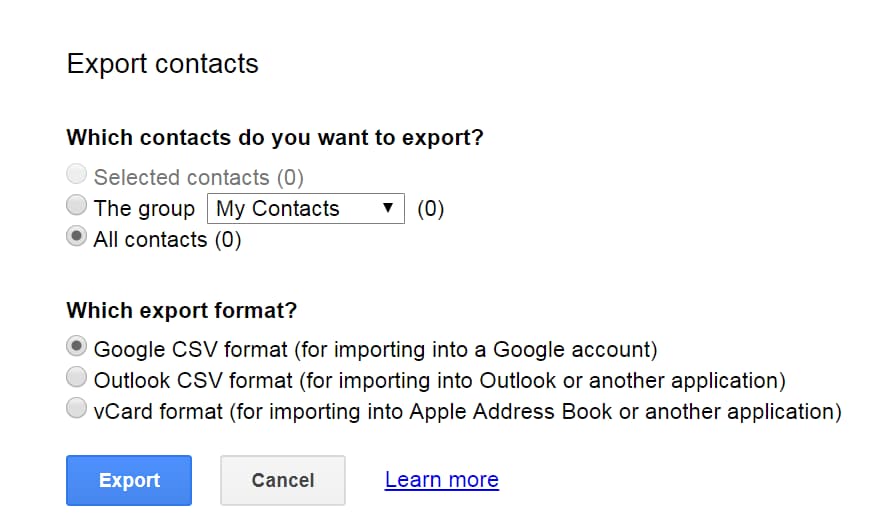 After exporting the contacts from Google account, the next step is to load the contacts to iCloud. Here's how:
Head to iCloud website on the computer and sign in with your Apple ID and password. Click on Contacts, once you get to the Contacts page, click on the tiny Cog icon at the lower left of the window and select Import vCard from the menu. Now, navigate to the .vcf file you just exported from Google and click the Open button. That's all about it. Your contacts are now saved in iCloud.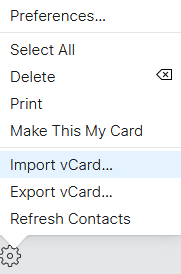 Next, on your iPhone, go to Settings > Apple ID > iCloud. Turn the Contacts toggle on and your contacts should appear on your iPhone's contacts list.
Done!
How to Transfer Contacts from Samsung to iPhone
A Full Guide to Copy All Your LG Phone Text Messages to an iPhone
How to Move Google Pixel Contacts to the New iPhone
iPhone Models: iPhone X, iPhone 8/ Plus, iPhone 7/ Plus, iPhone SE, iPhone 6s/ Plus, etc.
Android: Google Pixel, Pixel XL, Pixel 2; Samsung Galaxy Note 8, S8, S8 Plus, S7 edge, S7, S6, S5, S6 edge+, S7 active, Galaxy Note 5, Note Edge, Note 4, Express prime, Grand Prime, Amp Prime, Amp 2, E5, Core Prime, Prevail LTE, Mega 2, Alpha, Avant, Note II, Stratosphere, Stellar; ZTE AXON 7, MINI, ZMAX Pro, Citrine LTE, AXON Pro, AXON, ZMAX 2, Grand X MAX 2, MAX DUO LTE, IMPERIAL MAX, Grand Memo, Fanfare; LG V30, LG V20, LG G5 (ACG), LG Stylo™ 2 Plus, LG K7™, LG Tribute™, LG X power™, LG K10, LG Escape, LG Stylo, LG Rebel™, LG Treasure™, LG X style™, LG Stylo, LG K3, LG Tribute, LG K7, LG K8, LG Optimus Zone, LG Phoenix, LG Tribute, LG Wine, etc; Moto Z Force Droid, Moto Z, Moto Z Droid, Moto Z Play, Moto Z Play Droid, Moto G⁴, Moto G⁴ Amazon Prime Exclusive, Moto G⁴ Play, Moto G⁴ Play Amazon Prime Exclusive, Moto X Pure Edition, Droid Turbo 2, Droid Maxx 2; Sony Xperia™ XZ Premium, XZs, XA1, XZ, Xperia™ X Compact, Xperia™ E5, Xperia™ XA Ultra, Xperia™ X Performance, Xperia™ XA, Xperia™ X, Xperia™ Z5 Premium, Z5 Premium Dual, Z5 Dual, Z5, Z5 Compact, M5 Dual, M5, C5 Ultra, C5 Ultra Dual, Z3+ Dual, Z3+, M4 Aqua Dual, M4 Aqua, Xperia™ E4g, E4, Xperia™ E3, Xperia™ Z3 Compact, Xperia™ M2 Aqua, M2, Xperia™ T2 Ultra Dual, Xperia™ M, Xperia™ Z Ultra, Xperia™ ZL, Xperia™ Z; OnePlus 3T, 3; HTC Bolt, HTC 10, HTC Desire 530, HTC One A9, etc.