How to Get Data Off Samsung Phone and onto iPhone Seamlessly
With the recent release of the new iPhone, Samsung Galaxy phone and many other smartphones, it is heralding that the next round in the ongoing Android vs. iPhone grudge match is poised. Although Android phone's global market share is huge, some studies suggest a large number of users are switching from Android to iPhone.
Just purchased a brand-new iPhone on black Friday or cyber Monday and decided to ditch the old Samsung phone? The first and important issue you might concern about is how to get all the important data files that has been with you for years on old Samsung phone over to your new iPhone. Thankfully, transferring content from Samsung to an iPhone is not necessarily an intimidating process. Instead, it can be as easy as a piece of cake. All you have to do is an efficient data moving tool to get it done. Here is a tool that can help you with that.
Phone Transfer—Migrate Data between Devices Seamlessly
Phone Transfer is a simple and straightforward data processing program that features a combination of phone to phone data migration, data backup from the device into the computer and data restoration from the backups. With the help of this program you can easily transfer all the Samsung content directly to iPhone such as contacts, text messages, songs, photos, video, etc.
In the following we will break the guide down into three steps to explain how the program copys data to an iPhone from Samsung smartphone as smooth as possible, this better enabling you to leave Google Android behind for Apple iPhone.
You can also move a single type of files separately between any Android mobile phone and iOS gadgets, for instance, making Android contacts go all in with iPhone.
Step 1: Hook up your both Samsung phone and iPhone with the computer via USB cable
Download and run the software on your computer. On its main window 4 modules are available. Here we choose Phone to Phone Transfer option on the left for switching Samsung data to an iPhone.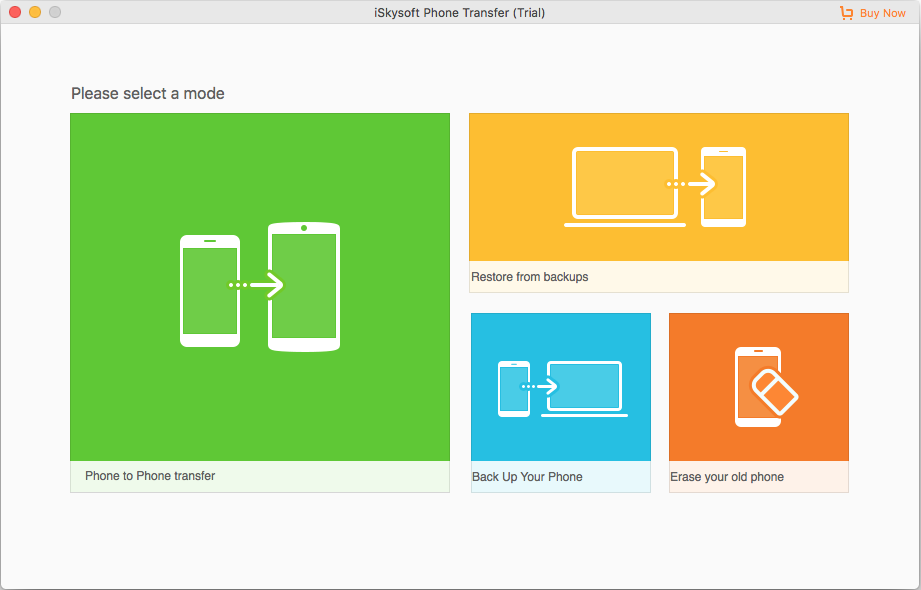 You then will be presented with a new screen like image shown below. Just plug your both old device and new device into the computer.
On Samsung Android phone, please enable USB debugging mode to let the program gain access to your data. If you have any difficult in setting this up, please refer to how to enable debugging mode on android device. On iPhone, ensure that tap Trust button on home screen to trust the computer to proceed.
Step 2: Select contacts, sms, music, photos, videos and other stuff from Samsung
After connect successfully, your two devices should appear on both sides of the screen.
This data transferring tool will start scanning data within your source Samsung phone and quickly return a list of transferrable files that sorted by contacts, calendar, messages, photos, music, videos in the center box. Please note that the Call logs and Apps options are grey out for compatible issue between Android and iOS.
If you want to move data from iPhone to a Samsung phone instead, please click the Flip button on the top center of the screen to switch the position.
Next, select the content you would like to copy from the Samsung to the iPhone by ticking the box next to the data type. It's worth noting that you can't move any apps you've got on Samsung phone over to your iPhone due to the incompatible issue between two platforms.
One good thing about this tool is it allows you to clear up existing data in your new iPhone if needed before moving data from old Samsung. You just check the Clear data before copy option on the bottom right corner of the window.
See More: How to Copy Music from an iPhone to a PC Windows Computer
Step 3: Press Start Copy button
When you have selected all the data you want to transfer, simply hit Start Copy button located on the lower center of the window, the process of copying Samsung content over to a new iPhone commences. Be patient.
A new window opens, along with a progress bar telling you how much of data has been transferred.
That's it! Welcome to the iPhone!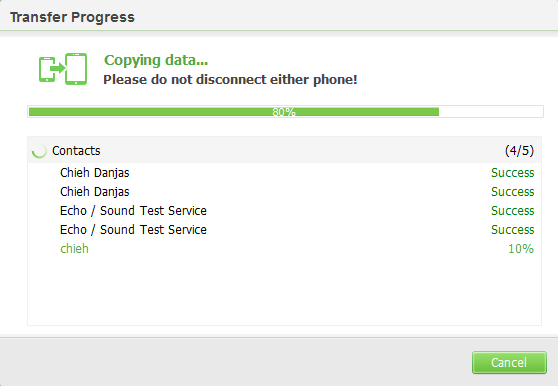 Note: After you transfer all important data from Samsung to iPhone, the iPhone data are not always safe out there. Some stuff like contacts, text messages, call history, notes, etc in your iPhone are easily subject to loss due to various reasons like accidental deletion, iOS upgrade or failed jailbreak. However, it is no big deal. Just try the best data recovery tool named iOS Data Recovery also available) and you can get all the relevant data back to your iPhone with a few clicks. See a popular guide on recovering contacts from iPhone.
Conclusion
With Phone Transfer, it couldn't be easier to make a data migration from Samsung Android phone to iPhone and vice versa and it makes sure nothing is left behind in the process. You can also back up your iPhone to the computer for the sake of security. Don't hesitate to have a try.
Samsung models: Galaxy S7 edge, S7, S6, S5, S6 edge+, S7 active, S5 Mini, S III, S4 mini, Galaxy Note 5, Note Edge, Note 4, Note 3, J7, J3, Sol, Express prime, Grand Prime, Amp Prime, Amp 2, E5, Core Prime, Stardust, J1, Prevail LTE, Mega 2, Alpha, Avant, Note II, Stratosphere, Stellar, etc.
iPhone models: iPhone X, iPhone 8, iPhone 8 Plus, iPhone 7, iPhone 7 Plus, etc.
How to Import All Sorts of Data from a LG Phone to an iPhone
How to Transfer Call Logs from Sony Xperia to Google Pixel Phone
How to Transfer Contacts on iPhone to the New Samsung Note 8