How to Transfer Data on Google Pixel/ Nexus Phone to iPhone
Wanna replace your old Google Nexus/ Pixel handset with a new iPhone featuring the merits of Apple's iOS system? Getting a new iPhone sounds nice, but coping your important data from Google phone to iPhone seems more trouble that it is worth. Sometimes it can be very frustrating, time-consuming and even painful when you have to move tons of data files including contacts, music, photos, videos and others. Thanks to Phone Transfer software, it is no longer a difficult task for putting data between Google Pixel & Nexus and iPhone.
Phone Transfer, working as a bridge for migrating your data cross mobile platforms (iOS, Android, WinPhone, Symbian, Blackberry), is a quick and easy transferring tool capable of moving data between iPhone and Google Pixel/ Nexus, including contacts, music, photos, videos, calendar, call logs, ect. The data switching process from Google Pixel/ Nexus to iPhone and vice versa is as good as a no brainer, fast and straightforward, allowing you to finish the task in just a few minutes.
Besides, you can back up important data or files from your device to your computer folder or external drive and put the retrieved data back into your device when necessary. What if I have data back-ups in iTunes or synced to iCloud? Don't worry. Phone transfer offers you the option to restore your data back-ups from iTunes or iCloud and copy to your device. The program works on both Windows and Mac platform. If you want to migrate content from Google Pixel/Nexus to iPhone and vice versa on a Mac, please get its Mac version below.
Here are some steps to walk you through the data moving process from Google Pixel phone to iPhone, so you can get started and enjoy your shiny new iPhone in no time.
Step 1: Launch the tool and plug your both phones into PC's/ Mac
Open up the software on your computer. In this article we take its Mac version for example. On the program homepage, you will see four options for you to choose from, that is, Phone to Phone Transfer, Back Up Your Phone, Restore from Backups and Erase Your Old Phone.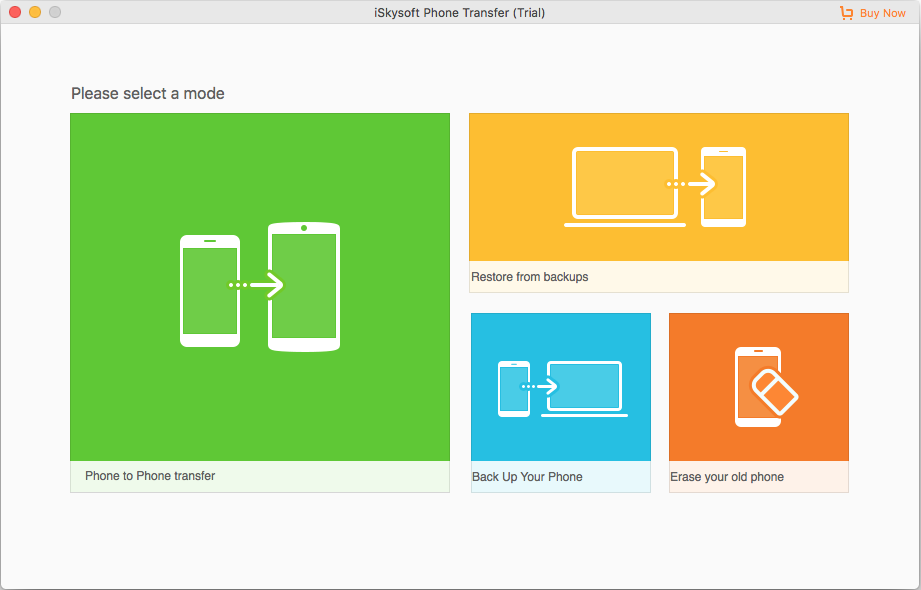 Before you attempt to switch from Pixel to iPhone, it's advisable to make a full backup of all of your important information in case the data transfer doesn't work 100%. You can do this by clicking the blue Back Up Your Phone option in this tool or using online cloud services you like.
Click the green Phone to Phone Transfer option to enter file transfer screen.
Attach your two devices to the computer using USB cable. The software should recognize automatically the two devices and show the big device icons on the screen, as image demonstrated below. Next, you'll have to enable the USB debugging mode on your Google Android phone to access the data. As for iPhone, a authorization request pops up on the device screen, tap Trust to proceed.
Step 2: Select data files you want to move from the scan list
When your both iPhone and Google Pixel are connected, you should see that they're on both sides of the screen. You can flip the devices by clicking the Flip button on the upper center of screen if they're in the wrong place for the transfer you want to make.
Next, the utility will start scanning the source device on the left box automatically. After the scan is complete, it will present you with a list of transferrable data like contacts, photos, music, videos, text messages and other data in the ceter pane of the window.
Next, ensure everything you want to transfer is checked. Please note that apps option here is greyed out when transferring between iOS and Android.
If you need to remove or erase data from your target iPhone before transferring data from your old Google phone, just click Clear data before copy prior to hitting the Start Copy button.
Step 3: Start transferring Google Phone content to iPhone
Once you've data files selected, click Start Copy button on the bottom center of the program window. Sit back and wait. The amount of time varies in how much data (contacts, music, photos, videos, call logs, etc.) is being moved. Please avoid disconnection during the data coping.
Done! You're ready to use your iPhone, enjoy!
Want to manage your media files more flexible between iPhone/ iPad and computer? check iTransfer software, which is much more than just the program that upload and backup your files between iOS device and computer, it's also the tool that lets you manage your content (contacts, music, playlists, videos, photos): create, delete, export, remove duplicates, fix music ID3 tags, etc. See one of our popular tutorials about how to transfer music and playlist on iPhone back to iTunes.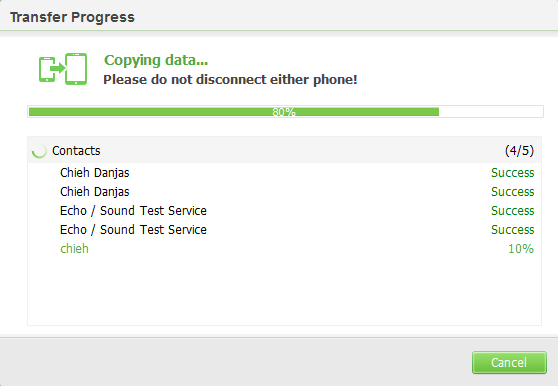 Aside from switching data files from Google to iPhone and vice versa, the software acts as a data backup expert as well. The data backup procedure is as simple as clicking the blue Back Up Your Phone option on the home interface, and selecting the content you want to back up and then hitting the Start Copy button and wait until the process is completed.