How to Transfer Contacts from Samsung Phone to iPhone Instantly
Upgrading to a new device is exciting since you can enjoy the latest technology, features and innovations. If you switch from Android to iPhone, then you can enjoy greater continuity and integration with Apple's other devices like Macbook, iPad or Apple Watch. It is more convenient to take your iPhone to the nearest Apple Store for the specialist to solve your problem. However, the excitement of switching to a new smartphone is reduced by the trouble to set it up.
If you're switching from an old Samsung Galaxy Android phone to a new iPhone, probably a bevy of questions run through your head. Is there an easy way to transfer contacts from the old Samsung smartphone to the new iPhone? How can I get all my photos off the old device and onto the new one without downloading-n-uploading? Do I need to download all my music and movies again on my iPhone? What's going to happen to other stuff on my Samsung phone?
This is not the questions just for you. Anyone could worry about their data that's stored on the old device when it comes to switching between devices the first time. Fortunately, there are a couple of ways to help you transfer contacts and the rest from Samsung phone to iPhone. In this article, we'll focus on an all-in-one utility to migrate all your content between Samsung and iPhone, and mention some other methods if you just want to make a transfer of contacts from Samsung to iPhone.
Phone Transfer—Copy Data Between Phones Seamlessly
Phone Transfer is a neat program built with that exact purpose. It can transfer everything else including photos, music, videos, call logs, contacts, calendar, messages between Android and iOS handsets effortlessly. Contrary to what its name implies, Phone transfer does not only migrate data files between devices, but can create backup of all data that's stored on your phone to computer regularly.
Leave Samsung for iPhone: What do you need?
If you're ready to make the switch from Samsung Galaxy phone to iPhone right now, you must first download the Phone Transfer software on your either PC or Mac computer, and prepare two supplied USB cables.
Step 1: Run the program
After the installation, open the program, you will be presented with a simple interface where you are given choices between Phone to Phone Transfer, Restore from Backups, Backup Your Phone, Erase Your Old Phone. Mousing over each of these choices displays a tooltip describing what it does.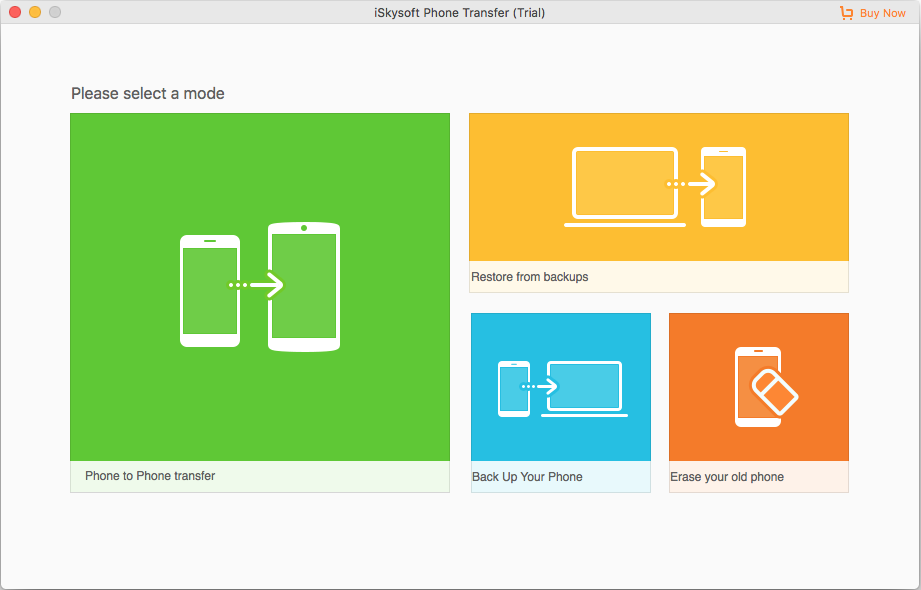 In our case, click the Phone to Phone Transfer option and the program will ask you to attach the source and destination phones to your computer.
Connect your Samsung Galaxy and iPhone via USB to your Mac, you then will see the two devices in two positions. Use Flip button to switch them if incorrect.
Do be sure that your Samsung phone is on USB debugging mode (see how to enable it?), otherwise the tool can't access it to read the data. You can click on the Cannot recognize the device link on the bottom of the interface to get the detailed demo or click the link above.
Step 2: Choose what you want to move
The tool will now quickly analyze the data on the source Samsung phone and finally show you the list of data types in the middle box. Items are your contacts, text messages, photos, music, videos, calendar.
Note that the Apps item is grayed out, as this type of transfer is only applied for Android to Android.
Next, pick Contacts item and other items like music, text messages, photos, etc you want to transfer from Samsung to iPhone.
Step 3: Start process
You're ready to go. Click the green Start Copy button and the contacts transfer from Samsung phone to new iPhone will begin.
The tool will come up a new window with progress bar, as demonstrated by the image below, indicating the entire process.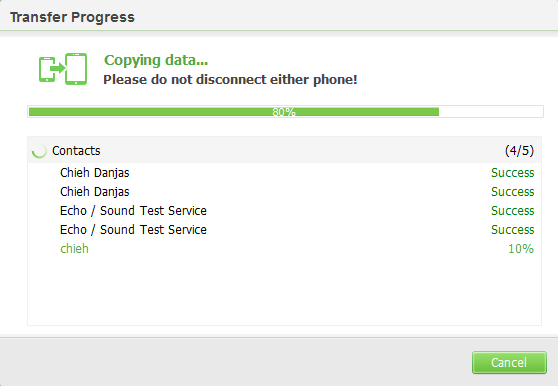 When you see a "completed" message, you've successfully transferred your Samsung phone contacts to iPhone.
Mail
In case you want to move specific contacts only from your Samsung to iPhone, you can simply use the Mail service on your Samsung phone to send the contacts to yourself, and then use your iPhone to open the email and put it on Contacts app.
Go to Contacts (or People, depending on your Samsung model) app, open the specific contacts you want to transfer, tap Share contacts (or similar), on the pop-up menu tap Email option, then select a E-mail service provider that you'll be using on your iPhone from the list and sign in with your account name/password, tap Send.
On your iPhone, open the email and then open the contact attachment to add it to your Contacts app.
Don't Miss: How to Transfer Music on iPhone to Save on a Windows Computer
Gmail
Another way to transfer your Samsung Galaxy contacts to the new iPhone is using Gmail account. Suppose you already have Gmail account signed in on the Samsung device, navigate to Settings > Accounts and Sync (or similar) > Google > Sync Contacts. This will sync all you Samsung phone contacts to your Gmail Contacts.
Once this is done, open up your new iPhone. Go to Settings > Mail, Contacts and Calendars > Add Account. From there, select Google and sign-in using the Google account with which you've synced contacts on your Samsung handset. And then toggle Contacts button on in Google. You should now find that all of your Samsung contacts are copied already to your iPhone.
SIM
This works only if your Samsung Galaxy phone takes a similar sized SIM to your new iPhone.
To do so, go to Contacts (or People) app on your Samsung smartphone, tap the Menu (or similar) on the bottom of the screen, then tap Import/Export option from the pop-up menu, then in Export field, select Export to Card to save all contacts to its SIM.
Next, insert the SIM into your iPhone (you might need to cut down the SIM to fit the nano-SIM slot for later iPhone. BE CAREFUL). Go to Settings > Mail, Contacts, Calendars > Import SIM Contacts. After your Samsung contacts imported into iPhone successfully, remove the SIM card and insert your original card. You're done!
What about the reverse journey—migrating iPhone contact to your Samsung Galaxy Android phone?
It's pretty easy, actually. In addition to using aforementioned Phone Transfer program to accomplish the task, you can do it with iCloud. Navigate to Settings > iCloud > Contacts on your iPhone, and turn it on to sync your contacts with the iCloud account. Then you head to icloud.com on your PC's web browser, select the contacts that you want to export, click the gear at the bottom of the page and click Export vCard. This will create a VCF file and save on your PC computer. Next, connect your Samsung phone to the machine, and upload the VCF file to the handset. Finally click the Contacts (or People) app and choose Manage contacts, you should now have Export/Import (or similar) option to import your contacts.
If you export VCF file on a Mac, you can't put it onto local storage of your Samsung phone directly just like you do that on PC's—Mac can't recognize the device as a storage medium. But you can email the vCard vcf file to your Gmail account and then open it on your Samsung Android phone to import into your Contacts or People app.
Of course, there are some other ways (iTransfer for example—a comprehensive solution to manage your data between iOS, Android and computer) available for you to transfer contacts, music and other data on your Samsung Galaxy Android phone to iPhone and vice versa. If you want to move your precious data from one device to another in a fast and easy way, and some additional ones including data erase, backup or restore, Phone Transfer is definitely worth a try.
iPhone: iPhone X (2017), iPhone 8/ Plus, iPhone 7/ Plus (2016), etc.
Samsung models: Galaxy Note 8, Galaxy S8, S8+, S7 edge, Galaxy S7, Galaxy S6, Galaxy S4, Galaxy S6 edge+, Galaxy S7 active, Galaxy S4, Galaxy S5 Mini, Galaxy S III, Galaxy S5, Galaxy S4 mini, Galaxy Note 5, Galaxy Note Edge, Galaxy Note 4, Galaxy Note 3, Galaxy J7, Galaxy J3, Galaxy Sol, Galaxy Express prime, Galaxy Grand Prime, Galaxy Amp Prime, Galaxy Amp 2, Galaxy E5, Galaxy Core Prime, Galaxy Stardust, Galaxy J1, Galaxy Prevail LTE, Galaxy Mega 2, Galaxy Alpha, Galaxy Avant, Galaxy Note II, Galaxy Stratosphere, Galaxy Stellar, Galaxy Legend, Galaxy Mega, Galaxy Express, GalaxyRugby Pro, Galaxy Light, etc.
How to Move Songs from an Old iPhone to an New iPhone
How to Transfer All Your Google Pixel Contacts to Sony Xperia Phone
An Easy Way to Transfer All of Your Messages from iPhone to Huawei