How to Migrate Data from iPhone to Motorola and Vice Versa
With more and more benefits given by Android phone, the number of people who are turning to Android phone is growing. Comparing to iPhone, Android phone comes in more choices, including diverse styles, designs, sizes, form factors, etc. besides, Android phone boasts of customizing your phone because of the majority of third-party app stores. So there are no reasons to wave Android phone goodbye.
When you have decided to make a switch from iPhone (iPhone 7, SE, 6s, 6, whatever) to a Motorola Android phone, for example, one of the things that is slightly holding you back is how to transfer the data to Motorola from old iPhone successfully without data loss. In the past, the common data coping process for most users was to migrate the data from one device to another by dragging the data in one folder and dropping them in another folder in the computer. Now, it is a thing of the past.
To free you up from such tedious tasks, we introduce to you a program called Phone Transfer to facilitate the migrating process from iPhone to Motorola device and vice versa. It provides a one-click solution for transferring content between iOS, Android, Blackberry, Windows. Below are some of its main features:
Data Migrating between Smartphones and Tablets
One of the main features about Phone Transfer Software is in its competence in Transferring all your data from the iPhone to the Motorola and vice versa, and other smartphones & tablets that're running Android, Windows, Symbian, Blackberry OS. The transferrable data includes contacts, music, videos, photos, text messages and other stuff which can be selectively chosen and migrated. The data coping process is quite straightforward and seamless, so you don't have to do it manually by drag-n-drop.
Data Backup from Device to the Computer
Perhaps everyone have gone through the nasty experience of data loss. Some have their phone stolen or attacked by malicious software which results in data loss or damage. Some data will never be recovered once it has been lost, which may put you in a awkward position. Don't worry, Phone Transfer comes to your rescue. Phone Transfer makes a backup of the data from your device easily and stores them onto a directory in computer or external hard drive.
Data Restore from Computer to Your Phone and Tablet
When data recovery is required, the tool retrieve the data from the computer backups and put them back in your handset. Thus, you don't have to be bothered by data loss any more.
Here we take data migrating process from iPhone to an Motorola handset for instance and show you step by step how to use the tool.
Step 1: Plug your Moto and iPhone into the computer and open Phone Transfer
Once you install the program and run it, the main interface will start up (here we take a Mac version for example). And then connect your both iPhone and Motorola to the computer through USB cables.
For moving content (contacts, music, messages, photos, etc.) from iPhone over to Motorola and vice versa, we select Phone to Phone Transfer module and move on to the next screen.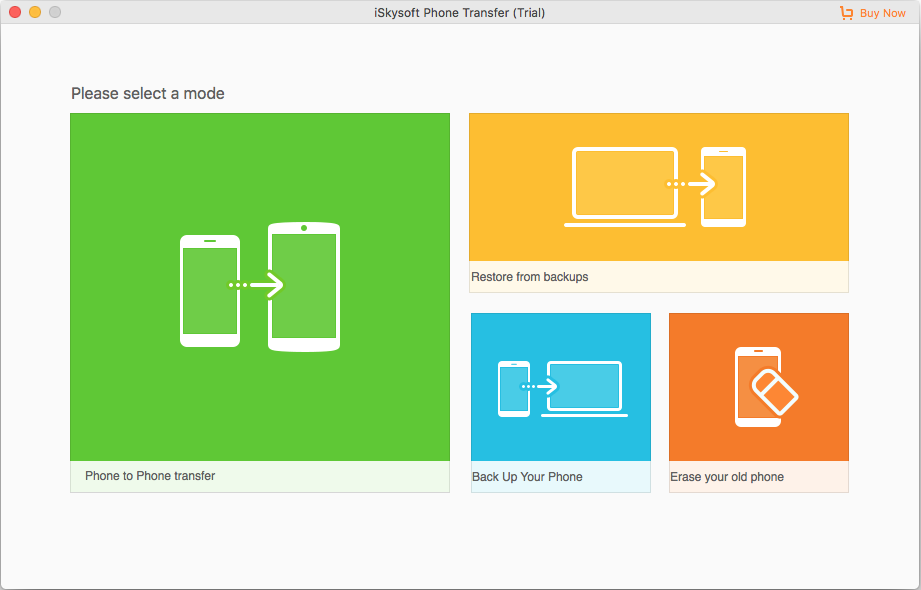 You will notice the two devices are displayed on both side of the screen, as you can see in the screenshot below. If not, try connecting again or click Cannot recognize the device link to fix the issue.
Remember to put your Motorola phone on a debugging mode to authorize data access. If you don't have a clue how to do this, please refer to How to Enable USB Debugging Mode on Android article; and for iPhone tap Trust on home screen to proceed.
Step 2: Select transferable items from scan list
After you have two devices connected, you'll see a list of transferrable files from iPhone's internal storage, including contacts, text messages, calendar, photos, music, call logs and other in the conter pane of the screen.
Just select the data types you want to migrate by ticking the boxes next to the items, In this example, we have selected all transferable items. You can also erase files from your Motorola smartphone (if you've already use it) to make room for more stuff by clicking the "Clear data before copy" option in the bottom right corner of the window.
On the top the Flip button is offered to switch the two devices if in the opposite position.
Note: Call logs and Apps is not in the transferable list if you're switching from Motorola to an iPhone.
Step 3: Start moving selected sorts of data to Motorola from iPhone
Now comes the easy part. All left to do is press Start Copy button on the bottom center of the window and let Phone Transfer do the rest. This is the part where you'll need to be patient. To maintain data integrity, please avoid disconnection in the process of data migrating between your iPhone and Motorola smartphone.
The migrating process will take a while from seconds to minutes depending on the scale of the data types you select as well as the transferring speed. After the process is completed, disconnect both your Motorola phone and iPhone from the computer.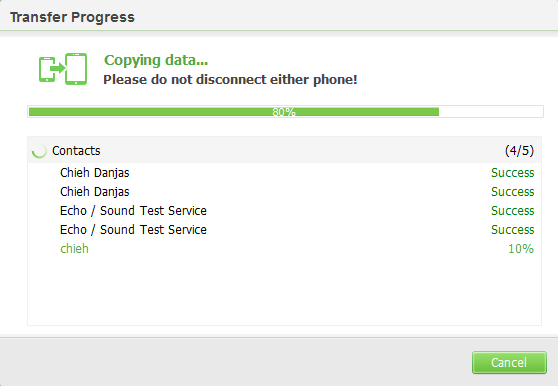 Done!