How to Transfer Messages from iPhone to Samsung Galaxy Phone
You make a decision to ditch your iPhone and experiment on Android devices. Among a myriad of Android handsets, Samsung is considered as the top seller. For those iPhone users who are converting to Samsung, the process seems intimidating.
Q: "I am a new convert to Samsung Galaxy phone after being an iPhone user since my first device. I am still using my Apple device but the newly-launched Samsung Note series is streets ahead so I bought one. I have tried several ways to transfer the text messages from iPhone to Samsung but without success. Is there any recommendations on app to achieve the transfer?"
Despite the breakneck speed in the development of smartphone technology over the last few years, text messages together with phone calls are still imbedded in smartphone and are counted as an indispensable form of communication in our social life. If you use iPhone for years, you certainly have stored a big amount of text messages on your handset. It would be a great pity if these messages saved in iPhone couldn't be taken on the road to Samsung.
As you know, iPhone and Samsung are running on different operating systems, so you can't simply share files freely and directly between them in the way you do between Android devices. Of course, you can use the complicated skills and settings you can locate on the internet, but you can use data migrating tools, which can save you a lot of time.
Among many data transferring tools, Phone Transfer is worth a try. With it, you can easily and quickly transfer text messages from iPhone to Samsung, together with contacts, call history, images, music tracks and so forth. As an all-round program, it allows you to create a full backup of the important data to the computer and restore it whenever you want. You can even retrieve files from iTunes or iCloud backup files you made.
Now, let's take a look at how it is easy to get your iPhone text messages transferred to Samsung Android smartphone.
Step 1: Run the program and connect both handsets
Run the application on the computer and select the green "Phone to Phone Transfer" mode on the interface to proceed.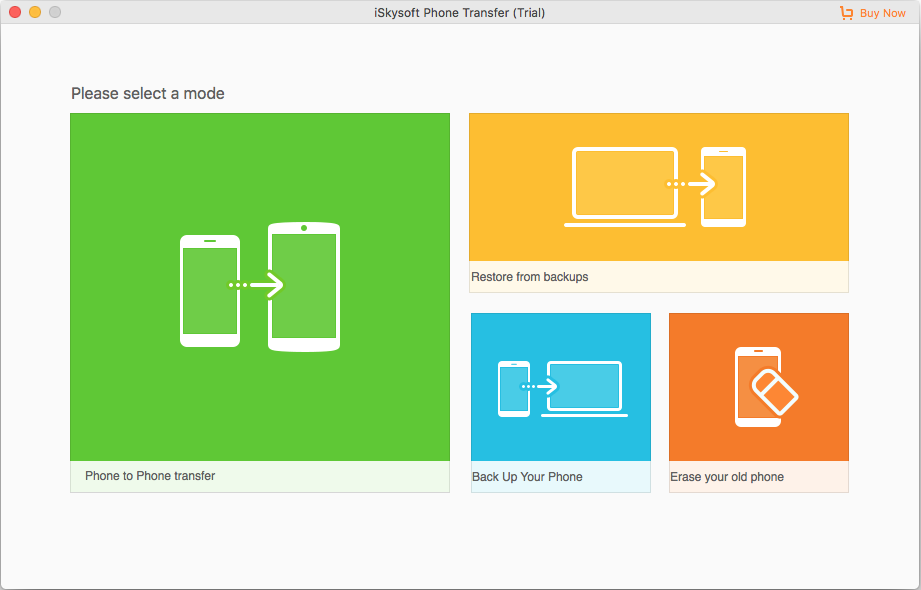 Use two USB cables to connect iPhone and Samsung to the computer respectively. Then, switch on USB Debugging Mode on Samsung. With regard to iPhone, just tap trust on the screen.
Step 2: Scan the data from iPhone
The software will immediately recognize both devices and display them on the screen as source and destination device, as the screenshot shows. If they are misplaced, use Flip tab.
The data inside iPhone memory are scanned and displayed on the middle column. You can tick one or several categories as you like. To get only iPhone messages onto Samsung and nothing more, simply tick the box next to Text messages option.
Step 3: Start the transfer process
Hit the green Start Copy button to go about migrating messages from the old iPhone to the new Samsung Android phone. You will see a window pop up, indicating the percentage that has been completed.
After the progress bar moves to 100 percent, it means the migration is finished. You can new check the messages on your new Samsung phone.
Done!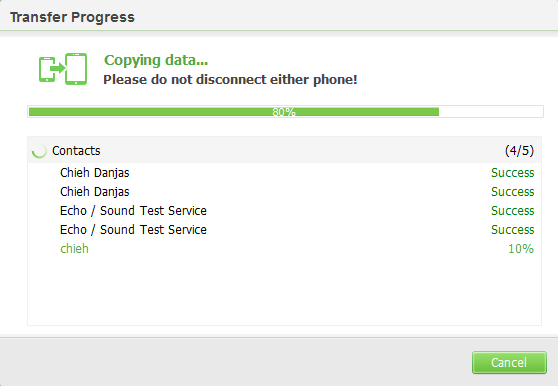 Note: if your iPhone go through any updates, factory reset or system problems that result in data loss, you can make use of iOS Data Recovery to retrieve the data from the device, including contacts, SMS messages, call logs, notes, photos, among other things.