How to Transfer Messages from iPhone to Samsung Galaxy Phone
I am a new convert to Samsung Galaxy phone after being an iPhone user since my first device. I am still using my Apple device but the newly-launched Samsung Note series is streets ahead so I bought one. I have tried several ways to transfer the text messages from iPhone to Samsung but without success. Is there any way to achieve the transfer?"
You make a decision to ditch your iPhone and experiment on Android devices. Among a myriad of Android handsets, Samsung is considered as the top seller. For those iPhone users who are converting to Samsung, the process seems intimidating.
But the hard truth is that if you use iPhone for years, you certainly have stored a big amount of text messages on your handset. It would be a great pity if these messages saved in iPhone couldn't be taken on the road to Samsung.
As you know, iPhone and Samsung are running on different operating systems, so you can't simply share files freely and directly between them in the way you do between Android devices. Rather than using the complicated skills and settings you can locate on the internet, you're lucky enough with an application called Phone Transfer .
Phone Transfer is an one-click program specially designed for data migration between phones. With it, you can easily and quickly transfer text messages from iPhone to Samsung, together with contacts, call history, images, music tracks and so forth. As an all-round program, it allows you to create a full backup of the important data to the computer and restore it whenever you want. You can even retrieve files from iTunes or iCloud backup files you made.
Convinced? Let's have a closer look at how it is easy to get your iPhone text messages transferred to Samsung Android smartphone. First, click on "Download Now" button above to download a copy of the Phone Transfer for your operating system, and then install it on your computer.
Step 1: Run the program and connect both handsets
Run the application on your machine and select the green "Phone to Phone Transfer" mode on the interface to proceed.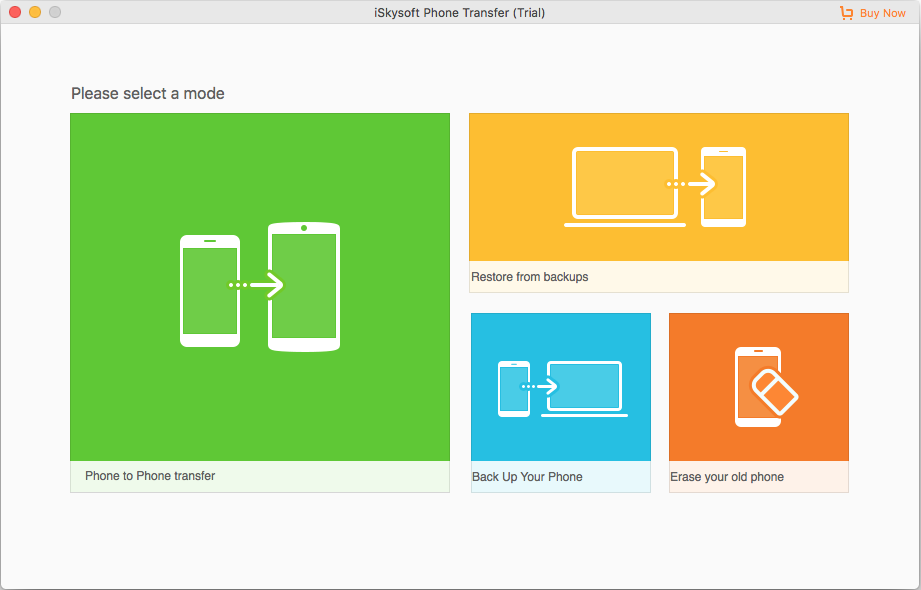 Use the cables that came with your iPhone and Samsung Galaxy phone to connect to your computer respectively. Then, you'll be prompted to follow the tips on the window to enable USB debugging mode on your Samsung device to get access to the data.
For more in-depth information, consult our guide to turn on USB Debugging Mode on Android phone.
Step 2: Scan the data from iPhone
The software will immediately recognize both devices and display them on the screen as source and destination device, as the screenshot shows. If they are misplaced, use Flip tab.
The data inside iPhone memory are scanned and displayed on the middle column. You can tick one or several categories as you like. To get only iPhone messages onto Samsung and nothing more, simply tick the box next to Text messages option.
Step 3: Start the messages transfer process
When you finish selecting the data types, click the Start Copy button to transfer them from the old iPhone to the new Samsung Android phone. You will see a window pop up, indicating the percentage that has been completed.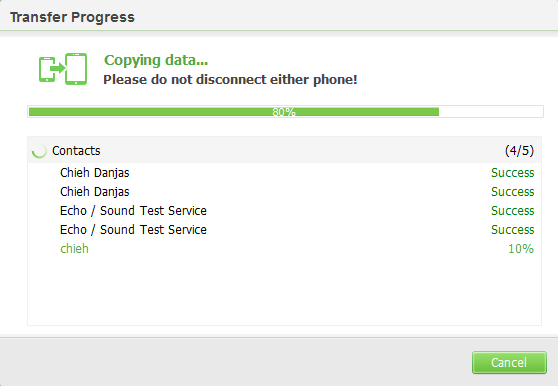 After the progress bar moves to 100 percent, it means the migration is finished. You can new check the messages on your new Samsung phone.
Done! If your iPhone go through any updates, factory reset or system problems that result in data loss, you can make use of iOS Data Recovery to retrieve the data from the device, including contacts, SMS messages, call logs, notes, photos, among other things.
Other Options to Migrate iPhone Messages to Samsung Galaxy Phone
Method 1: Using iSMS2droid App
To start with, you need to extract the backup file that includes the messages from iPhone via iTunes on the compute. Note: please don't enable encryption when you are backing up iPhone to the computer. Otherwise, the iSMS2droid app is unable to access the iPhone SMS.
Hook up Samsung Galaxy phone to the computer with USB cable. Then, head to the iTunes backup folder (old or recent) on the computer and pinpoint the file named as "3d0d7e5fb2ce288813306e4d4636395e047a3d28", which is SMS database file for iPhone. Get the file dumped to the Samsung Galaxy smartphone. By the way, you can rename the file as sms.db as to be easily identified.
Install iSMS2droid app on your Samsung Galaxy handset and run it. If you are asked to set this app as the default SMS app, do as required. On the main interface, tap Import Messages button and browse to the renamed sms.db file and select it. At this point, a dialog box will be presented, asking you whether to import all the texts or a handful of conversation sorted by contact. Make your choice and import the text messages of iPhone to Samsung Galaxy phone.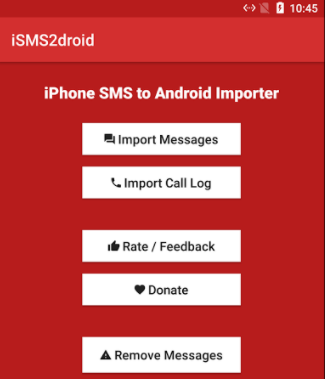 Method 2: Using Smart Switch Mobile App
Smart Switch is the application created by Samsung which allows users to move data like contacts and messages from the old device (iPhone or Android) to the new Galaxy phone. It boasts of two versions: computer-based and mobile. The Smart Switch mobile app will be used in this example.
Download the mobile app on both the handsets and run it after installation. On Samsung Galaxy phone, select "USB CABLE" as the transfer method.
Connect your new Galaxy device to iPhone via USB cable and the included USB connector. When a notification pops up on iPhone's screen, tap Trust to proceed.
Tap Send button on iPhone and tap Receive button on Samsung Galaxy device. After the new Galaxy has identified the files from iPhone, select the "Messages" option and other data types you intend to move to the new device: contacts, calendar, notes, etc. After that, start the migration process.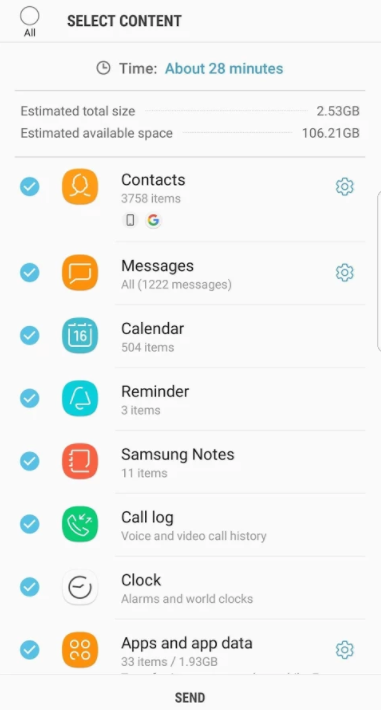 Turn off iMessages on iPhone
Apple's messaging platform associates your personal information with Apple server, including contacts, SMS, email and Apple ID. If your friend texts you with his iPhone, the messages pass through the Apple server and are delivered to your iPhone as iMessages. Of course, you can also receive regular text messages from Android phone users.
If you forget to disable iMessage on iPhone after you switch to Samsung Galaxy device, the incoming SMS from iPhone users will be stuck in iMessage app and cannot be received by your new handset. Hence, your friend thought you have got the texts, but you haven't, which may put you into trouble.
If you have decided to jump to the Android world with the new Samsung Android device, please remember to deregister iMessage. To do this, Go to Settings on iPhone and tap Messages. Turn off iMessage by toggling the button.