How to Migrate Text Messages from iPhone to iPhone Quickly
Let's say you get a new iPhone in place of the old one for more features and better user experience. You have saved a bundle of text messages in your old iPhone. Perhaps you want to track your conversations with your friends, colleagues or family members. Maybe some text messages are crucial for business and some are valuable and memorable that you want to keep. So it is a wrench if you have to throw away these messages.
You may be worried that you can no longer retain your text messages, but there are more solutions than problems. When transferring text messages from an old iPhone to a new one, the first option that flashes into your mind might be the wireless transmission without the use of a computer, but a stable and reliable network connection is required to carry out a seamless and smooth transfer for text messages. Alternatively, you can archive your text messages via iTunes or iCloud and restore the text messages to your new iPhone, but such task is arduous and other stuff that you don't want to transfer may also synced to your new iPhone.
To ensure that every piece of text messages to be copied from one iPhone to another iPhone is not left out, a neat third-party program is introduced in this article to accomplish this goal—Phone Transfer. It can not only move your text messages and other content including contacts, music tracks, videos, call logs, etc between your two iPhones. but can transfer data from Andriod to iPhone and vice versa.
Even better, the program helps you make a backup of existing data on device to computer and restore it whenever you need. With it, you can also retrieve data from iTunes & iCloud backup files.
Let's move forward and see how it works on moving sms between two iPhones.
Step 1: Connect two iPhones to computer
Launch the program and select phone to phone transfer option (green) on the main interface.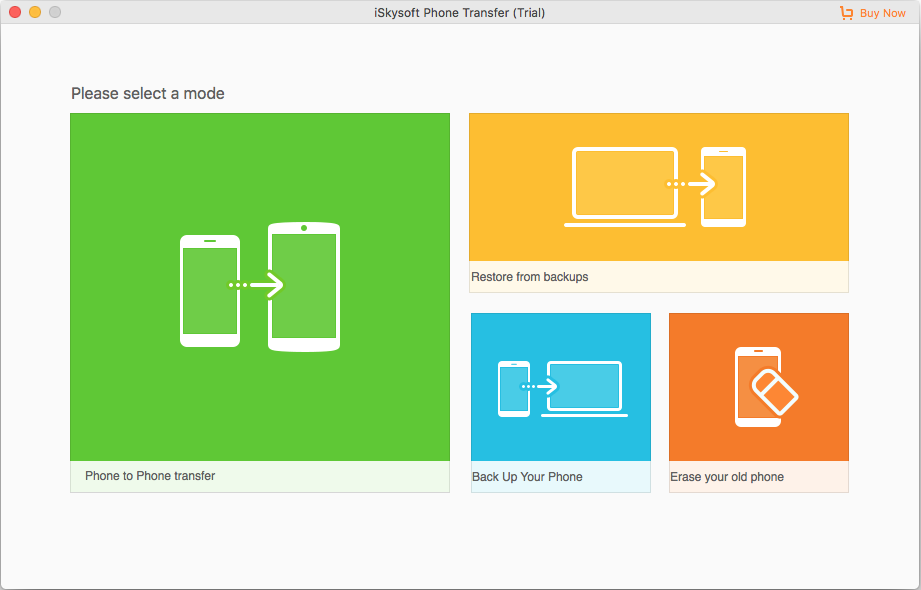 Pick up the iPhone's proprietary USB cable to pair the two iPhone devices with the computer. On the iPhone home screen, tap Trust to allow data access.
Step 2: Select text messages option after scanning
After the step of connection, you will get a picture as below: the two handsets are placed on the sides of source and target. You can click Flip button to switch their position if you like to do so.
The software will start scanning your source iPhone automatically and display all of transferrable files In the middle pane. If you transfer text messages only, just tick box next to Text Messages and let the rest unmarked.
Step 3: Start iPhone to iPhone sms transfer process
Now, all you need is click "Start Copy" button and leave the program to do its things. In this manner, all your messages on old iPhone have been copied to your new iPhone.
Done!