How to Move Data from HTC Phone to iPhone Seamlessly
For most HTC Android phone users, making a switch to a new iPhone can be exciting. But the reality is far from pleasant when you are trying to get the data (contacts, sms, music, photos...) in old HTC phone and put them into new iPhone. Because a large amount of the vital data are still stored in your old HTC handset, the traditional way of transferring the data from HTC to iPhone—dragging and dropping the data between folders using the computer as a bridge— is time consuming and inefficient. So are there any effective methods to copy contents from HTC (Bolt, HTC 10, Desire 530, HTC One A9, M9, etc.) to an iPhone?
The data migrating process may sound complicated and overwhelming but, actually, it is simpler than you might think. Phone Transfer software, working as a bridge cross mobile platforms, is an effective and easy-to-use data transferring program. It is capable of moving contents between HTC smartphone and iPhone as easy as hooking the two devices with your computer, selecting sorts of data you want to migrate, and hitting Start Copy button.
With it, you can even back up data on your computer and get it back whenever you need.
Let's take a look at how perfectly it works in moving from HTC to iPhone without losing important data! See also: Best iPhone data recovery software
Step 1: Connect your iPhone and HTC to the computer
Open up Phone Transfer.
Four modules are available on the software homepage: Phone to Phone Transfer, Back Up Your Phone, Restore from backups and Erase your old phone. Click the green Phone to Phone Transfer for data migrating between HTC and iPhone.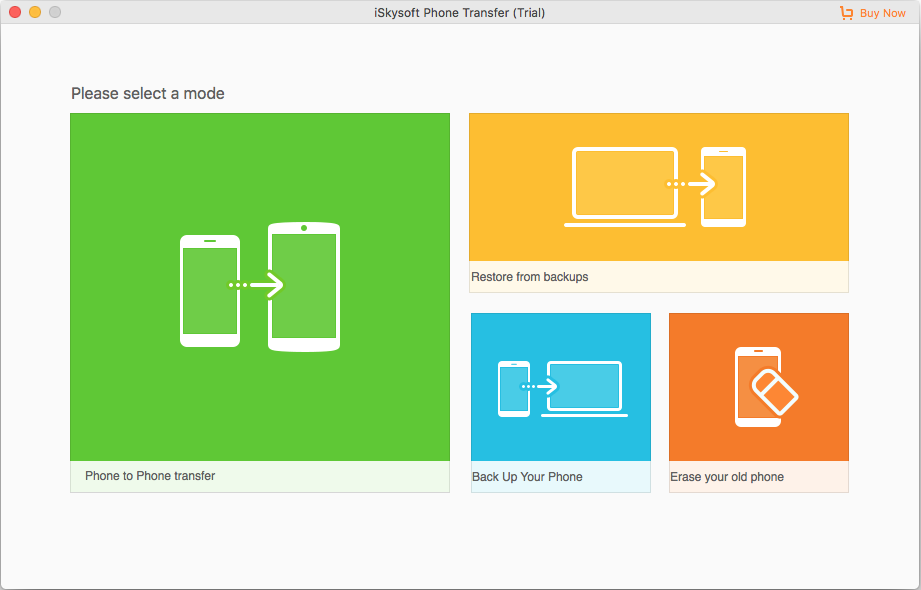 A new screen opens, as image shown below.
Next, connect your both old HTC phone and new iPhone to your computer through USB cable - ignore iTunes if it opens.
For Android phone, USB debugging mode must be enabled on device to let the software access to read the data, you can follow the on-screen instructions in the software or the link above to set it up. With regard to iPhone, when it is hooked up to the computer, a prompt will pop up asking whether you trust the computer or not. Click Trust to continue.
Please pay attention to the sending's device and receiving's device, don't mix them up. A click of Flip button makes the transferring journey go the opposite way from iPhone to HTC smartphone.
Step 2: Select content you want to transfer from the old HTC device
Once two devices connected, the program should automatically recognize your source device (see left in screenshot) at once and show all of the data available for transferring from HTC over to an iPhone like contacts, photos, music, videos and others in the center box of the program's window.
Next, you need to select the type of content you want to transfer from HTC over to your iPhone in the center box (all files are checked in this example).
Be aware of the amount of data your new iPhone can hold. You can tick the "Clear the data before copy" option in the lower right corner place to empty the iPhone for more storage memory.
See More: How to Transfer Music from iPhone to a Mac Computer.
Step 3: Export selected data on HTC and put onto iPhone
After everything is ready, just click Start Copy button at the bottom center of the screen for the transferring process of HTC stuff into iPhone to commence.
After a little while, Your new iPhone will be populated with all the content (music, photos, contacts, videos, calendar, etc.) from your old HTC Android phone!
Done!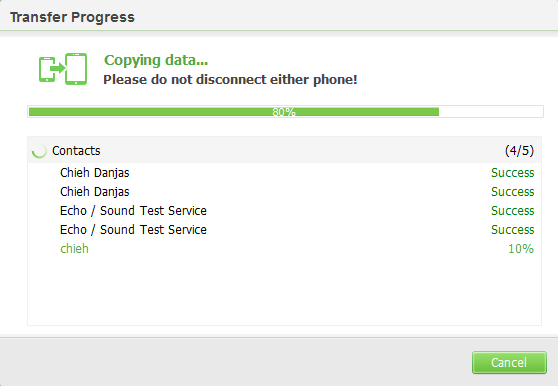 Related: How to Move Music Files between iPhone and iPad
For most phone users, data loss or corruption is nothing new, whether it is caused by virus or external factors. However, data loss or corruption can bring you unexpected trouble or even a disaster. It will make you redo everything you have ever done. Since nobody is infallible, people make mistakes and make them quite often. Insuring that you've got an backup of vital data in place can really save you if something goes wrong. This is why, another feature of Phone Transfer software, backup and restore, comes into play.
Just like the data copying process from HTC Android device to an iPhone, The data backup process is an easy task. On the main interface, click on the blue Back Up Your Phone module, in the next screen, select the items which need to back up from your device and finally press Start Copy button to begin backing up your phone data to a directory on your machine. After it is finished, check the data (music, videos, contacts, photos, call logs, etc.) in the folder in your PC.
Phone Transfer is also able to retrieve the data from the backups stored on your computer and move into your phone. Please follow the instructions: click the orange Restore from Backups module, and then select Phone Transfer backup file from the pop-up menu. A list of transferrable data will be automatically showed. Tick the data you would like to retrieve, and finally simply press Start Copy button. The software will do the rest.