How to Transfer Data from iPhone to Samsung S8 (Plus) Instantly
You have probably got a blockbuster in the smartphone circle: Samsung Galaxy S8/ S8 Plus is imminent. It goes without saying that SamsungS8/ S8 Plus is gorgeous. It adopts a curved screen, waving Samsung S7's flat screen goodbye. Fitted with interactive intelligence assistant Bixby, Samsung S8/ S8 Plus aims to facilitate your life. What's more, SamsungS8/ S8 Plus can survive atrocious weather because it is specially engineered to be dust-proof and rain proof. In order to add airtight security to your data and important files, iris scanner and face recognition is put in place.
With all these features attributed to Samsung Galaxy S8/ S8 Plus, it will definitely be a marquee Android phone among most smartphone enthusiasts. If you are a style-conscious user and want to ditch your iPhone (iPhone 7, iPhone 6s, iPhone 6, etc) for a new Android phone, then the elegant Samsung Galaxy S8/ S8 Plus is your best bet.
Maybe you can't wait to try Samsung S8/ S8 Plus phone, but let's face the fact: you need to transfer the data from your old iPhone to Samsung Galaxy S8 (Plus), right? We know Android and iOS are two different operating systems, so there must be some restrictions and limitations between these two systems when it comes to moving content, including contacts, photos, music, videos, text messages between iPhone and Samsung S8/ S8+. There are a number of third-party data transferring tools on the web, but quite a few of them don't work very well due to compatibility issues.
To help you gain a quick access to Galaxy S8 (Plus), Phone Transfer comes to your way.
Phone Transfer is a professional and easy-to-use data migrating tool, in an attempt to make the process of copying your stuff from an iPhone to a Samsung Galaxy S8/S8 plus as easy and quick as possible for beginners. It allows almost all data files from contacts, SMS, calendar, call logs to videos, photos and tracks to be migrated. As a versatile utility, Phone Transfer is receptive to most operating systems, like iOS, Android, BlackBerry, WinPhone and Symbian.
Let's get down to business and see how it works.
Step 1: Connect your old iPhone and New Galaxy S8/ S8+ to computer
Download the program and install it on your machine. Here we take its Mac version for example.
Launch the program and select the green Phone to phone transfer module.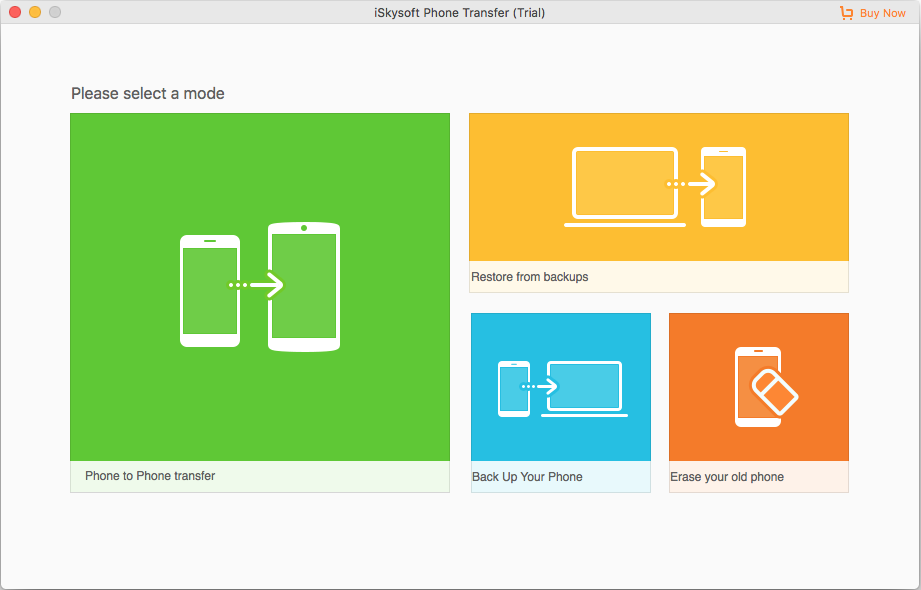 The next screen will ask you to connect both your devices with two USB cables. Once connected, please activate USB debugging mode on your Samsung S8 (Plus). On iPhone, just tap Trust when a prompt pops up.
Guide on How to Activate Debugging Mode on Android device.
Related Article: How to Liberate Songs from an iPhone and Move to Mac
Step 2: Select Music from your iPhone
Now, both your devices are on the program window. Click Flip button to set iPhone as the source device and Galaxy S8 (Plus) handset as the target device.
All the available data from iPhone are displayed on the middle data box. Just select whatever data (contacts, text messages, calendars, music, videos, photos, call logs) you would like to transfer. For the purpose of this tutorial, we would like to move all content to the new Samsung Galaxy S8 (+) from iPhone, so we tick all boxes next to the data types.

It's worth pointing out that Phone Transfer also allows you to delete the existing content in your Samsung S8/S8 plus (if you have used it). You may tick Clear data before copy option under the device icon.
Tip: If you lost files on your iPhone, be sure to recover them as soon as possible. Learn more about how to recover deleted data files from iPhone.
Step 3: Press the green "Start Copy" button
We come to the last step. All you need to do is click Start Copy button. The software will deeply scan the data (contacts, music, videos, sms, photos, etc) inside iPhone and move into the new Samsung Galaxy S8 (Plus) Android phone.
This process might take some time. Just wait until the progress bar is completely filled.
Done! Now, you can indulge yourself in Samsung S8/S8 plus.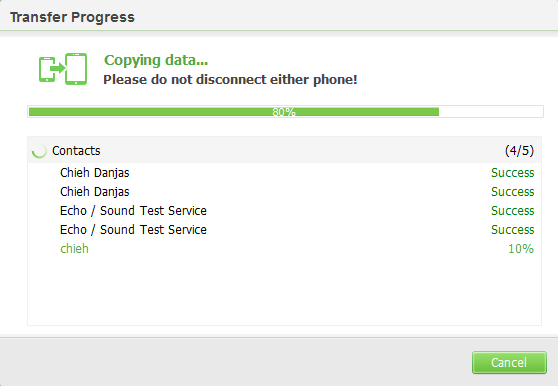 Back Up Your Samsung Galaxy S8 (Plus)
Clearly you don't want to see your time and effort invested in transferring all the data to your Samsung S8 (Plus) phone end up nothing, so it is advisable to back up your important data in case of data loss from time to time. With the blue "Back Up Your Phone" module of Phone Transfer, you can easily back up everthing on Samsung S8/S8 plus to the computer. If anything wrong happens to your data, you can restore the data back to your device.
By the way, you can use iTransfer, one of the most popular iTunes replacements in the market, to better manage your content between phone and the computer. It is also applicable in the media file management between iOS and computer.
The Bottom Line
Switching between phones is not easy, especially from iPhone to Android. Old habits die hard. It is gut-wrenching to say goodbye to your old habits related to the iPhone (want to recover iPhone data?) and embrace the freedom of new Android. Thankfully, Phone Transfer makes your data migration from one device to another as painless as possible. Download it and give it a shot!