How to Transfer Contacts from Motorola Phone to iPhone Instantly
There are plenty of 3rd party apps that claim to transfer contacts from Motorola Android phone to iPhone. What we're going to use in this article is an all-in-one tool named Phone Transfer, which moves all your stuff from one device to another easily and quickly.
If you've just bought a new iPhone and you're switching from a Motorola Android smartphone (Moto Z Force Droid, Z Droid, Z Play/Droid, Moto G⁴/Play, Moto X Pure Edition, whatever), one of the most daunting tasks is figuring out how to transfer all kinds of important data from the old Motorola to your new iPhone. There is no doubt that you've amassed years of data such as contacts, photos, music, messages on that old Motorola device and you don't want to lose them. Arguably the most important part among them is the contacts.
The method you choose to get the contacts migrated from a Motorola smartphone to an iPhone (or iPhone to Motorola) will probably depend on how many contacts you wish to move. If you just want to share no more than ten contacts, for example, you can use the Mail or Message service on your Motorola handset to send them to the new iPhone. If you have a large number of contacts to be moved, you'll have to go after other methods instead.
Luckily, switching mobile platforms doesn't mean transferring all your data including contacts difficult. Phone Transfer for Windows makes it easy to transfer contacts and other stuff between iPhone and Motorola. It works with other smartphones manufactured by Samsung, LG, HTC, Huawei, Sony, Lumia, etc. No network required, just use a PC or Mac machine as a go-between.
If you're using an iMac or MacBook, you can use its Mac version—Phone Transfer for Mac to copy Motorola contacts to iPhone or contacts from iPhone to Motorola smartphone.
Migrating contacts from a Motorola phone to iPhone with Phone Transfer could be remarkably simple and quick, let's take a look at how it works. All of iPhone models are supported.
Step 1: Run the program on the computer and connect to your both phones
When you launch the program on your computer each time, you'll be greeted by a user-friendly interface that's easy to navigate.
The program includes four quick choices as to what you want to do exactly. In the example of this article, we select Phone to Phone Transfer option from the screen.
If you want to backup data of your phone to computer, restore from iTunes/iCloud backups, or even remove data on phone permanently, please go with 3 other choices.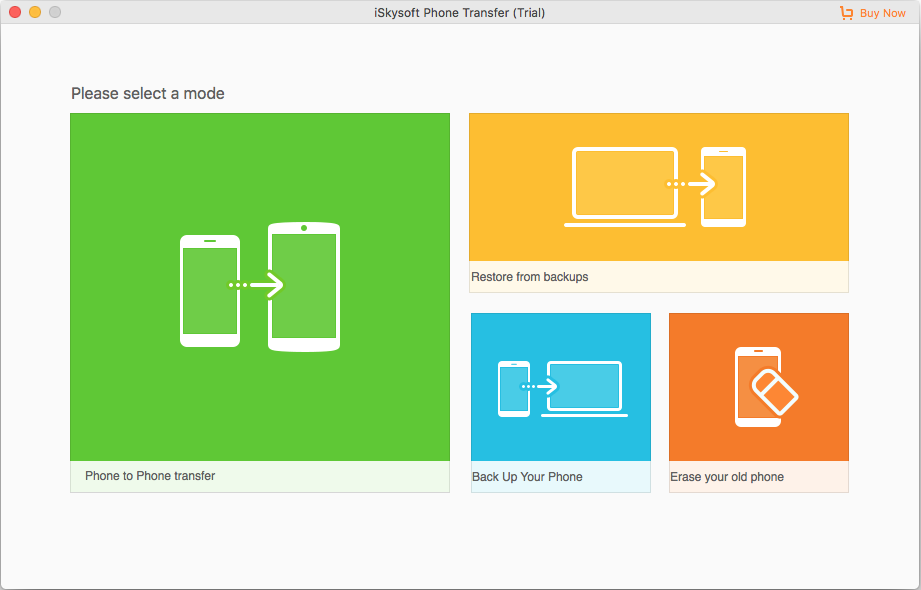 Next, the software will ask you to connect your source phone and target phone that you wish to transfer contacts to. Here simply plug your old Motorola smartphone (Moto Z Force Droid, Z Droid, Z Play/Droid, Moto X, etc.) and new iPhone (iPhone 7/Plus, iPhone SE, 6s, etc.) into your machine.
In order to get authority to access data on your Motorola device without limitation, ensure that your Android device is on USB debugging mode (what is it?). Don't know how to do this? Click the "cannot recognize the device link" on the bottom of the screen, then in the pop-up window click Android icon, a step-by-step demo will tell you how to do. Don't worry, just a few taps on your Motorola phone.
Step 2: Select Contacts from your Motorola handset
After hooking up your both phones to computer, the program will automatically identify your respective device and start scanning the content on your source phone. Make sure your Motorola phone is on the left side of the screen as source device. If not, just press the Flip button on the center to switch the position of two devices.

Note: we're using a Huawei H60 in the following screenshot; your phone image should look different, but you get the idea.
Once the scan process completes, it will display all your content on the center list, sorting by Contacts, Text Messages, Calendar, Call logs, Apps, Photos, Music, Videos.
In our case we need to transfer contacts from Motorola over to iPhone, so click the checkbox next to Contacts from that list.
Step 3: Begin contacts transferring process
When you're ready, press the Start Copy button on the bottom center of the interface to start contacts moving from source Motorola to target iPhone.
The process time varies, depending on how much of contacts on your Motorola phone.
Once that is taken care of you should go to Contacts app on your iPhone (or go to Phone app and check Contacts ) and find that all of your Motorola contacts are on there.
You're good to go!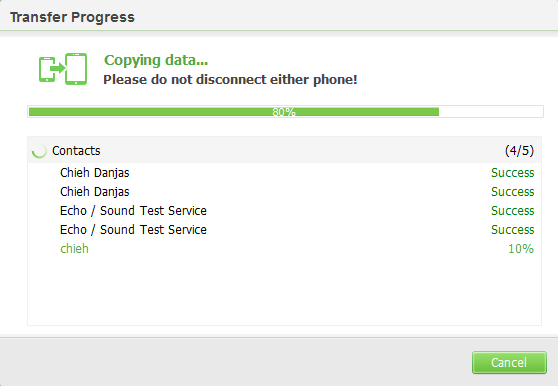 Motorola models: Moto Z Force Droid, Moto Z, Moto Z Droid, Moto Z Play, Moto Z Play Droid, Moto G⁴ Plus, Moto G⁴, Moto G⁴ Amazon Prime Exclusive, Moto G⁴ Play, Moto G⁴ Play Amazon Prime Exclusive, Moto X Pure Edition, Moto G³, Droid Turbo 2, Droid Maxx 2
iPhone: iPhone X (2017), iPhone 8/ Plus, iPhone 7/ Plus (2016), iPhone SE, iPhone 6s/ Plus, etc.
How to Transfer iPhone Contacts to Samsung NOTE 8
How Can I Transfer Music from iPhone to Motorola Phone