How to Transfer Call Logs from iPhone to Samsung Galaxy S8 (Plus)
The Samsung Galaxy S8 and Galaxy S8 Plus have finally been launched. With the characteristics and details announced officially, some of you may be surprised and delighted for the revolutionary design from the inside out in both Galaxy S8 and Galaxy S8 Plus. They are the first infinity display with no bezel around the screen used on smartphones in the world that gives you the most amount of screen in the least of space. In addition, a new digital assistant called Bixby has been introduced in the Galaxy S8/S8 Plus, as well as other technology like water-and-dust resistance, face and iris scanning, wireless charging, Qualcomm Snapdragon 835 processor, etc.
If you have used iPhone previously but now is attracted by Samsung Galaxy S8/S8 Plus, you're probably bursting to purchase a new one to replace your old device. Actually, switching from one phone to another is not a big issue but, one of the annoying situations you may confront is that how should you move your old iPhone call history to the new Samsung Galaxy S8/ S8 Plus. You couldn't re-save your call logs one-by-one manually on your S8 Android phone.
Fortunately, If you want an one-stop solution for transferring your call logs and other data from the old iPhone to your new Samsung S8 (Plus) phone, it's hard to go past Phone Transfer. It works for both Windows and Mac computer. All you need to do is just connect your mobile phones to the computer and select the stuff you wish to move from the list to the new device and finally press Start Copy. The whole process will be done with just a few mouse clicks.
Even better, you can back up your everything on your computer or external hard drive, and retrieve it back any time.
Tip: Sometimes you may delete your call history accidently. Afterwards you realize you forgot to save the numbers in your call history to address book and some call logs are very vital to keep track of your business. There are ways to set back the clock by recovering deleted call history from an iPhone using iOS Data Recovery program.
The following tutorial aims at offer you step-by-step guides on copying the call logs from an iPhone to a Samsung Galaxy S8 (Plus) smartphone. Before this, you will have to download the software through the links above according to your computer.
Step 1: Launch the Program and Establish Connections
First of all, install and run the program on your computer. There are four options on the main screen coming into your view: Phone to Phone Transfer, Back up Your Phone, Restore from Backups, Erase Your Old Phone.
In this tutorial, we'll be copying call logs from an iPhone to a Galaxy S8 Android phone, click the Phone to Phone Transfer option to continue.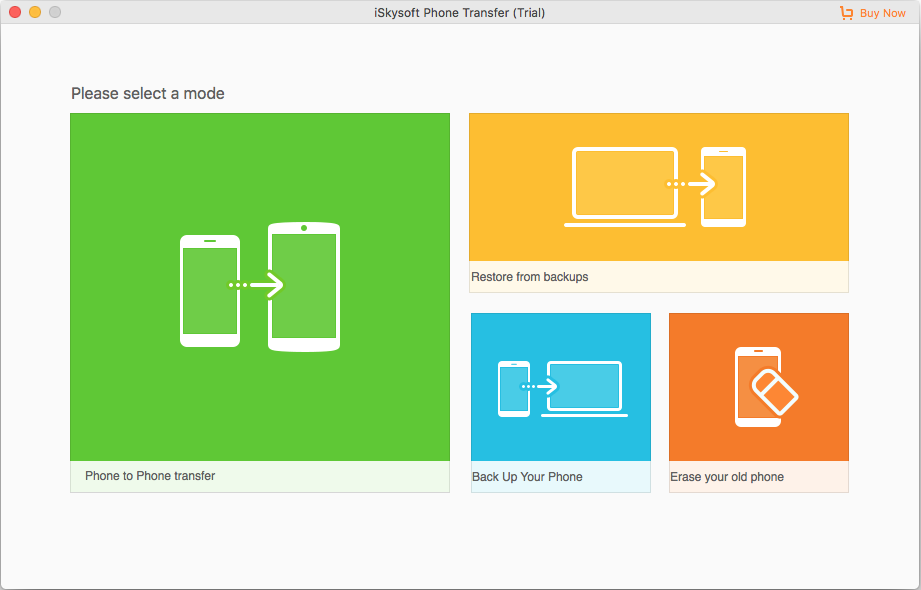 Then, you connect your iPhone and Samsung Galaxy S8/S8 Plus respectively via USB cables, enabling USB Debugging on Samsung Galaxy S8 and tapping Trust on your iPhone. The program will recognize your both devices quickly and return you the icon on the either block of the interface.
Step 2: Select Call Logs to Move to Samsung Galaxy S8/S8 Plus
In this case, the source device should be iPhone while Samsung Galaxy S8/S8 is your target device. If they are in a wrong order, you may hit Flip button to exchange their positions.
The software will begin scanning and analyzing the files in your source iPhone, and then display a list of transferrable content with number in the middle column of the window. By default, it will select all the data to be migrated from your iPhone to the Android smartphone.
Note: If you want to empty the Samsung before delivery, tap "Clear data before copy".
Don't Miss: How to Back Up Your Album of Music from iPhone to Save on Mac
Step 3: Start Call Logs Migrating Process
Now, just click Start Copy button to commence the call history migrating from iPhone to your new Samsung Galaxy S8/S8 Plus. You can watch the progress bar running swiftly.
As soon as your transfer is finished, you can eject your phones. All your iPhone call history should now be available for you on your Galaxy S8 smartphone.
Done!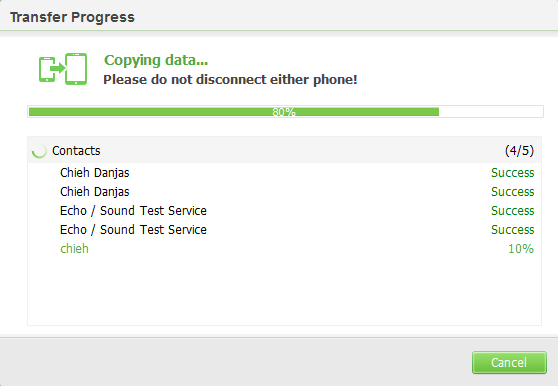 All in all, with three simple steps, you can do other transfers freely and painlessly.