How to Migrate iPhone Text Messages to HTC Seamlessly
Q: "Recently, I purchased a new HTC phone. before I donate my old iPhone, I want to get all the text messages in iPhone over to the HTC device. After that, I hope I could wipe out all the data in iPhone forever. The messages are sensitive. Is it possible? If so, how to do it?"
Switching from one smartphone to another is a difficult task, and even more so if the operating system is different from the one you are currently using. If you leap from iPhone to HTC Android phone, the transitional process can be quite daunting. Your digital life has been revolving around iOS, iCloud, iTunes, iMessage and Facetime, but now, you get a new HTC phone, which means you have to start from scratch with a different platform.
On your part, switching from iPhone to HTC is not just about migrating your digital life to a new and different platform, but also about the massive task to transfer a decent amount of text messages from iPhone to HTC handset, complete with other data including contacts, call logs, photos, music, etc. Gone are the days when you had to spend hours fiddling with device's settings painfully. Now, with Phone Transfer, things become much easier.
Phone Transfer boasts of the following features
Capable of transferring various kinds of data including contacts, text messages, call logs, music and any other content in one click.
Move stuff irrespective of the platform (iOS, Android, WinPhone, Blackberry) you are sending to without any hassle.
Archive your precious files to the computer and keep them safe.
Restore from backup files you created with iTunes, iCloud, OneDrive
Eliminate private or sensitive data in the smartphone forever and thoroughly (Mac version only)
Now, get ready to copy all the iPhone messages to HTC phone by following the instructions below.
Step 1: Select phone transfer mode
Run the application on the computer and an intuitive interface comes into sight. Choose the green section called "Phone to Phone Transfer".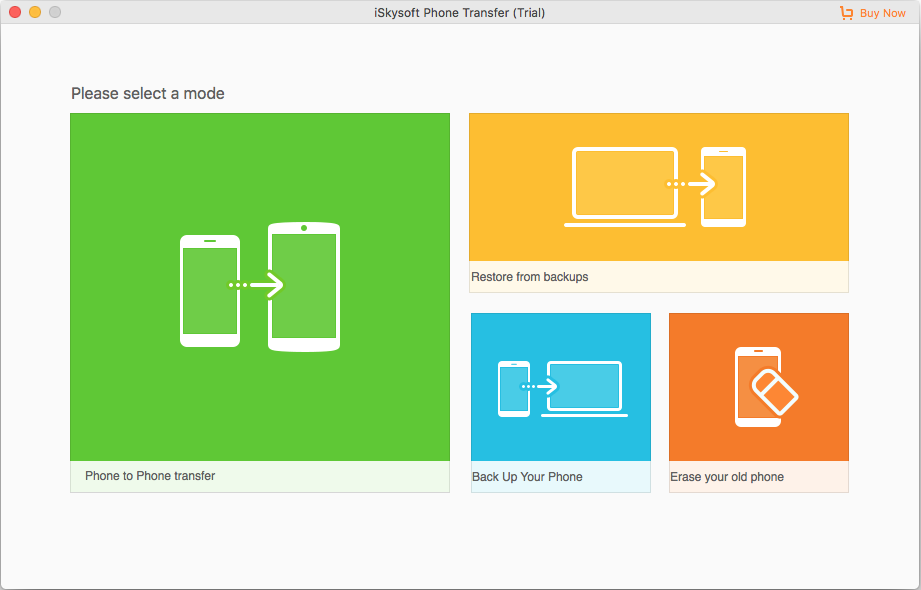 A window as follows will be presented, asking you to connect both phones to the computer with USB cables. Next, switch on USB Debugging Mode on HTC and tap trust on iPhone to authorize connection.
Step 2: Select which parts of your iPhone content you'd like to transfer
The two devices will be recognized and displayed on both sides. If iPhone is on the left pane and HTC is on the right, it means the text messages are moved from iPhone to HTC. Flip button is available on the top center of the screen to switch position between two devices.
The program starts scanning the source iPhone in a fast manner.
After scanning completes, all your iPhone files have been displayed on the content box in categories. In our example, we're marking the Text messages category by placing checkmark in the box.
Read Next: The Best Software for Recovering Data from iPhone
Step 3: Starting moving iPhone messages to HTC
Press Start Copy button below the content box to begin getting the text messages from iPhone to HTC Android phone. Seriously, leave both devices connected well during the entire process.
When the progress bar reaches the end, you can unplug both handsets and check the transferred messages in your HTC's Messages inbox.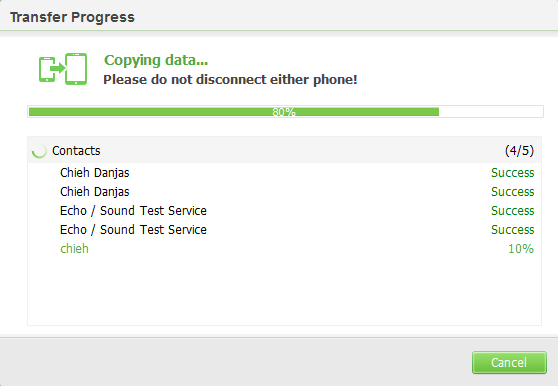 Assuming you do not want to keep the old iPhone around after the data transfer, the best option is wiping the existing data on the device thoroughly in such a way as to prevent sensitive info from ever being recovered by iPhone data recovery tools before you sell it or throw it away.
The Bottom Line
Whether you are switching from one smartphone to another in different mobile platforms or using two devices with same OS simultaneously, Phone Transfer can give you a helping hand in making a smooth transition of your contacts, SMS history, call logs, songs, photos and other files.