How to Copy Text Messages from iPhone to Huawei Seamlessly
The only thing constant is change itself and such statement is also true of phone technology. With the constant updates and iteration in phones, people changes their smartphone regularly. Change is good, but it is hard. If you switch from iPhone to Huawei Android, the change is even harder. Before you spare no effort to transfer text messages from iPhone to Huawei, please read this post carefully.
A question posed by an iPhone user: "I decide that I want to switch from iPhone to Android for the expectation of finding new features and software. The Huawei phone is an amazing phone to me. I love the sleek design of it, along with its great display and unique user experience. Now, one thing troubles me. I want the old iPhone messages on the new Huawei smartphone. I don't want to be confused by any cloud services, settings or other technical stuff. What I need is a simple, direct way to copy the SMS messages inside iPhone to Huawei. The simpler, the better."
No matter what kinds of smartphone you are using, the role played by cell phone since its release remains unchanged: calling and texting. Since you have been using iPhone for a long time, a large amount of SMS history must pile up in the device, some of which is important. When you replace iPhone with Huawei, you definitely don't want to abandon all the text messages that have been with you for years. So, is there any way to migrate messages seamlessly to Huawei from iPhone to Huawei?
The solution goes to Phone Transfer, a reliable and efficient data moving program which is devoted to the transfer of different sorts of files varying from contacts, messages, call history to music, photos and videos. It works perfectly with different platforms like iOS, Android, WinPhone and the older Symbian, covering thousands of phone models.
This guide will take you through all the steps needed to move text messages from an iPhone and get them imported to a Huawei Android phone.
Step 1: Plug your both iPhone and Huawei into computer
Run the program first after installation and a primary interface will come out with four colorful icons. You can mouse over any of the icon to get tips about what each icon does.
To transfer messages from iPhone to Huawei handset, select the green "Phone to Phone Transfer" mode to continue.
Before you proceed, it's a good idea to back your iPhone data all up first. To do this, you can use the blue "Back Up Your Phone" mode to get the job done. It's up to you.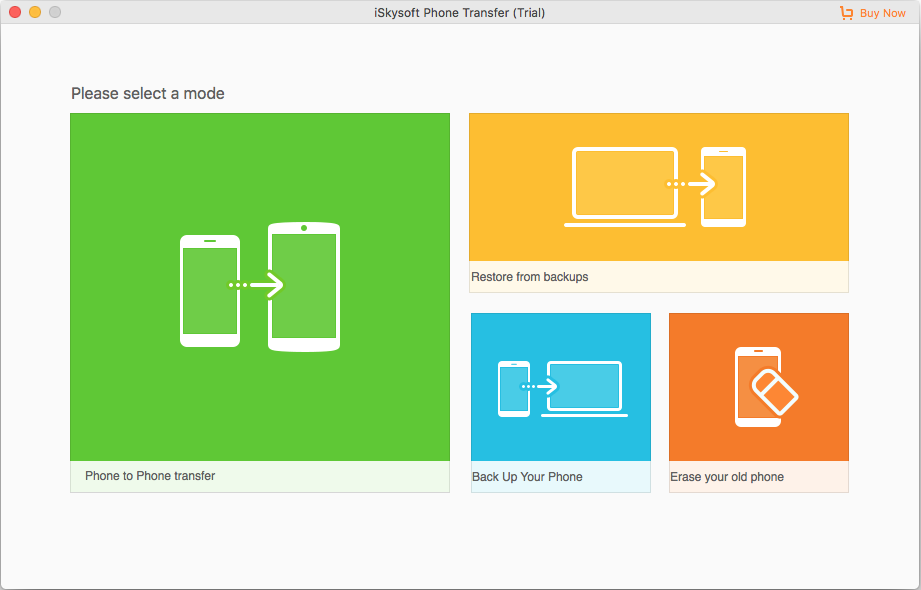 Next, take two USB cables to connect your two devices to the computer and wait for Phone Transfer to detect them. Just use the Flip button to shift their position if necessary to ensure that iPhone is on the left side as Source device.
Then turn on USB Debugging Mode on Huawei. and tapping trust on the iPhone screen.
Step 2: Check Text messages option after scan
The software will start analyzing the source iPhone memory and return a list of data files.
On the middle pane, you are allowed to select whatever data type to be migrated. In our example, we're going to copying text messages history we have on the old iPhone from Messages app to Huawei smartphone, so we just place a checkmark in the box near Text messages.
Step 3: Initialize the transfer process
Press Start Copy button at the bottom-center section to begin the process of transferring iPhone text messages over to Huawei phone. Please keep the devices well connected during the whole process.
This way, all the available iPhone SMS will end up in your Huawei Android phone. You should see these added messages the next time you open the Messages app on your Huawei Android.
You're done!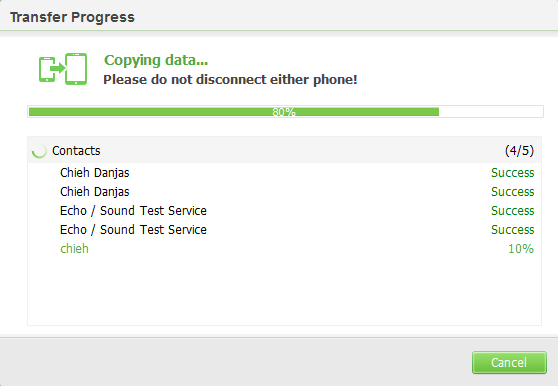 The Bottom Line
Being the full-fledged application for the data migration, Phone Transfer enables you to jump between different kinds of smartphones freely. Besides, this applications also lets you back up & restore your phone data to & from computer.