How to Move Music from iPhone to Sony Xperia Phone Quickly
It is no wonder that plenty of smartphone users are switching from one device to another every one or two years. iOS and Android, the two largest smartphone providers, are vying with each other for the market share. Despite the huge user base of iOS, it is reported that impressive devices like Sony, Samsung, Motorola and Huawei appeals to more and more users, including owners of old iPhone.
If you're thinking of upgrading to a new phone or switching to a different platform, one of the things you'll want to bring with you is music that's stored on your old handset. Transferring tunes from an old Android phone to a new Android device is as easy as moving something to a portable flash drive from computer, but when it comes to making songs migration beteen iOS and Android - in either direction, it is slightly more challenging as the official way—iTunes—is only available for Apple users to manage and sync music between computer and iOS devices such as iPhone, iPad and iPod.
So, if you just got a new Android phone, say, Sony Xperia smartphone, how can you copy all songs from the old iPhone to it? The good news is the process is fairly straightforward.
The tool we'll use in this article called Phone Transfer. It has been around for many a year now and is arguably one of the most efficient ways to move all of your data including music from iPhone to Sony Xperia in just a few clicks. It makes data transfer between phones as painless as possible.
What Does Phone Transfer Do?
Phone Transfer is an intuitive and elegant desktop application which allows you to quickly move files including contacts, music, photos, videos, call logs, calendar, messages between Android and iOS devices without internet connection. Another benefit about this tool is the ability to back up your phone data on your computer for safe keep, and even retrieve files from your iTunes & iCloud backup and upload to your phone & tablet.
Now sit down in front of your computer, prepared with both devices and supplied USB cables, and let's get started.
Step 1: Plug your iPhone and Sony Android phone into the computer
First of all, connect your both handsets to your computer using a USB cable, and enable USB debugging mode on your Sony phone. it's easy with just a few taps on phone screen.
Next, launch the Phone Transfer. It provides a very straightforward interface like this.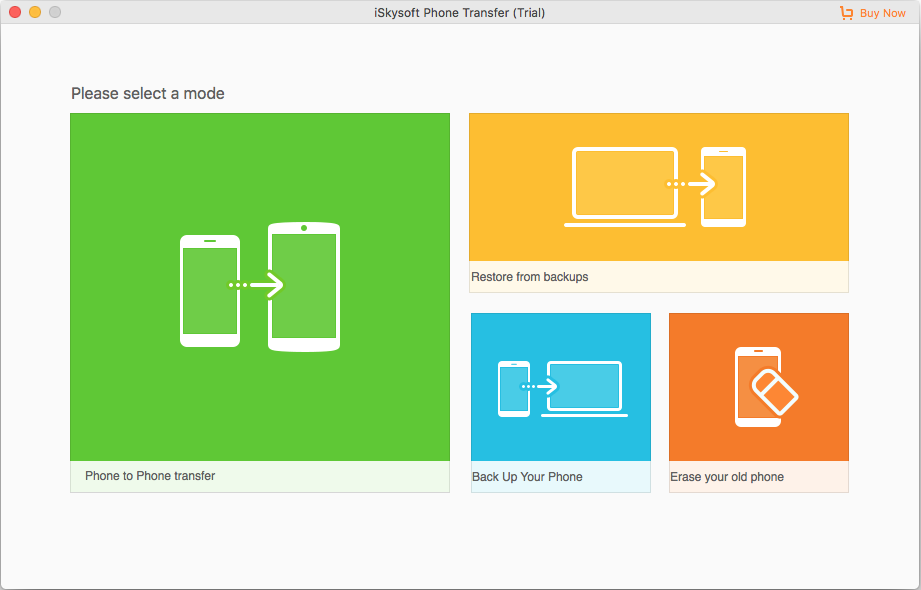 Click on the green "Phone to Phone Transfer" option to get into file transfer window, as image shown below. Note that if you want to keep any important data from your old device for later use, the blue "Back Up Your Phone" option is useful for you.
Step 2: Detect your sender's phone and scan its data
Once both phones are connected, one (iPhone) should appear on the left side as sender's phone, and the other (Sony) displays on the right side as receiver's phone. You can click on the Flip button to switch them.
A scan of the sender's phone will start. This step can take some time.
When the scan finishes, it will present you with a list of files that you can transfer, such as contacts, messages, music, photos, videos, calendars, call logs.

In the lower right corner there's a "Clear data before copy" icon. Clicking that will erase all your existing data in the Sony xperia phone. It would be great if we just want to get data exactly from the old iPhone.
Step 3: Start transferring iPhone tracks
Check the box beside Music and other files you would like to copy to your new Sony phone.
When you're satisfied with your selections, press the green Start Copy button located on the center bottom, the transferring process of iPhone music to Sony handset will begin.
It could take a couple of minutes for the entire process to complete, especially if you were storing a large number of tracks on the old iPhone.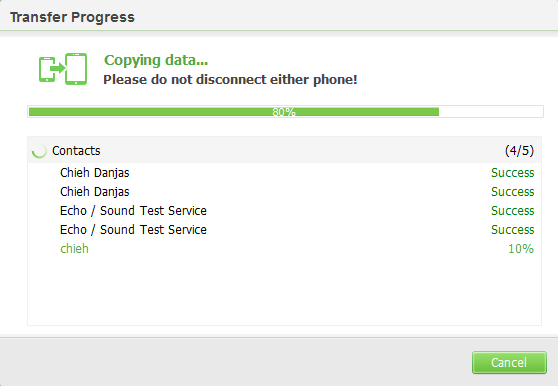 It's worth pointing out that even though Phone Transfer make your files migration much easy and quick, but know there some things you simply can't avoid. Due to ecosystem compatibility issue between iOS and Android, you can't transfer call logs from Android to iOS and you'll have to redownload your apps.
Also check: How to Move Text Message from a Samsung Phone to an iPhone
Manage Music List with iTransfer application
If you want to manage and organize (delete, add, fix music ID3 tags, de-duplicate, create new playlists, etc.) your video, photo, music library on the old device before transferring to your new Sony Xperia or iPhone, iTransfer is definitely a great alternative instead. With it, you can even add local videos and songs from computer onto your iPhone and vice versa without having to worry about the format compatible issue, the tool can convert them automatically to the suitable format for the device you're transferring to.
A basic iPhone songs to Sony transferring process below.
Open the iTransfer software, and connect your iPhone and Sony smartphone.
Select [your iPhone name] from the top left corner of the screen, then click on the Music button on the top menu to open music window.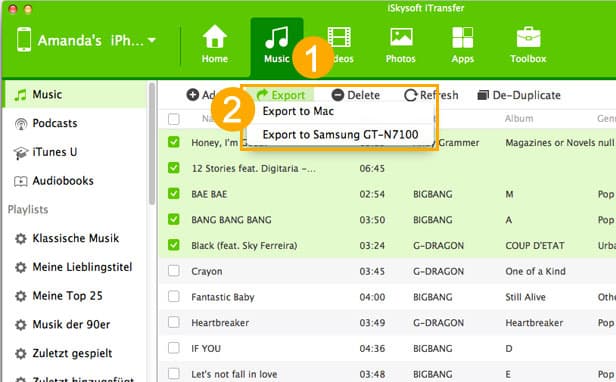 As you can see in the image, all of tracks on the list are sorted by categories including Music, Podcasts, iTunes U, Audiobooks, and playlists located on the left pane of the screen. Under the top menu there are five button that are for managing music, called Add, Export, Delete, Refresh, De-duplicate.
Add: import videos and songs from your computer
Export: move your files to your Android & iOS device, iTunes, Mac, PC
Delete: delete your selected individual songs
Refresh: reload the window after your add/delete files.
De-duplicate: remove the duplicate tunes
Use the Pen icon on the far right side of the song (when you hover mouse over it) to manually edit ID3 tags
Right-click on the Playlists category to create your own playlist.
Now, select the songs that you want to transfer to your Sony phone (assuming you set it as target device). You can choose to select a full playlist, all of music files, or individual songs.
Press Export button and then select Export to [Your Sony device name] from its drop-down list.
That's it!
All in all, iTransfer is an easy-to-use media management tool for you to organize your media files between iOS, Android, Mac, PC, iTunes Library without limitation.
Sony Models: Xperia™ XZ1, Xperia™ XZ1 Compact, Xperia™ XZ Premium, Xperia™ XA1 Plus, Xperia® XA1, Xperia® XA1 Ultra, etc.
iPhone: iPhone 7/Plus, iPhone SE, iPhone 6s/Plus, iPhone 6/Plus, iPhone 5s, iPone 5C, iPhone 5, etc.
Move Call History from iPhone to Google Pixel Phone with Phone Transfer
How to Transfer All Your Songs from iPhone over to the New Samsung Galaxy S8 (Plus)
A Complete Solution for Moving iPhone Messages Seamlessly to HTC