How to Copy Contacts from an iPhone to a LG Phone Seamlessly
"I just bought a LG Android phone the other day and have set everything up except for my contacts. I have more than 300 contact numbers in my old iPhone 6s Plus, Is there any easy way to copy all these contacts from my iPhone to the new LG phone without having to typing them one by one manually?"
Nowadays, many top Android devices like Samsung, Huawei, Sony, and LG are equivalent to iPhone in terms of features, easy-of-use and performance. With a great selection of different Android smartphones being released every year, it is certain that most users will get a new handset for a change. This post introduces a step-by-step guide on how to copy contacts from iPhone to LG.
Contacts, a must-have in our phone, is used to associate with the people we know. We use contacts to place a call, send a messages or get other information. When you got a new LG Android phone, how to go from old iPhone to new LG without losing contacts in the old iPhone? Actually, moving contacts across devices doesn't mean manually typing in countless names and phone numbers along with email, address and other contact information.
There are lots of way to transfer the contacts from an iPhone to a LG phone. If you want a more direct and simple approach to put the contacts onto LG from iPhone, you can take advantage of a tool named Phone Transfer to do a seamless transfer in between.
with its user-friendly interface, getting the contacts off iPhone and onto LG is as easy as pressing a few buttons. Just connect two devices into computer, select contacts options and starting the migration. The program also makes a migration of other sorts of data including text messages, call history, music, videos, and photos between your two devices, no matter what Android phone you have purchased, be it LG, Sony, ZTE, Motorola, Huawei, Samsung, ZTE. whatever, Phone Transfer helps you make a painless and quick transition possibly.
A step-by-step guide as follows is provided to get the transfer of contacts from iPhone to LG Android phone. The process begins with the installation of the Phone Transfer software onto your home computer, either Mac or Windows machine is OK.
Tip: Before the actual process, It's advisable to back up your iPhone.
Step 1: Open up the program and connect both phones to computer
Launch Phone Transfer. A very simple UI comes up where you should see a green "Phone to Phone Transfer" mode on the left side. Choose this option to continue.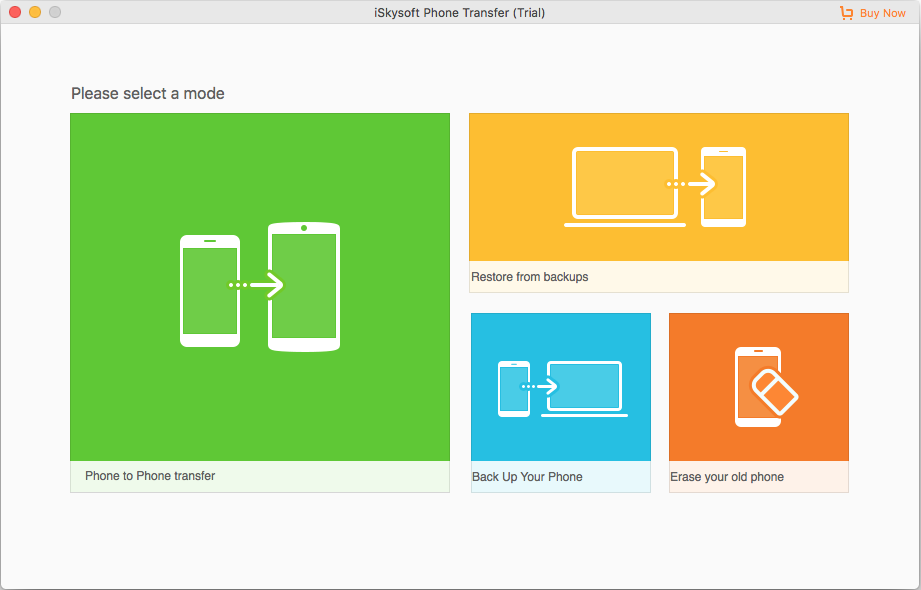 Use two USB cables to hook up your iPhone and LG with the computer. You should enable USB debugging mode on LG phone to access data. At the same time, tap trust on iPhone to continue.
Step 2: Scan the iPhone and then select Contacts option
After the connection is set up, the program automatically recognizes your two devices and display them on the window as source (iPhone) and destination (LG). You can use the button Flip at the top center to switch their place in the right way.
A scan of iPhone will start automatically. After the scan comes to end, you should see your iPhone content display In the center box of the window, categorized by different of files types such as contacts, photos, music, call history, messages, calendar, video.
For the purpose of this article, we just check Contacts box. You can also tick other file types like Text messages, Call logs, pictures, among other things is you want to transfer from iPhone.
Note: moving with apps and its data between iPhone and Android can be a little tricky due to two different ecosystems.
Step 3: Transferring iPhone contacts over to LG phone
Now, hit the Start Copy button at the bottom center section, the program begins copying the contacts in iPhone to your LG Android phone.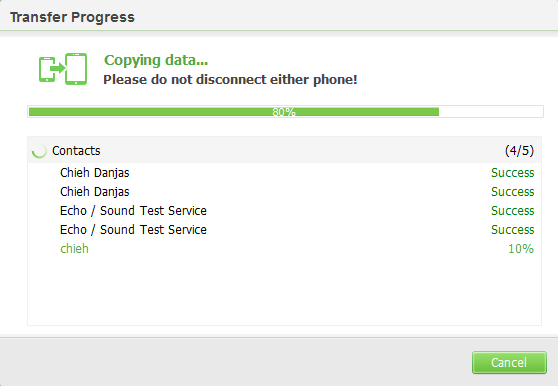 The time varies, depending on the file size, especially if you have selected other data files, but the process generally will be finished in a fast manner. Be patient.
For those longtime iPhone users, they may want to switch to a new Android device. With Phone Transfer at hand, you're able to transfer all your personal important data files in the old device to your new phone and get started with it quickly.
[Check out our guide on how to restore deleted contacts on iPhone here.]
Other Methods to Copy iPhone Contacts to LG Phone
Method 1: From iCloud Account to Google Account
To complete the process, you need a computer or laptop.
Go to your iPhone's settings and sign into iCloud with Apple ID and password. Enable Contacts option and merge the contacts with iCloud.
On the computer, log into iCloud website. Click Contacts to view all the contacts you just synced.
Click Settings (in the bottom left, shaped like a gear) > Export vCard. You contacts will be downloaded to the computer and saved as VCF file.
Sign in with Google Contacts on the computer. Then, click More and select Import from the drop-down list.
Choose the downloaded VCF file and click Import button. This way, the iPhone contacts will be brought to LG device with Google account.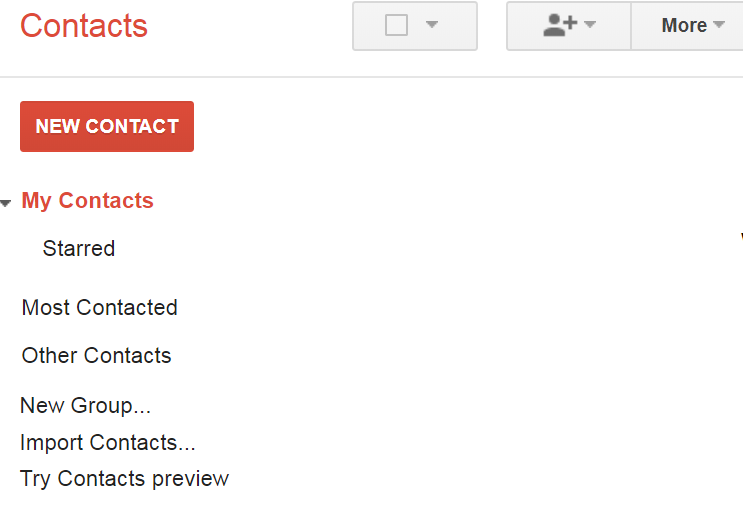 Method 2: The iTunes Way
iTunes comes in handy when you want to copy the contacts from iPhone to LG handset. To do this, first run iTunes on the computer and click the device icon at the top.
On the summary page, choose Info tab. On the right pane, mark the option "Sync Contacts With" and choose Google Contacts. After that, hit the Sync button and your Google account will be loaded with the contacts from iPhone. This way, you have the contacts migrated to LG smartphone connected to Google account.
Method 3: Using Third Party App
There are many third party apps that allows you transfer contacts, together with other data files from iPhone to LG phone. Here, we take the app called "Send Anywhere" for example. First of all, download and install the app on iPhone (from App Store) and LG device (from Play Store) respectively.
Open the app on both the smartphones.
On iPhone, tap Send button and choose Contacts tab. If you are asked whether to allow the app to access the contacts, tap Allow button.
Select the contacts you want to migrate to LG and tap the send icon. Then, on iPhone's screen, you will be presented with a sit-digit code and QR code.
On LG device, tap Receive button and enter the provided number or scan the QR code. After that, the contacts will be copied from iPhone to LG phone.
Method 4: Sync iPhone Contacts with LG with Google Account
Google account can act as a bridge between iPhone and LG and transfer contacts from one device to another without using a data cable. If you don't have an Google account yet, create one on Google website on the computer.
On iPhone, head to Settings and tap "Accounts & Passwords" (or Mail, Contacts, Calendars). Tap Add Account button. Choose Gmail and sign in with ID and password. After that, enable Contacts option and the contacts synchronization begins. Then, the contacts will be loaded to your LG handset associated with Gmail account.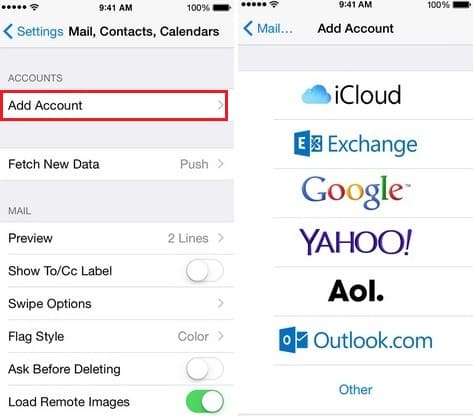 How to Transfer Songs from an Old iPhone to a Samsung Note 8
How to Upload Music to iPad from Computer without Using iTunes
How to Copy iPhone Contacts Numbers and Info to a New ZTE Phone
LG Android phone: LG V30, LG G6, LG V20, LG G5, LG Stylo™ 2 Plus, LG K7™, LG Tribute™, LG X power™, LG K10, LG Escape, LG Stylo, LG Rebel™, LG Stylo, LG G4, LG Phoenix, LG Spree, etc.
iPhone: iPhone X, iPhone 8/ Plus - 64G, 256G, iPhone 7/Plus - 32G, 64G, 128GB, iPhone SE, iPhone 6s/Plus, iPhone 6/Plus, iPhone 5s, iPone 5C, iPhone 5, iPhone 4s.