How to Copy Contacts from the Old iPhone to the New ZTE Phone
You just determine to switch from iPhone to ZTE Android and congratulations for that. Now, you just need to set up your new device. In the past, moving all your stuff (contacts, sms, music, videos, photos, etc) from one phone to another could take you a lot of time. But now, it doesn't have to be such a hassle any more, though. This post is targeted at those who replace their device and want to copy the contacts from an iPhone to a ZTE smartphone. Please read on.
Q: "I have been using iPhone for years. I just got tired of the walled garden of Apple's iOS and want to switch to Android for its customizable options. So the other day I purchased a new brilliant ZTE AXON phone. What bothers me now is how to copy the contacts from iPhone to ZTE quickly."
You has been steeped in iPhone's iOS for years and decide to get a new taste. Purchasing a new ZTE phone is pleasant, but Setting it up seems like a daunting process, especially when your old device is an iPhone. However, coping contacts from an old iPhone to a new ZTE smartphone is not necessarily an intimidating procedure if you can locate the right tool.
Phone Transfer is a great data migrating application which is specialized in transferring data between two devices with just a few clicks. In addition to contacts migration from iPhone to ZTE, you can use this program to move other file types like text messages, call logs, photos and music all together to your new phone. It incorporates three modes into one and the other two modes are data backup and restoration. When necessary, you can save your transferred phone data to the computer and restore them to your device if necessary.
The steps described as below don't involve any technical issues and are easy to follow. Please download this software in the link as follow and begin to get the contacts off iPhone and move to ZTE Android handset.
You might also be interested in: Best iPhone data recovery software | Best iTunes replacements
Step 1: Contacts two gadgets to the computer
Launch the software on your computer and you will be greeted with an intuitive interface. From there choose the green "Phone to Phone Transfer" mode.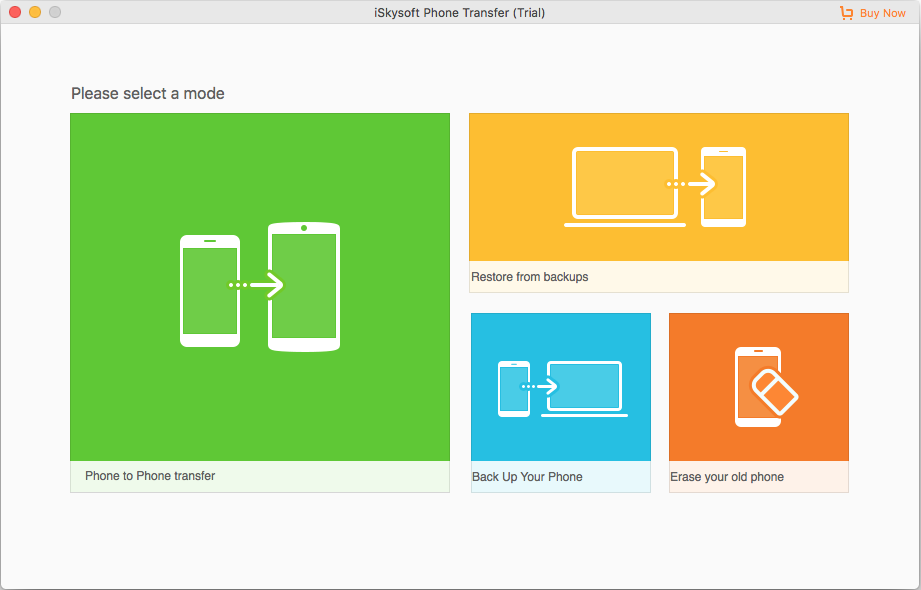 Use two USB cables to connect both your devices to the computer. It is necessary to switch on USB Debugging Mode on ZTE and tap trust on iPhone.
Step 2: Check "Contacts" on the checkbox
Once connected, two devices are seen on the window with iPhone on the left and ZTE on the right. if not, press Flip button to shift their places.
The program will scan the data in iPhone and load all available files on the center pane of the interface. Simply check Contacts option on the checkbox. It is true of other file types like messages, call logs, music, videos, calendar, etc.

Step 3: Start transferring iPhone contacts over to ZTE
Now, press the green Start Copy button and the program will start exporting all the contacts from iPhone into the ZTE Android smartphone. Please stay connected until the process is finished.
After the process completes, you will have the same contacts in your ZTE phone.
Done!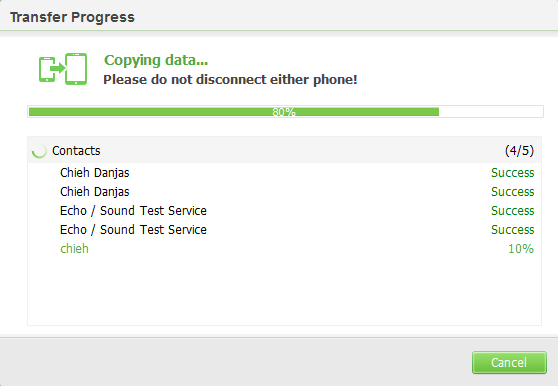 The Bottom Line
If you try Phone Transfer yourself, you will be convinced by its elegant user-interface, easy-to-understand steps and versatile features. Just try it yourself.