How to Migrate iPhone Contacts to OnePlus Phone Seamlessly
The new release of a wide range of Android devices every year are pulling people away from iPhone. For most users, one of the biggest headache after switching to a new handset is the migration of contacts and its information. This post offers a quick how-to guide in transferring contacts from an iPhone to an OnePlus Android phone.
Q: "I just bought a new OnePlus phone this month. Before I resell my 3-year old iPhone to the mobile phone outlet, I wanna know is there any way to copy all the contacts, maybe hundreds of them, from iPhone to the OnePlus?"
There are lots of tools that claim to copy contacts from one device to another, but most of them will depend on what kinds of phones you are migrating contacts between. Some will only work within Android phones while others are exclusive to iOS iPhone. Some traditional ways will not work when it comes to migrating contacts from iPhone to OnePlus, Since Android and iOS don't talk to each other.
If you're looking for something that's simple and efficient, Phone Transfer is noteworthy for being one of the most popular applications in the web. It provides a comprehensive solution that will work across different types of phone, be it iPhone, Android devices, WinPhone. It offers one-click transfer in contacts from iPhone to OnePlus, along with many bits of data and files that are essential in your OnePlus including text messages, call history, photos, etc.
Another distinctive feature of Phone Transfer is the ability to offer one-click backup and restoration option to save your data to the computer and retrieve it back anytime.
It runs on both PC and Mac computer. If you are using a Mac, please get Phone Transfer for Mac. The steps with screenshots attached as follows are provided to illustrate the process of moving contacts to OnePlus from iPhone.
Step 1: Plug both phone into the computer
Open up the program and select the green section named "Phone to Phone Transfer".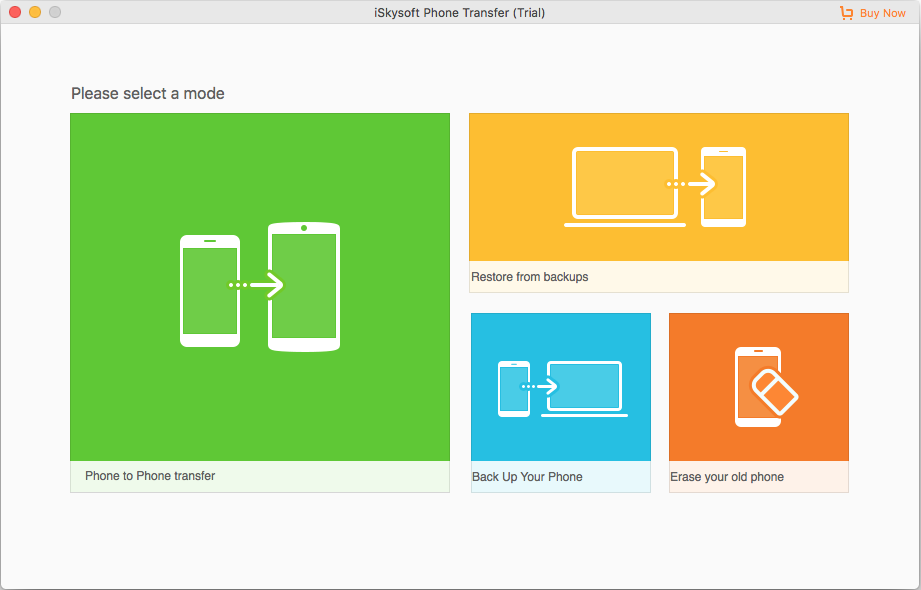 On the window as follows, you are required to use USB cables to hook up your old iPhone and new OnePlus phone with the computer. After that, enable USB Debugging Mode on OnePlus. Meanwhile, tap trust on iPhone and move on to the next stage.
Step 2: Select "Contacts" from iPhone
Once your two phones have been identified, they can be seen on both sides of screen. iPhone is supposed to be connected as source device and OnePlus as destination device. The button Flip is used to make sure that two devices are connected in the right way.
It starts scanning the iPhone's internal storage. When the process is finished, it displayed all available data files on the middle pane of screen, just like the image demonstrated below.
In this article, we just need to getting contacts from iPhone transferred over to a OnePlus phone, so here we check Contacts in the box and uncheck other options.
Some contacts nubmers disappeared? To see what else you can do in your iPhone, check out the instructions on recovering lost contacts from an iPhone.
Step 3: Start moving all your iPhone contacts to OnePlus
Press the green button Start Copy at the lower center of the interface and the program will kick-start the contacts migration process.
After the process is complete, you have successfully transferred all the contacts on iPhone straight to OnePlue phone, without any intermediate step.
You're ready to use the contacts numbers in your OnePlus's People or Contacts app, enjoy!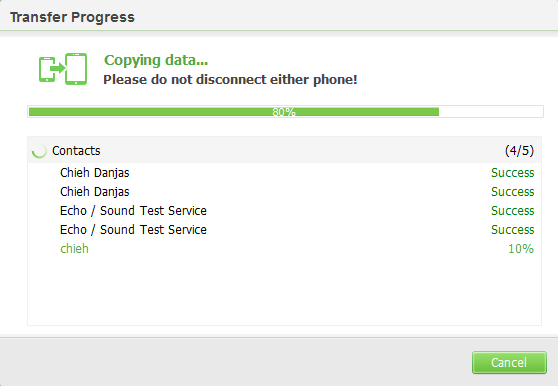 How to Transfer Contacts Numbers and Information from iPhone to Android
Is There Any Way to Move Songs from LG Phone to an iPad
How to Migrate Call History from HTC to Samsung Phone
OnePlus: OnePlus 5T, 3T, 3, X, 2, 1
iPhone: iPhone X, 8/ Plus, 7/ Plus, 6s/ Plus, 6/ Plus, SE, 5s, 5c, 5, 4s.