How to Migrate Music from iPhone to Samsung Galaxy S8 (Plus)
As Samsung's next flagship smartphone—Samsung Galaxy S8 (Plus) has been going public recently, the outstanding features on the internet may attract a lot of phone users. What may impress you the most, I guess, is the faster processor, personal assistant Bixby, infinity display, face and iris scanning, etc. All these unique features has made it a most wanted among diversify Android smartphones, so it is no wonder that some users may ready to switch their iPhone to Samsung Galaxy S8 (Plus) to have the new experience, especially for music lovers. They may take great interests in the pair of wired AKG headphones, which feature a hybrid canal fit and have an anti-tangle cord and pure sound as well that it can put out the high-quality audio gear.
However, although both iPhone and Samsung Galaxy phone enjoy strong reputation in the world, one common complaint among users is the trouble they get into when they want to migrate the music from an iPhone to a Galaxy S8/ Plus, especially if it's the first time for them to use Android OS.
Luckily, whether you're looking to make copies of music from old iPhone to new Samsung Galaxy S8 (Plus) phone or simply backup all your stuff in the old device to your computer, Phone Transfer has you covered! It is a handy and friendly data moving tool, providing users with an effective method for copying almost all content from iPhone to Samsung Galaxy S8 (Plus) such as contacts, music, calendar, text messages and call logs, photos and videos.
The Program also allows you transfer data from iPhone to other Android phones like LG, Huawei, Sony, Google, HTC, ZTE, Motorola, etc., and back up your data in computer or external hard drive.
Let's keep on track and see how it performs in music moving between two phone devices.
Step 1: Connect both iPhone and Galaxy S8 (Plus) phone to computer
Download the program by clicking the links above for your computer system and follow the in-built instructions to install it on the desktop.
Run the program and click Phone to Phone Transfer to enter its mode.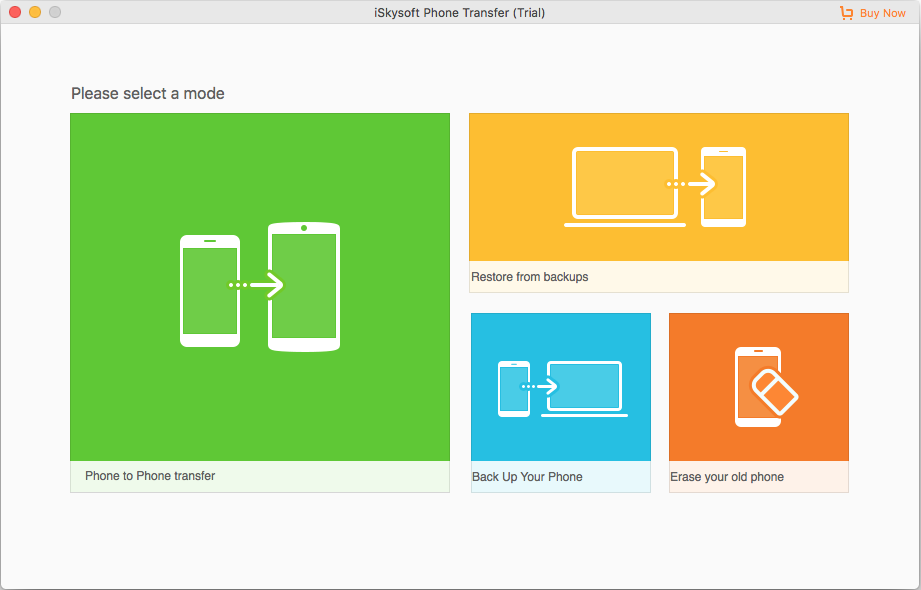 Connect both your iPhone and Samsung Galaxy S8 (Plus) via USB cables. Please activate USB Debugging Mode on Samsung Galaxy S8 (Plus) and tap Trust option when a message pops up on your iPhone.
Step 2: Select Music item in the scanned list
Now, both your two devices are displayed on the either block of the interface once attached well. Make sure that your iPhone should be the source device on the left block and Samsung Galaxy S8/S8 Plus is on the right block as target device. You may click Flip button to switch their positions.
As you can see, all the data available for migrating are listed in order with number on the middle pane of the interface. Content like media files such as images and videos and personal data such as text messages and contacts are also transferrable from Samsung to iPhone.
In this tutorial, we're going to move tunes to a new Samsung Galaxy S8 (Plus) from iPhone, just check the box next to Music option in the list; by default, all the files has been checked by the program automatically.
It should be noted that apps are not supported to move from iPhone to Android phone because of the limitations and restrictions of their own system.
Also, Phone transfer allows you to smash the exiting files in your target device if your target device has been used. Click Clear data before copy to delete.
Step 3: Start Music copying process
In the last step, you just hit the Start Copy button to commence the process of music migrating from iPhone to Galaxy S8 or S8 Plus Android phone.
Wait with patience until the progress bar is chocked-full, and you can disconnect both two devices.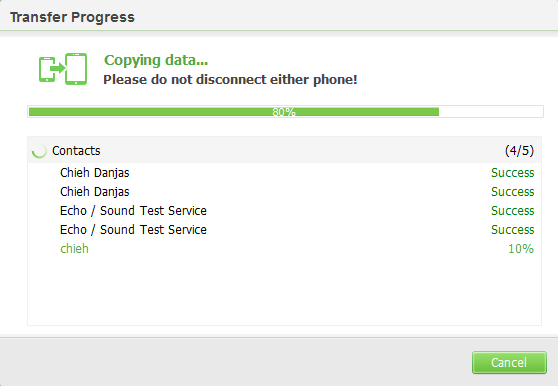 Now, check the music inside Samsung Galaxy S8 (Plus) and enjoy the songs with the AKG earphones.
Apart from transferring data between two devoices, Phone Transfer also serves the functions of backing up the data to the PC and retrieve the backups to any supported devices whenever.
Give it a try now!
If you want to backed up your iPhone music to an iMac or MacBook before you make a switch from iPhone to Samsung S8 Plus, then you can transfer something like iTransfer. Unlike iTunes which cannot be used directly with Android, iTransfer works as a vehicle between Android, computer, and iTunes and allows you to preview the media files and transfer to your Android device selectively.