How to Move Messages from LG Phone to iPhone Instantly
Moving text messages from an old LG Android phone to a new iPhone has never been easier! With Phone Transfer, you can even move all your stuff between LG and iPhone. Just 3 simple steps, you're ready to use your new handset.
iOS and Android are the two dominant mobile operating systems in the global market. Whatever your reason, and however good Android has become in recent years, Android devices will easily become unresponsive after using over time while iPhone users always enjoy the smooth user interface no matter how long they use. If you have aN old LG Android phone in hand, you might find it valuable to leave Android camp behind and get an new iPhone to give iOS a try.
However, one of the biggest problems for those who have switched from Android to iPhone is how to migrate exsiting text messages from the old LG phone to the new iPhone. These two operating systems are totally different that your cannot just move text messages between each other by simply copying and pasting on computer.
You're not entirely out of luck, however. In this article, we'll introduce a tool named Phone Transfer. Living up to its name, Phone Transfer is a tool specifically designed for users to move data between mobile platforms, including messages migrations from LG to iPhone and vice versa. No matter how many items you are going to move: contacts, text messages, calendar, videos, songs, photos, etc. you can complete the transferring task quickly and easily.
The following part is about the detailed guide of how to transfer text messages (SMS) from a LG phone to an iPhone. Before that, you may need to download the software (see link above) with the right version for your computer.
Step 1:  Connect LG Device and iPhone to the Computer
After installation, you double click Phone Transfer icon on your computer and you will see the main interface of the program like below. To copy text messages from your LG phone and put onto iPhone, just click the green Phone to Phone Transfer option to continue.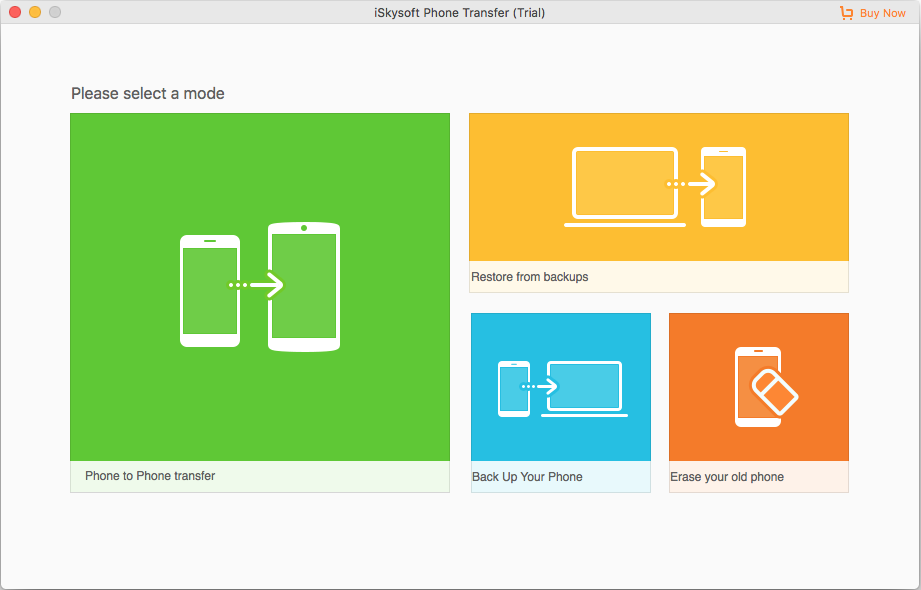 In this screen, you are required to connect both your LG smartphone and iPhone to computer. Once your devices are well plugged, the program will detect them automatically and present them on the proper place of the screen.
To access data inside your devices, please enable USB debugging mode on your LG, and tap Trust on your iPhone home screen.
Also, make sure that your iPhone is on the right side as receiving device in this tutorial. If not, you need to hit the Flip button to change the position of them.
Step 2:  Select Text Message Option from the Scanned Box
In this step, the program will read the content on your LG phone once connected successfully and display them in a list on the middle pane of the interface, including Contacts, Calendar, Photos, Music, Videos, Text messages, Call logs, etc.
In our case in this article, we just want to move messages to an iPhone from an LG phone, so here we check the box next to Text Messages and uncheck other marks.
If you click the "Clear data before copy" option at the bottom right corner of the window, you can empty all existing data in your iPhone before the transfer process.
See also: iTunes Alternatives - Manage Your Content between iOS and Computer
Step 3: Start Copying LG Text Messages to iPhone
In the last step, you just need to click Start Copy button to begin SMS transferring process. Waiting for a while.
Important! During the transfer process, don't disconnect both devices.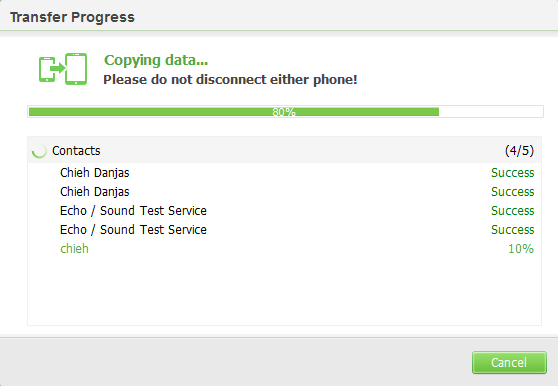 Done! With the program, you can also transfer your stuff including contacts, sms, calendar, music, photos, videos, etc among other Android & iOS devices. (See also: How to back up an iPhone.)
The Bottom Line
Transferring text messages from the LG phone to the iPhone doesn't have to be very painful as long as you get a right tool. With this easy-to-follow tutorial, you should be able to transfer your sms to your new iPhone in a fast manner. This guide also applies to the tasks of moving your music, photos, contacts and other data files from Android device to iPhone.
How to Sync Music with iPhone from a Windows Computer without iTunes
How to Get Contact off your HTC and onto Sony Xperia Phone
How to Get Data from LG Phone onto iPhone
LG phones: LG V30, LG V20, LG G5, LG Stylo™ 2 Plus, LG K7™, LG Tribute™, LG X power™, LG Stylo, LG Rebel™, LG Treasure™, LG Premier, LG K8, LG Optimus Zone, LG G4, LG Phoenix, etc.
iPhone: iPhone 6s/Plus, iPhone SE, iPhone 7/Plus, iPhone 8/Plus, iPhone X.