How to Transfer Text Messages from Android to iPhone
Smartphones of multifarious brands are released every year with a wider range of features, increased software capabilities and speedier processing, so it happens often when people switch or upgrade to a new phone.
Let's say you have become weary of Android wilds and decide to jump ship to Apple's iPhone. No doubt about it, iPhone is a great smartphone with many features bestowed upon it. It offers ever-growing quality apps, brilliant camera and a safer ecosystem. If you own other Apple devices like iPad, MacBook, Apple TV, Apple Watch, etc, it would be great to switch from Android to iPhone. These Apple devices are built to work together with each other so it is convenient to choose a new iPhone over Android-based device to facilitate your digital life.
Switching from Android to iPhone is exciting, but setting up the new device sounds like a discouraging process, especially when you have to move loads of text messages from Android to the new iPhone. It will present a few difficulties because of different operating platforms. However, transferring messages from Android handset to iPhone isn't out of the question with the right tool.
Phone Transfer is specifically designed to move data between two devices with one click on the interface. Apart from getting text messages from Android transferred to iPhone, many other data files can be migrated includes contacts, music, photos, calendars and videos. Another nice thing about Phone Transfer is that it offers you options to back up data on device to computer, and restore it back to your original device or another one when necessary.
In the following, You'll be guided through the steps on how to copy all of text messages from Android to iPhone effortlessly and painlessly. The software also works for doing the reverse.
Step 1: Connect your Android phone and iPhone to the computer
Download the program install it on the computer after that was a matter of hitting "Next" a few times.
Open up it, you will see its main interface as follows. Choose the green Phone to Phone Transfer" option to go into next screen.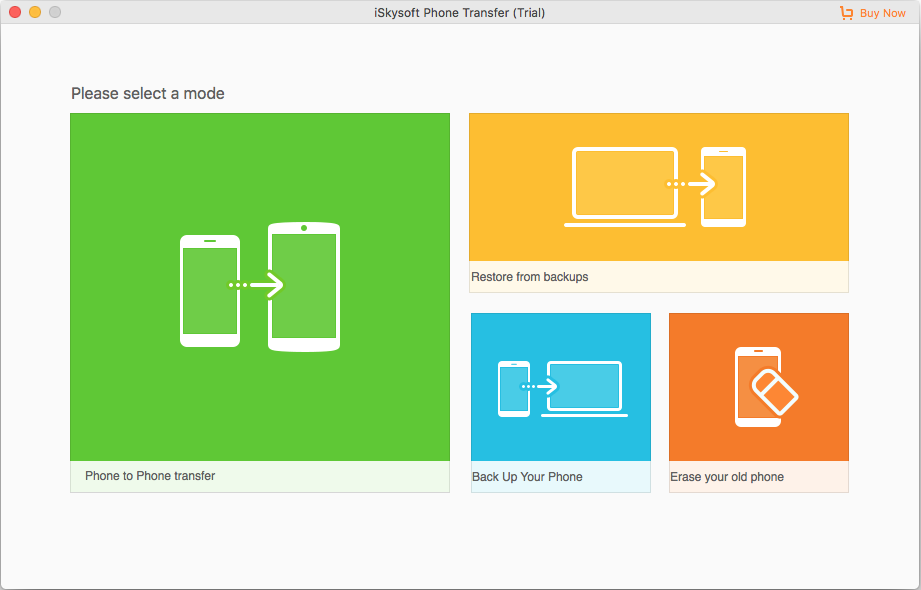 In this stage, you will be prompted to connect Android and iPhone to computer via USB cables. Please remember to set your Android device on USB Debugging Mode and tap trust on iPhone.
Step 2: Scan Android data
The program will display two phones on the both sides with Android on the left (Source) and iPhone on the right (Destination). Use Flip button if their places are reverse. The program will automatically scan the Android phone to analyze its data.
Once the scan is complete, you'll be offered a list of files such as contacts, messages, calendar, photos, videos, music on the center area of the screen.
Since we're going to migrate SMS from Android over to iPhone, simply check box next to Text messages option.

If you want to remove all your existing data in your new iPhone before copying content from the old device, just check "Clear data before copy" option on the lower right corner of the screen.
Step 3: Start Messages transfer process
When everything is ready, just hit the Start Copy button at the bottom-center section. This software will begin extracting the text messages from the old Android phone, placing them inside the Messages app on your new iPhone. A window pops up showing you how things are processing.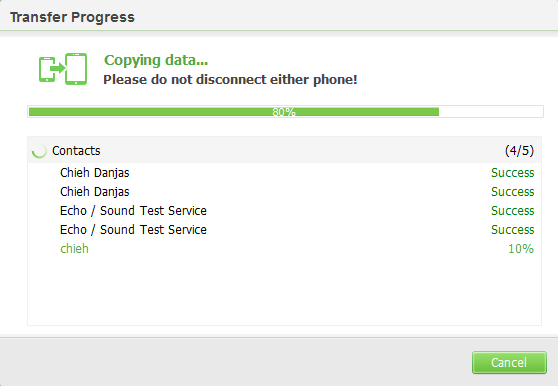 After the whole process completes, press OK and disconnect both handsets. This way, you've transferred all your contacts to your iPhone. See Also: How to recover messages from iPhone.
Thanks to its speed and simple interface, Phone Transfer is a great tool to quickly copy your SMS and other personal information from Android to iPhone and vice versa. If you just need a one-off transfer of your data between two devices, Phone Transfer is worth adding to your list of titles for consideration.
Other Ways to Get Text messages from Android Phone to iPhone
While copying contacts from Android to iPhone (or vice versa) can be done through Google and Gmail easily, moving text messages from Android smartphone to an iPhone can be more trickier in spite of a couple of options for this task. Here we'll show you how to migrate Android text messages to iPhone by using third-party mobile applications.
Move Android Messages to iPhone using Move to iOS app
Apple's Move to iOS app in Google Play Store always comes in handy when it comes to transferring contents from Android to iPhone — it can transfer messages, contacts, photos, bookmarks, Google account and more except for passwords, apps as well as music. It only supports Android devices running 4.0 or later and move stuff to iOS devices running iOS 9 or higher. Now download the app from Google Play Store and install it on your Android handset then follow the steps mentioned below to figure out the how-to.
Power on your iPhone, you will first prompted to choose a Wi-Fi network. Once done, follow the wizard appeared on the screen to set up your iPhone. When you reach the App & Data screen, choose Move Data from Android option. (If you have already complete the setup process, you are required to erase your device. To do this, go to Settings > General > Reset > Erase All Content and Settings.)
Open Move to iOS app on your Android phone, tap Continue on both phones, tap Agree to the terms and conditions of use and tap Next on Android phone.
When a digital code is displayed on iPhone, type it on your Android handset.
On your Android phone, select Messages and anything else you're going to move over and tap Next on the top-right corner of the screen to start the transfer.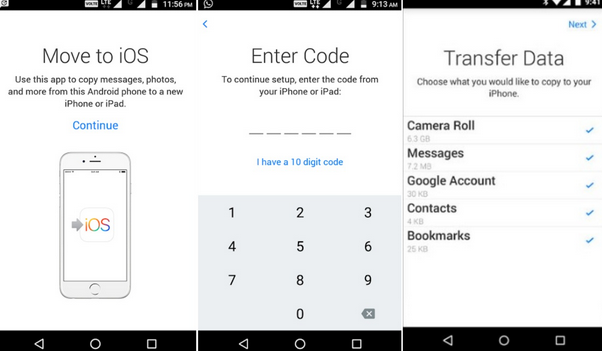 Read next: How to recover deleted messages from Android.
Import Android Text messages to iPhone using SMS Backup+
Another app for transferring text messages from Android over to iPhone is SMS Backup+, which is able to backup text messages to your Gmail account, then go to Gmail and enable IMAP and you are good to go.
To begin with, log into your Gmail account on a web browser, go to Settings > Forwarding and POP/IMAP. Check Enable IMPA option, then scroll down and click Save Changes.
Next, you need to back up text messages on your Android Handset. Download SMS Backup+ from Google Play Store and install it on your Android cell phone. Launch it and tap Connect. Then enter Gmail account details where you want the messages to be saved and grant the requested permissions. You'll be prompted to begin a backup or skip the backup. Tap on Backup option and your Android handset will begin backing text messages up to your Gmail account. You can sign into your Gmail account on a web browser and check them through SMS option which is located in the sidebar.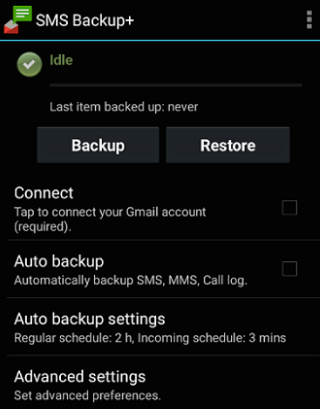 Now you can access the messages on your iPhone whenever you connect to your Gmail account. However, you can only view the messages history in a file attachment and they will not appear in Messages app on your iPhone. So this is not the solid way to get text messages from Android phone to iPhone.