How to Transfer Music from Android to iPhone 8 (Plus) Seamlessly
The long anticipated iPhone 8 and iPhone has finally come to the surface. One of the biggest highlights about iPhone 8 (Plus) points to the glass design in front and back. Equipped with new features like Retina HD Display and True Tone technology, the new iPhone 8 (Plus) makes everything on its display look natural, giving you a more comfortable viewing experience. In terms of taking photos, you call the shots. iPhone 8 (Plus) comes with wide-angle and telephoto camera, complete with optical image stabilization, 12MP sensor and portrait mode, allowing you to take what you desire in any environment.
If you have made the switch from Android-based handset to iPhone 8 (Plus), you may be thinking about how to transfer the music from the old Android phone to the new iPhone 8 (Plus) rather than downloading the same tracks again, and make sure not a singer song is left. If you are familiar with these two kinds of devices, you will know they are powered by different mobile OS respectively. Therefore, you might be troubled with swapping data in between.
Now, you should never worry about that. Phone Transfer can extricate you from such trouble. It can help you with the transfer of songs from Android to iPhone 8 (Plus), alongside many file types including contacts, text messages, photos, videos, calendar. Whether you decide to upgrade your device to the latest fancy version or get tired of the one in use and switch to a different ecosystem, this program would be the best bet to sync files between iOS, Android, Blackberry, WinPhone and Symbian.
Phone Transfer comes with two versions: For Mac and PC. Please download and install the right version on the computer and follow the guide below to migrate all your music tracks to the new iPhone 8 (Plus) from the old Android smartphone.
Note: Getting your old Android device formatted is not enough. Phone Transfer for Mac allows you to permanently wipe out all the data, both existing and deleted. No worries about data leakage.
Step 1: Select phone transfer mode
Open up the software on the computer. It's main screen looks very simple. There are four colorful modules available for you to choose from.
In our case, select the green "Phone to Phone Transfer" module.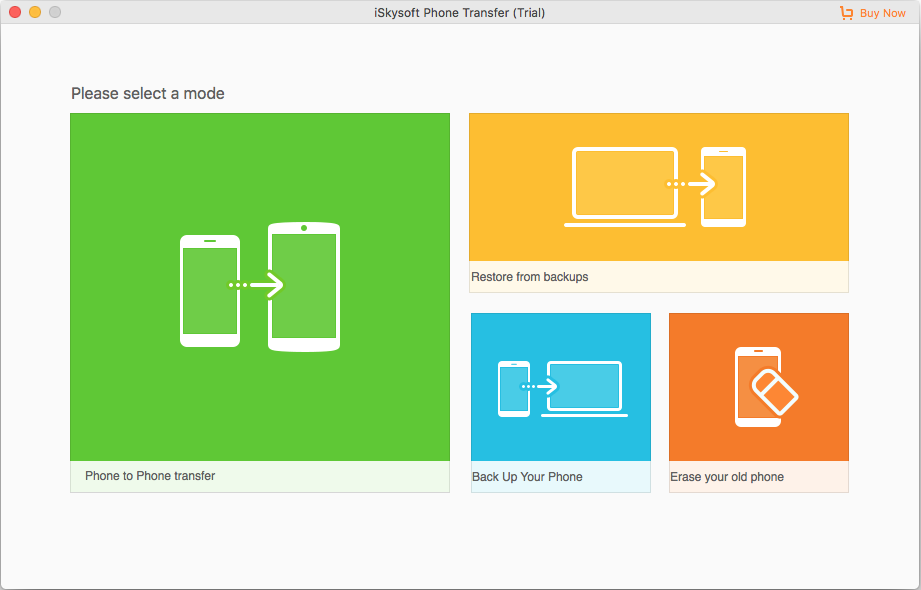 Next, it will open a window where you'll be prompted to connect your both Android phone and iPhone 8 (Plus0 to the computer with USB cables.
To gain authorization for data access, you need to turn on USB Debugging Mode on Android handset and tap trust on iPhone 8 (Plus) when a notification pops up on the home screen.
Step 2: Scan your Android handset and choose Music option
Wait for the program to detect the two devices. After that, your both devices will displayed on both sides of the window, named as source and destination.
When connection is established successfully, the software will start analyzing the Android and return a list of transferrable data files, ranging from personal information such as contacts, messages, calendar, to media files like videos, photos, music.
To get tracks from Android phone transferred over to iPhone 8 (Plus), you will have to tick the box near the Music category.
Step 3: Press the "Start Copy" button to begin process
Finally, press the green Start Copy button at the bottom center to commence the process of moving the music files from Android to iPhone 8 (Plus). The process may take some time, depending on the number of songs being copied.
Once the tracks appear in your new iPhone 8, your music app should be able to play them right away. Enjoy!