How to Transfer Text Messages from iPhone to ZTE Smartphone
Switching to a device within the same operating system is a piece of cake, thanks to various cloud services and available transfer tools, but it is a different story when you switch to a new handset that runs on different ecosystem from the one you are using. The most common case is the transition from iPhone to Android or the other way around, in your case, from iPhone to ZTE.
It is not surprising that texting is one of the most ways that youth and young adults use their smartphones. If you are an avid texter who exchange dozens of texts every day on your iPhone, you probably have stored hundreds of text messages on the phone, from friends and relatives. What if you have to transfer all the messages that involve receivers, senders and texts from iPhone to ZTE Android phone? Certainly, you don't want to be in for a relatively painful transferring process.
Phone Transfer helps smartphone users to transfer text messages between Android and iOS platforms . Actually, most data types are supported: contacts, call logs, photos, music, videos and calendars. The whole process is very easy and straightforward, simply by connecting the devices to scan the data, choosing text message option and clicking "Start Copy" button to get the iPhone text messages transferred into ZTE phone.
Apart from data transfer option, Phone Transfer acts as a backup and restoration tool at your service. It allows you to make a full back up of phone data and save in your computer. When you lost your handset or get a new one, you can retrieve the backup files to the destination device from the computer. Other restoration options also include backup from iTunes, iCloud, Kies, and OneDrive.
Now follow the detailed directions below to learn how to migrate messages from iPhone straight to ZTE Android phone. First of all, download and install the program on the computer.
Step 1: Run the application and choose phone transfer mode
Launch the application and you'll get an intuitive interface.
To moving SMS from iPhone over to ZTE, we choose the green "Phone to Phone Transfer" mode to continue.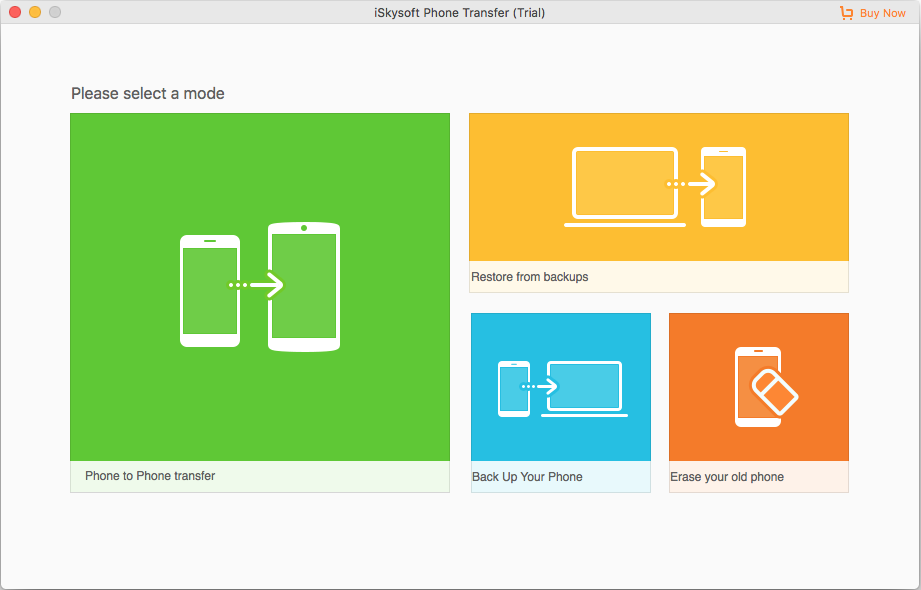 Plug your two devices into the computer via USB cables. Then, go to the settings on ZTE Android phone to switch on USB Debugging Mode. On iPhone, just tap trust when a notification pops up.
Step 2: Scan the iPhone
When connection is established, both devices should display on both sides of the window. You can use Flip tab to set iPhone as source device and ZTE as destination device if misplaced.
The application will scan the source iPhone and return the result on the center pane.
You can see all the contents that can be migrated are listed by category. In our case, simply check box next to Text messages option and uncheck other options.
Step 3: Press "Start Copy" to initialize the migrating process
Now, hit the green Start Copy button at the lower-center section to start transferring your iPhone messages to ZTE Android device. The whole process should be finished in a fast way. You can track this process via progress bar in the new pop-up window.
Once the transfer process is complete you can disconnect your both devices and begin using ZTE Android smartphone.
That's it!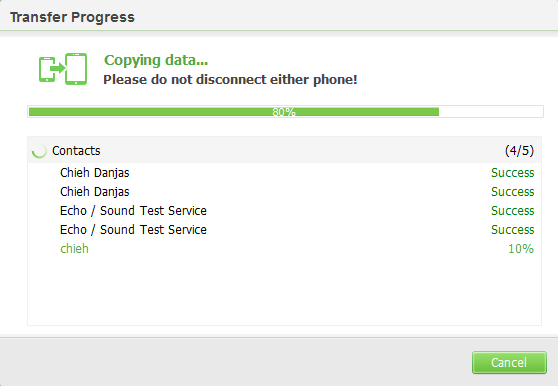 Note: If you experience any data loss like contacts, messages, call history, etc, there is a solution to recover the missing files from iPhone directly.
The Bottom Line
When it comes to switching phones, a big amount of data has to be dealt with. Some data are easy to be transferred while others take a little bit of effort. Phone Transfer makes everything easy to be migrated, sparing you many complicated steps.