How to Transfer Songs from iPhone to Huawei Android device
Smartphones have already been ubiquitous. Every year, a slew of flagship phones are rolled out, which makes many people go after the latest technology. Let's say you are an iPhone owner and just switched to a new Huawei Android phone, now you'll probably want to get all your favorite tracks on the old iPhone transferred to the new Huawei smartphone. How can you do that?
Moving music between Android phones is a piece of cake. For those using an old Huawei Android phone and upgrading to a new one, you may have been used to plugging your both devices into computer, dragging your music files from the old device and dropping to the new one. But the problem here is that if you have just made the switch from iPhone to Android, transferring your songs from old iPhone to new Huawei phone (Mate 10/ Pro, P10, whatever) isn't always straightforward. You iPhone music files are invisible when it connected to PC's, nor does it has built-in option to allow sharing of songs from the iPhone music library to Huawei Android smartphone.
What about the reverse journey—a large number of awesome tunes on your old Huawei phone that you wish to copy to your new iPhone? The basic way is by manually pulling music files from your old Huawei phone and saving in a temporary folder on your PC. Then connect your iPhone to the computer using a USB cable, and sync tracks from the folder to your new iPhone via iTunes.
No matter what the direction of music transfer, it's possible to use third party applications to accomplish the tasks. One of our favorites is the Phone Transfer software.
This program comes with an intuitive interface and covers a good deal of data types ground, making it one of the best go-to tools for data migration. As its name suggests, the program allows you transfer almost everything between iOS & Android smartphones, including music from iPhone to Huawei handset. It also includes the ability to backup data of your old device on computer, as well as the ability to restore content from backups you made with iTunes, iCloud, or OneDrive.
See also: How to use Phone Transfer to move contacts from Sony Xperia to iPhone
The following guide will walk you through the songs transfer from iPhone to Huawei on a Mac. It should be noted that the information in the guide applies to the reverse process of transfer Huawei music to iPhone, and other data migration between iOS and Android ecosystem.
Step 1: Run the program and connect to your both devices
Hook up your both iPhone (iPhone 7, 6s, 6, 5s, whatever) and Huawei Android phone that you want to transfer music to into your computer through a standard USB cable.
Fire up the software and choose the green "Phone to Phone Transfer" option on the interface. Three other options are useful if you want to back up your phone data to keep the data safe, or restore it on another device, as well as erase the data permanently on old device before your throw it away.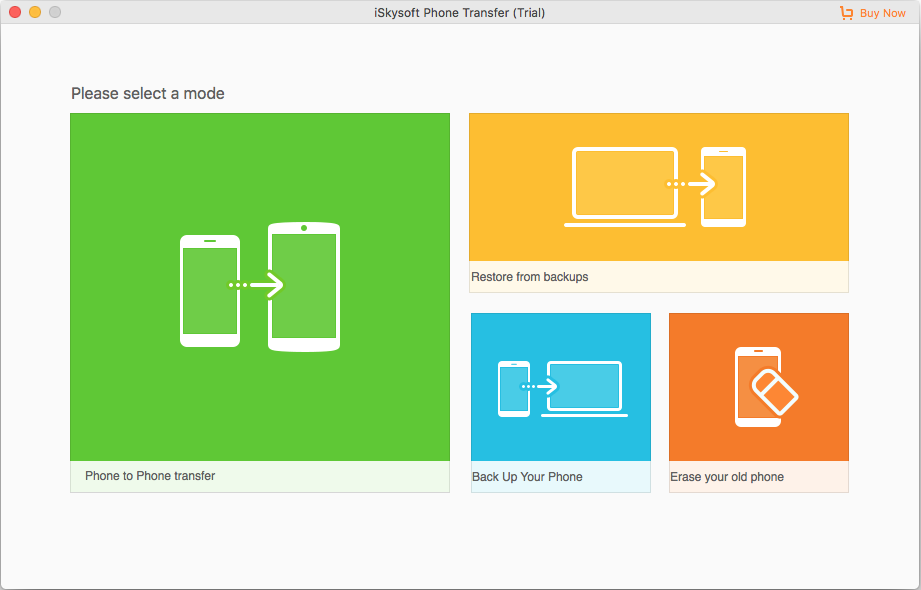 Make sure USB debugging mode is enabled on your Huawei Android phone. The setup is easy and quick, you can follow how to enable Developer options and USB debugging mode on Android.
Step 2: Choose what you would like to transfer to your new phone.
The both devices should be appear on the screen as the source device and target device, and the scan of data on source device (here it should be iPhone, you can click on the Flip button to switch their position) begins automatically.
You then will have the options to pick from the resulting menu once the scan is complete, as image shown below.
Check the box beside Music and other boxes pertaining to the content you want to transfer from iPhone to Huawei smartphone, whether it is videos, photos, messages, call logs or something else.
Step 3: Export Music and copy to your Huawei
Once the content is selected, click on the green "Start Copy" button to proceed.
The software will start transferring all you songs from iPhone Music library to your Huawei phone.
A window with progress bar will appear, showing the status of music transfer. The entire music moving should finish in a fast manner.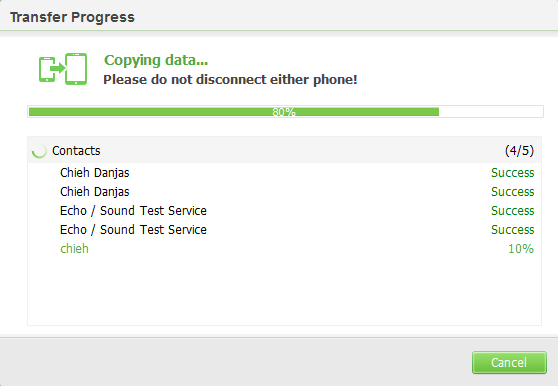 Now that your songs are copied to your new Huawei Android phone, you can listen to your songs via the Music app anywhere and anytime.
Enjoy! See also: How to Recover Pictures from Huawei Phone
More Control Over the Music Transfer Process with iTransfer
Want to have deeper control over the entire music migration from iPhone to Huawei phone or vice versa? There's another alternative that's worth mentioning—iTransfer. It breaks the barrier of iTunes for syncing music only to iOS players, giving you a central repository for all of your music, photos, videos, contacts, podcasts, audiobooks, contacts. You can use it transfer your contents between Android, iOS, iTunes, Mac/PC without limitation. Even better, you're allowed to add, delete, edit, organize music and videos; make a transfer with all of your music, the entire playlist, or a selection of individual tracks; fix music ID3 tags; create GIF files; as well as convert media files to iOS or Android-readable formats automatically during transferring, and more.
Music Transfer screen: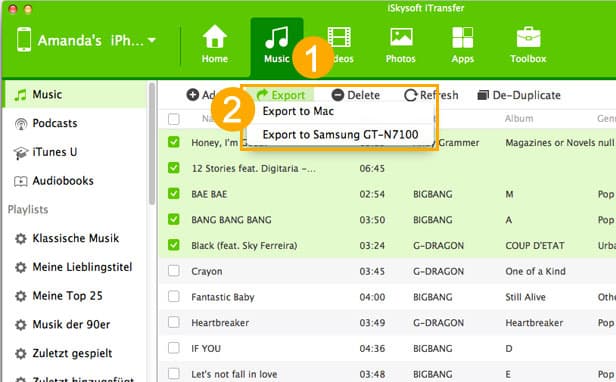 To get more information about it, please check its product pages by clicking the link above.
Huawei: P10/plus, Mate 10/Pro, Mate 9/Pro, P9, Nova 2, etc.
iPhone: iPhone X, iPhone 8 (iOS 11), iPhone 7 (iOS 10), iPhone 7 Plus, iPhone SE, iPhone 6s (iOS 9), iPhone 6s Plus, iPhone 5s (iOS 8), iPhone 5, iPhone 5c, iPhone 4s, iPhone 4, etc.
How to Copy Data from iPhone to LG Smartphone Android
How Can I Get My Contacts from Huawei Phone to iPhone