How to Transfer Content from ZTE Phone to iPhone Instantly
When the announcement of releasing the new iPhone, many users can't wait getting one to replace the old phone in their hand. Upgrading to a new iPhone from an old Android phone, ZTE for example, is always exhilarating, but when you're faced with the task of transferring data from Android to iPhone, things can be a bit trickier.
We all know that the mobile operating system on both devices is completely different. You can't drag the data files from the ZTE Andriod phone to iPhone directly using computer as a bridge. Yes, you can do it hand by hand, but it will take you hours to finish the whole migrating process and you may make mistakes. Fortunately, for those who trade in their ZTE phone for an iPhone, and want to make a quick transfer of a vast swath of important data files such as contacts, photos, messages, music, notes, here's a guide to help you accomplish the task seamlessly within a few minutes.
In this article, we're going to introduce an easy-to-use and efficient tool named Phone Transfer to get all your ZTE important information to iPhone without jumping through too many hoops. Here's what you need to know.
Phone Transfer is an excellent utility capable of migrating files such as moving contacts, photos, videos, calendar, text messages, music, etc. between iOS and Android mobile platform. And it comes with the options to backup smartphones data to the computer and retrieve it back whenever you want. Even better, you can restore data to your phone/ tablet from iTunes backup, iCloud backup, Blackberry backup as well as erase all the data in your device completely to prevent the personal information leakage before you ditch the old device.
Now, Let's take a look at how the utility works at getting content off ZTE (AXON 7, ZMAX Pro, Citrine LTE, ZMAX 2, whatever) and onto your new iPhone on a Mac computer. This guide will take you through all the steps needed. Please keep in mind that the process in PC's is the same as that in Mac.
Leave ZTE for iPhone: Getting started
Step 1: Launch the program and connect your both devices
Open it on the desktop and you will get its main window as demonstrated below. Click the
"Phone to Phone Transfer" option to continue.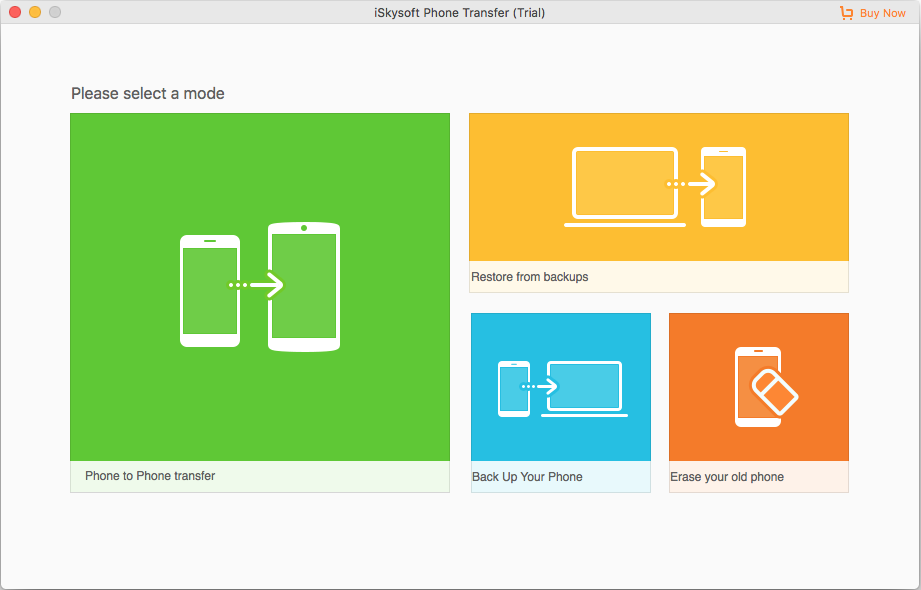 You will then see a screen like this.
Next, Plug your ZTE phone and new iPhone into the computer using USB cables. The program should detect the two devices automatically and display them as source device and target device on the left side and the right side of the screen. By the way, you can click Flip button to exchange the position of them.
You then need to enable USB debugging mode on your ZTE phone to access the data within the device, and tap Trust on your iPhone.
Step 2: Select file types for moving
When your both phones are connected successfully, the tool will begin scanning the files stored in your ZTE phone, and then present them in the list on the center box of the interface. As you can see in the image below, the transferrable files including muisc, text messages, calendar, photos, contacts and videos.
Please note that if you're making a switch from iPhone to ZTE, the Call logs option is available for moving.
Now, select any type of files you want to move from the list.
Step 3: Start copying selected data files from ZTE phone to iPhone
When you're ready, press the Start Copy button located on the bottom center of the screen and let the software do its thing. Also, be sure that during the process don't disconnect both devices.
Now, you can see a transfer progress window shows up, along with a progress bar across the top. After a while, the stuff you selected from your ZTE phone will be transferred over to your iPhone.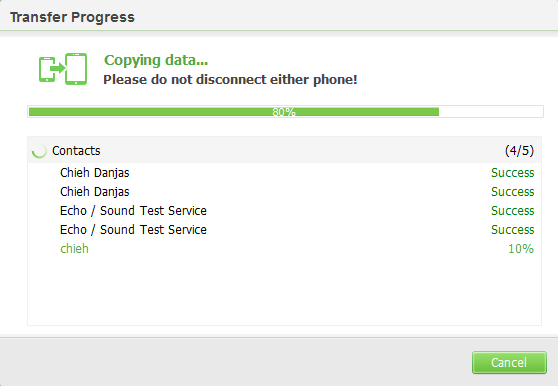 Now you have all your ZTE data transferred to the new iPhone, allowing you to enjoy the full power of iPhone!
Don't forget to explore the other features of Phone Transfer, Enjoy!
Extras: The data and relevant files (which you transfer from ZTE to iPhone) in your iPhone are very vital so that once they are lost, it will bring you great trouble. However, something will go wrong with your Phone one day or another, which will result in your data loss which is attributed to iOS upgrade, system crash, iPhone damaged or mistaken deletion by touching the screen the wrong way. However, all these iPhone data are recoverable including your contacts, messages, notes, reminders, among any other content on iPhone.
How to Move All Your Contacts Over to Your New iPhone from OnePlus
Data Migration - How to Copy Android HTC Phone Data onto an iPhone
How to Transfer Contacts between LG and Huawei Android Phone
How Do I Transfer Contacts from the Old Samsung Phone to the New iPhone X
ZTE Models: AXON 7, ZMAX Pro, ZMAZ XL, Citrine LTE, Grand X3, AXON Pro, AXON, ZMAX 2, Grand X MAX 2, MAX DUO LTE, IMPERIAL MAX, Grand Memo, Fanfare, etc.