How to Transfer iPhone Contacts to HTC Phone Quickly
Summary: If you have been using iPhone for a long time and intend leaving it behind for Android, then HTC may be a good chance for a change. In this article we're going to show you a straightforward and easy way to make contacts transfer between iPhone and HTC.
You just got a new HTC phone—one with faster processer, more RAM & Storage, enhanced graphics and the latest version of Android. You're pretty happy with everything else about it until you realized that your contacts, the most important piece of information, are still on the old iPhone. How can you get all contacts off your old iPhone and transfer them safely to your brand new HTC Android phone?
Whether you make a switch from iPhone to HTC and vice versa, in the olden days, moving contacts to a new phone can be a huge pain. In case you want to move specific contacts only, you can select the contact you wish to transfer and then either send it through e-mail or SMS. However, this obviously isn't feasible for a large number of contacts to be migrated.
So, is there an easy way to move all contacts from an iPhone to a HTC smartphone quickly?
Phone Transfer—One-click to copy all of your data: contacts, music, SMS, videos, photos...
The most straightforward way to transfer your contacts between HTC smartphone and iPhone is using an application called Phone Transfer for Windows. It's an all-in-one utility that makes data migrate and backup a lot easier. No matter what kind of operating system (Android, iOS, Blackberry, Symbian) your smartphone is running, it is ideal for you to transfer contacts, music, videos, calendar, photos, text messages between iPhone and Android effortlessly. Even better, you can back up your precious data on handset to your computer.
If you're using a Mac machine and want to copy contacts from a HTC to an iPhone or from iPhone to HTC device, please use the program's Mac version—Phone Transfer for Mac.
Download the correct package on your computer and follow the instructions on the screen to complete the installation, Once that's done, you're ready to make the move process.
As an example, this guide demonstrates how to make contacts transferring from iPhone to HTC Android phone on Mac. You do the same steps if you want to import contacts from HTC onto an iPhone.
Step 1: Connect your both phones
Once you open up the application on your computer, a simple and clean interface appears, along with four colorful sections available: Phone to Phone Transfer, Restore from Backups, Back Up your Phone and Erase Your Old Phone.
For us, click on the green Phone to Phone Transfer section to enter the next screen.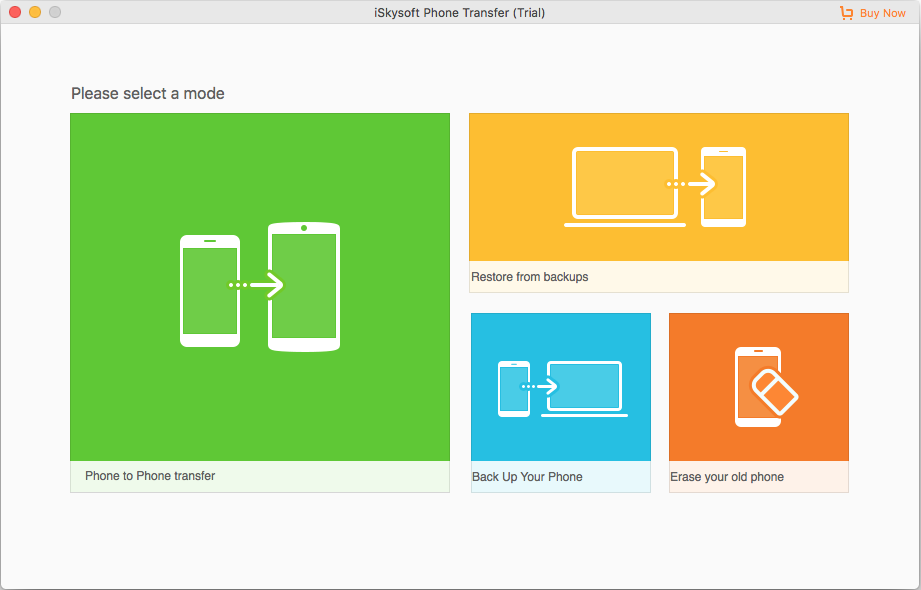 Next, you plug your both iPhone (4s, 5, 5s, 6, 6s, SE, 7/plus) and HTC (Bolt, 10, Desire, One-A9/M9/M8/E8, etc.,) into your computer via USB cables.
After that, your both devices will be detected by the Phone Transfer software and are visible on the screen. There is a Flip button available for you to switch the source phone and target phone.
Note that the first time you hook HTC phone to Mac, you're required to enable the USB debug mode on the device to be able to access the data. Don't panic, just a few taps on your HTC device by following on-screen guide or follow our detailed guide here.
Step 2: Choose Contacts from the list
Once your both devices are connected successfully, the software will begin scanning the source iPhone and return a list of data on the screen. (If you, here, want to transfer contacts from HTC to iPhone, you just click the Flip button on the top center to take HTC as source device, the software will scan the data stored on your HTC smartphone instead.)
As you can see in the image below, almost all of important data stored on your iPhone are available for transferring except for apps, which is only available for Android to Android migration.
Next, select your contacts by ticking the box next to Contacts in the list, as well as anything else (photos, music, calendar, call logs, video) you'd like to transfer over.
Step 3: Start exporting contacts to your HTC phone
The final step is to simply press Start Copy button on the bottom center of the screen. the application start transferring contacts from iPhone to an Android HTC smartphone.
The process is indicated by a progress bar on a pop-up window. Be patient!
Once your iPhone contacts have been transferred to your new HTC handset successfully, all new created contacts should be added to your Contacts (or People app, depending on your HTC mobile model) app on HTC phone automatically.
That's it!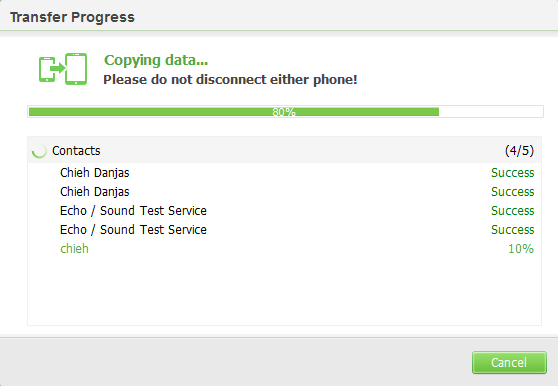 Of course, some of your guys might have decided to ditch your aged HTC Android phone and join the Apple iPhone camp. Before you start to use the new device, the first thing that is needed to do is transfer your contacts from HTC over to your new iPhone (iPhone 7/Plus, 6s, 6, etc.). This article is also apply for your contacts migration.
Also, if you want to, you can use the "Back Up You Phone" feature of the application to create a backup of your phone data for safe seeking. Furthermore, if you have important data synchronized to your iTunes or iCloud previously—in case you're using these services, you can use the "Restore the Backups" to get files off them and onto your phone.
HTC: HTC Bolt (Android 7.1 Nougat), HTC 10 (Android 6.0 Marshmallow), HTC Desire 530 (6.0 Marshmallow), HTC One A9 (6.0 Marshmallow), etc.
iPhone: iPhone 4 (2010), iPhone 4S (2011), iPhone 5 (2012), iPhone 5c/5s (2013), iPhone 6/Plus (2014), iPhone 6s/Plus (2015), iPhone SE (2016), iPhone 7/Plus (2016), iPhone 8/ Plus, iPhone X (2017).
How to Transfer All Your Tracks from iPhone to iPhone
A Complete Guide for Transferring iPhone Text Messages to Huawei Phone