How to Copy Music from an iPad to Huawei Phone or Tablet Easily
Switching from one device to another is quite common these days, and so is the transferring of the media files like music and videos. Music is part of what make human beings as we listen to music every day when we are taking subway to work or driving to our home. When Android feels a little for your taste and you want to try iOS (iPhone, iPad, iPod) devices, you probably would like to save the trouble to download the music again and just move the songs directly from iOS to Android and vice versa. However, it is impossible to transfer songs between Android and iOS devices without the help of transferring tool in between. Read this post carefully and learn to quick way to transfer tracks from an Android Huawei phone to an iPad in one fell swoop.
It is exciting to get a new iPad (iPad 4, iPad Air, iPad Pro, iPad Mini, whatever), and you are rather anxious to get all your music files in your old Huawei Android phone onto the new iPad. But on thinking of moving a substantial number of music files from your Huawei Android phone to iPad, you are so overwhelmed, especially when it comes to two different operating systems.
Despite the fact that these two devices are running different operating systems, there are multiple ways to move tracks from a Huawei Android device to an iPad. One of the common ways is to connect both Huawei and iPad via WIFI network. But WIFI network is not always available, or the music file transmission may be unstable via WIFI, which sometimes results in certain data loss. So, what's the best approach to moving music between a Huawei phone and an iPad?
Phone Transfer, a remarkable music transferring tool, is here to solve your worries. Let's just find out what exactly this program can do for you.
Features:
Migrate music, contacts, videos, sms, calendar, and other content effortlessly and seamlessly.
Support most of the audio formats, such as WMA, WAV, MP4, M4A, M4R, AIFF, etc
Full compatible with Android, iOS, Symbian, BlackBerry, Windows Phone
Work for both Windows and Mac computer.
Include options to back up all kinds of stuff to computer, and retrieve them back any time.
Now you can download the program through the link above and install on your computer. In the following sections of this article, we're going to show you how to transfer songs to an iPad from an old Huawei Android handset.
Popular Tutorial: How to Move Contacts from Android to iPhone with Ease
Step 1: Plug your both devices into the computer and launch the software
First of all, open up the software on your computer. You'll be presented with a clean interface with metro style. On the screen are four modules (PC version has three modules). In our case, hit Phone to Phone Transfer to get into the next screen.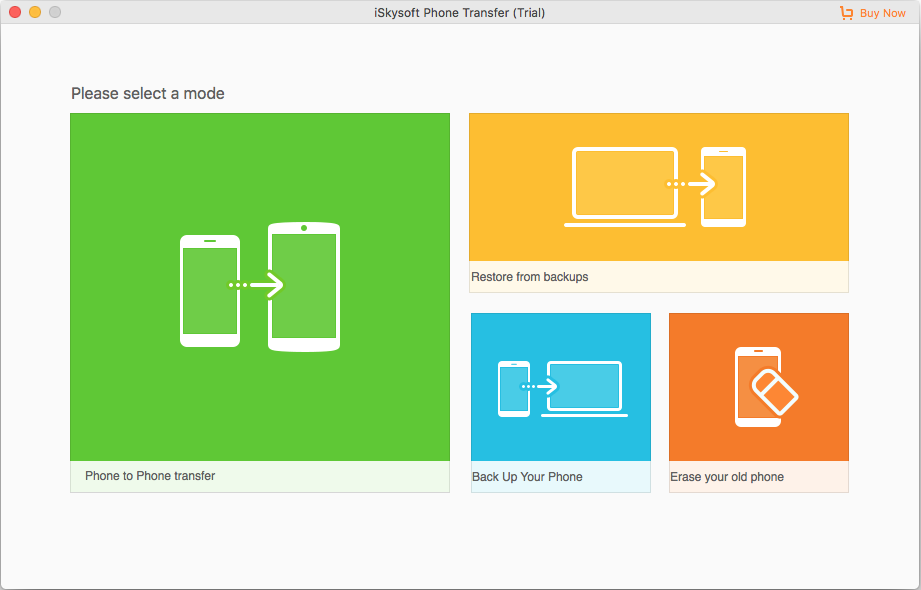 Using two USB cables to connect both Huawei phone and iPad to the computer. You then need to turn on USB debugging on your Huawei Android phone (or click "Cannot recognize the device" on the interface for help). For iPad, just tap Trust on home screen to trust the computer.
Step 2: Select Music option from the scanned list
Once connected properly, Your Huawei Android device (P10, Mate 9, Mate8, P9, G8, 6P, etc.) should display on the left side (source) and iPad as the right side (target), see as below. If they are in the wrong place, click Flip button to make a switch.
In the middle of the screen are listed available content, check the box beside Music and other content that you want to copy to your iPad from the Huawei device.
Also, the data transfer utility comes with "Clear data before copy" option on the lower right corner of the screen, allowing you to remove existing music files and other data on your iPad before transferring.
Step 3: Start migrating your Huawei songs to iPad by clicking "Start Copy" button
Once you are all set, hit the Start Copy button on the bottom center of the window. Please sit back and relax until the program finishes the music transferring process between your old Huawei phone and iPad tablet.
Done! Unplug both devices from the computer and enjoy the music in your iPad.
Have a good time!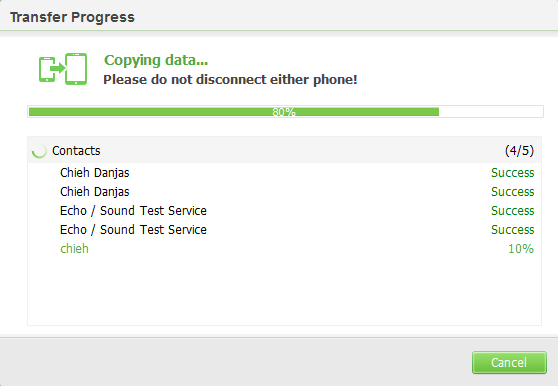 More features Phone Transfer Software
If you've got all your favorite tracks on your Huawei device and want to make a defense against losing them, then it is advisable to back them up onto the computer, especially if you are intending to switch to a new smartphone.
Phone Transfer understands this and provides a way to back up your music files and other content. Setting up the backup is extremely straightforward. You click Back Up Your Phone on the main interface > connect your phone to computer > select music > press Start Copy. Whenever you want your music back, you can use the Restore from Backups feature of this program on main interface to achieve it.
Huawei: P10/ plus, Mate 10/Pro, P9, nova 2, nova Plus, Mate 8, P9 lite, etc.
iPad: iPad (1st gen), iPad 2, iPad (3rd gen), iPad (4th gen), iPad Air, iPad Air 2, iPad (2017), iPad Mini (1st gen), iPad Mini 2, iPad Mini 3, iPad Mini 4, iPad Pro (1st gen), iPad Pro (2nd gen), etc.
How to Copy Your Songs from an Old iPhone to an New iPhone
The Easy Method to Move Your Text Messages from LG to HTC Phone
How to Transfer Contacts from an Old Android Phone to a New Android Phone