How to Copy Music from iPad to ZTE Android Phone Quickly
Music constitutes part of our daily life. People do the bulk of their listening on various devices, like iOS devices Android, MP3 players, car, compute or home theater system. It is quite common to move the music files between different devices if you switch from one handset to another. Read this guide quickly and learn a fast way to transfer a large volume of songs from iPad to ZTE in a direct manner.
There is no doubt that Android has been widely used on many kinds of smartphones that even the some iOS iPad users change into using Android handset. As smartphones are smaller than tablets, some music lovers may be willing to use the portable smartphone, carrying it anywhere and enjoying their favorite songs freely. So, some of them consider switching songs between iPad and Android phone like ZTE, but they may face it as a rather hard thing.
When talking about moving songs from Android to iPhone, it's easy for anyone to import music from your ZTE Android phone to computer, then re-transfer those music files to an iPad or iPhone using iTunes. Unfortunately, this way is not available in the opposite direction—music transition from iPhone/ iPad to ZTE or any other Android device. Apple doesn't allow you to transfer your music from iPad back to your PC to be able to copy onto your ZTE phone.
Thankfully, you can easily get your music files off iPad onto ZTE Android smartphone with a 3rd-party piece of software called Phone Transfer, which works as a bridge to migrate all your data you want such as contacts, calendar, photos, videos, call logs, music, etc smoothly from one device to another, regardless of the operating system they are running, Android or iOS. You can download the tool from the link given below and have a try.
The following part is to guide you move iPad music to a ZTE phone in just a few steps. You can also use it to make the same journey in the opposite direction—ZTE music to iPad.
Step 1: Launch the Phone Transfer
After installation, run the Phone Transfer on your computer and you will see the main interface, as screenshot given below.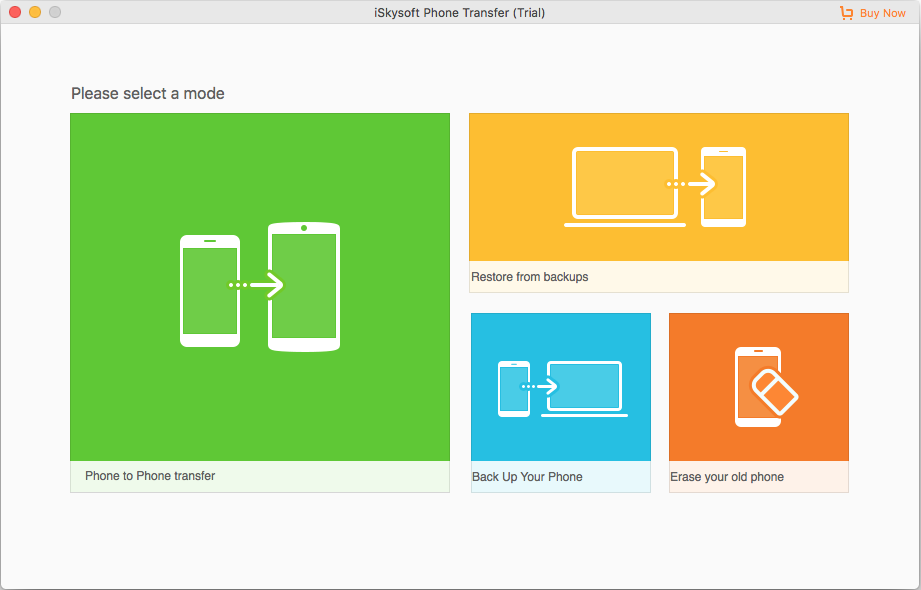 Click the green Phone to Phone Transfer option to continue.
Next, plug your two iPad (Air, Pro, Mini) and ZTE smartphone (AXON 7, ZMAX Pro, Citrine LTE, Grand X3, etc.) into the computer via USB cables. You will be required to activate USB debugging mode on your ZTE phone and tap Trust on your iPad home screen.
Don't Miss: How to Transfer iPad Music back to a Blank iTunes Library
Step 2: Select Music option from scanned results
Once the two devices are connected, the program will begin scanning the data inside the source iPad automatically and display the content available for transferred as a list on the middle pane of the screen, such as contacts, calendar, call logs, music, videos, photos, text messages, etc.
On here, you make sure that iPad is on the left side as source device and ZTE Android phone on the right side as target device. You may hit the Flip button to change the position of two devices.
If you only move tracks to ZTE phone from your iPad (and vice versa), you need to remove the other marks next to file names except music's.

Apps is not supported to be transferred from iOS to Android. And if you have useless data inside your target device and want to empty it, you may press the button "Clear data before copy" under the icon of the target device.
Step 3: Start transferring task
In this final step, you just click the green Start Copy button beneath the content list to begin copying all your tunes from iPad to ZTE smartphone.  The process time it will take to achieve music migrating task depends on how many tracks on your source iPad as well as your computer hardware. You just check the progress bar presented on the interface.
When it gets done transferring, you're ready to enjoy songs on your ZTE handset at ease.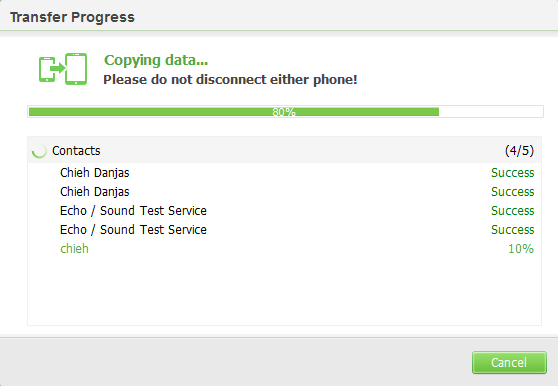 Conclusion
Phone Transfer, with its multiple features incorporated into one program, helps you move your important data between devices without anything left behind. Sometimes you may need to transfer the songs downloaded from your device (iOS or Android) to the computer or vice versa. iTransfer allows you to preview and selectively choose any songs you like to be transferred between handsets and computer. This way, it is easier to share music among your friends.
How Do You Sync Music from Your Mac to an iPad without Using iTunes
How to Copy Songs from One Android Phone to Another
The Complete Way to Transfer Contacts from Android to iPhone
ZTE: Axon 7, Axon 7 mini, Blade V8 Pro, ZMAX Pro, ZMAX 2.
iPad: iPad 1, iPad 2, iPad 3, iPad 4, iPad Mini 1, iPad Mini 2, iPad Mini 3, iPad Mini 4, iPad Air, iPad Air 2, iPad Air 3, iPad Pro 1, iPad Pro 2, etc.