The Easiest Way to Move Songs from iPhone to LG Phone
Hello, I had over 500 songs on my old iPhone 6 Plus 64GB and I just recently got a new LG Stylo 2. I was wondering if I could get all of my tracks off my old iPhone and move them to my new LG phone? How do I do this?
When you feel stale for your old phone and want to switch to a new phone, the first hurdle to cross is to decide which mobile devices to purchase (iPhone or Android?) and what features should be on top of your list in terms of price, look, screen size and overall performance. Some may prefer iPhone for its simplicity and high quality while others may be in favor of Android because of the greater choices it offers in brands, models and features. Then the second hurdle to cross in any move to a new smartphone to is how can you transfer songs from one device to another without anything left behind?
It's a good question, as you don't want to start collecting and organizing music from scratch when you buy a new device, say LG smartphone—it can be a big work and time-consuming. You just want to copy the entire existing music library from your old iPhone to your new LG phone.
Ideally, if you're sharing music between iPhone, iPad, iPod or even Macs within the Apple ecosystem, you won't have to worry about it, as you can get native support via iCloud, AirDrop, iTunes and other Apple services. And file sharing between Android devices are also very handy. But when it comes to music sharing from iOS to Android, iPhone songs to LG for example, things can get tricky.
So, what options do you have? Thankfully, there is a great selection of applications out there available to handle this. In this guide, we'll help you pack for the trip and show you a great tool to help the music transfer from iPhone to LG or LG music to iPhone go smoothly.
Music Migration Software
The tool we use most often for migrating songs between LG and iPhone is Phone Transfer for Windows. As the name implies, it's designed primarily to transfer files including contacts, music, videos, photos, messages, calendar, call logs across various phones running on Android (2.1 or above) and iOS (5.0 or later). One additional benefit that you gain from this tool is that it gives ability to gets your files including music from your phone back to your computer in a snap, as well as restore from iTunes, iCloud, OneDrive backup to put on your devices.
The software is available for Mac. too. You can refer to its Phone Transfer for Mac version to move music from LG to iPhone or iPhone to LG in Mac machine.
The following guide gives you a simple walkthrough of how to transfer songs from iPhone to LG phone with Phone Transfer. It applies to the reverse journey as well.
Step 1
Open up the Phone Transfer application. In its main interface there will appears 4 options. Here you're going to click on "Phone to Phone Transfer".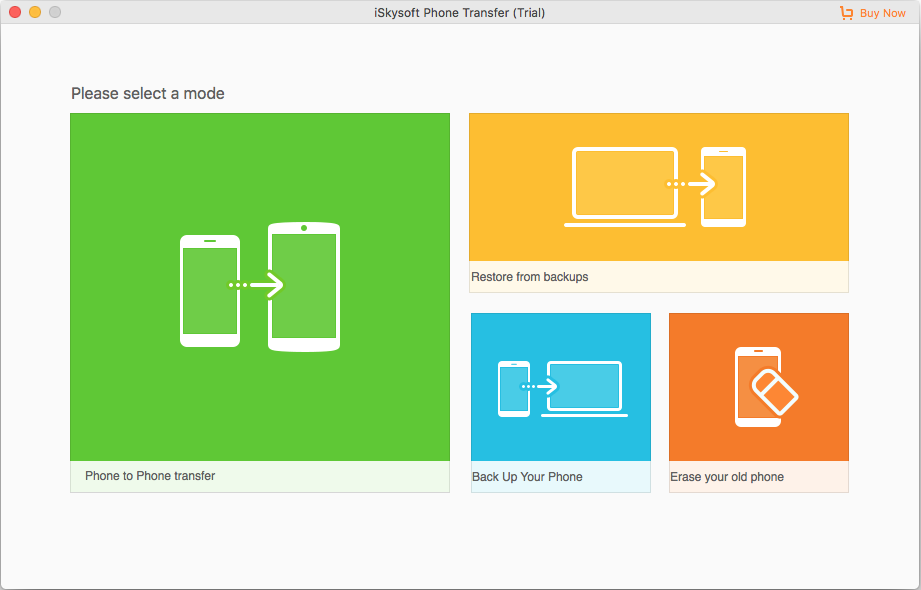 On the next screen, it will prompt you to connect your both LG device and iPhone.
Simply plug your sending iPhone into the computer, it should now be displayed on the left side as "Source", and then connect your receiving LG phone into the machine as the "Destination" on the right side of the screen. You can click on the Flip button to exchange their position.
Note: you will have to enable USB debugging mode on your LG phone to have access to the system. Easy with just a few taps. You can follow this article: how to enable USB debugging mode on Android.
Step 2
Wait for the Phone Transfer software to detect your source iPhone and scan media library which contains your music and other files on the device.
Once the scan finishes, the software will display all of contents on the center box of the screen. You'll see how many of contacts, text messages, tracks, photos, videos on your iPhone.
Step 3
Tick the check box beside Music and other files you want to move, then press the green "Start Copy" button. All of songs from your iPhone will now begin transferring over to your new LG phone.
Depending on the total tunes are being transferred, the entire migration process could take anywhere from a couple of minutes to hours, especially if you have a huge number of songs on the old iPhone, 1000+ songs, for example.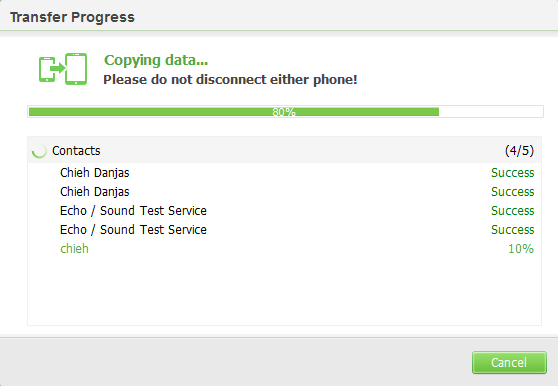 That's it! You have now successfully transferred your music to your LG phone. Enjoy your soundtrack on your new handset, and keep finding great music.
iTransfer - Add, Export, Edit, Delete, Organize Media Library on Device
If you're looking for having more control over the music before transferring between LG handset and iPhone, you have another alternative—iTransfer software.
As one of the most popular and well-known replacements for iTunes, it helps users to share your videos, music, photos, contacts and other files amongst Android devices, iPhone, iPad, iPod, and Mac/PC computer, and manage your files into an organized library that's easy to search and sort things out.
As for music, you can choose to select all music files, playlists or individual tracks to export, or import from your computer. You can create new playlists, and delete duplicate songs, fix ID3 tags, and more.
In addition, iTransfer features a toolbox that's a one-stop shop for rebuilding your iTunes library, one-click to transfer iTunes media to devices, backing up device, restoring device, creating GIFs from images and videos, and fixing your iOS or rooting the Android.
Don't Miss: How to Copy Music and Playlist from iPhone Back to iTunes Library
Conclusion
Phone Transfer is one of the best data transferring programs that gives you varying levels of selectivity to allow you to decide what kind of data you want to move. On the other hand, iTransfer lets you make a deeper transfer by selecting what items you want. If you are seeking an easy and direct way to transfer songs from iTunes to Android, then iTransfer is your best choice.
LG modes: LG V30, LG V20, LG G5, LG Stylo™ 2 Plus, LG K7™, etc.
iPhone: iPhone X, iPhone 8/ Plus (64G, 256G), iPhone 7/Plus (2G, 64G, 128GB), iPhone SE, iPhone 6s/Plus, iPhone 6/Plus, iPhone 5s, iPone 5C, iPhone 5, iPhone 4s.
How to Transfer ZTE Content (music, videos, photos, contacts) to an iPhone
How to Transfer Music from Android Smartphone to iPhone 8 Plus