How to Transfer Text Messages from iPhone to Samsung Note 8
Samsung continues to woo smartphone users from iPhone. For those who just ditch their iPhone and picked up a new Samsung Galaxy Note 8, this post may be helpful when you want to move a bunch of text messages from iPhone to Samsung Note 8.
The newly-released Samsung Note 8 has been put under the spotlight for its ease and simplicity. In addition to the support of wireless charging, biometric authentication (Iris scan, fingerprint scan, face recognition) and Bixby, many new features have been added. For example, the S Pen offers you new ways to express yourself by creating your own GIFs and hand-drawn emojis. The dual camera with optical image stabilization allows you to take crisp and clear photos even in a poorly-lit environment.
When replacing iPhone with Android phone, it is not just a change of ecosystem, but also a change of features. With the new Samsung Note 8 being rolled out, perhaps you can't wait to replace your iPhone with the new Samsung Note 8 to try its new features. Before you set up the new device, you may be figuring out some ways to take all the SMS in your iPhone with you. Actually, transferring messages from iPhone to Galaxy Note 8 doesn't have to be a hassle as you think.
Phone Transfer introduced here provides a seamless and smooth data transfer between iOS and Android. It can get the text messages from iPhone all the way through to Samsung Note 8 along with other files like contacts, call history, calendar, photos, videos and songs. Besides, there are options for backup and restoration. After you import the SMS messages into Samsung Note 8 from iPhone, it is wise to make a backup of your phone data in the computer regularly in case of lost accidently.
The steps involved as follows are relatively straightforward and easy to handle. Please download and install this program on your computer and try how to quickly migrate all your iPhone text messages to the new Samsung Note 8 phone.
Step 1: Connect your devices to the computer
Open up the program on the computer and select "Phone to Phone Transfer" option on the left side.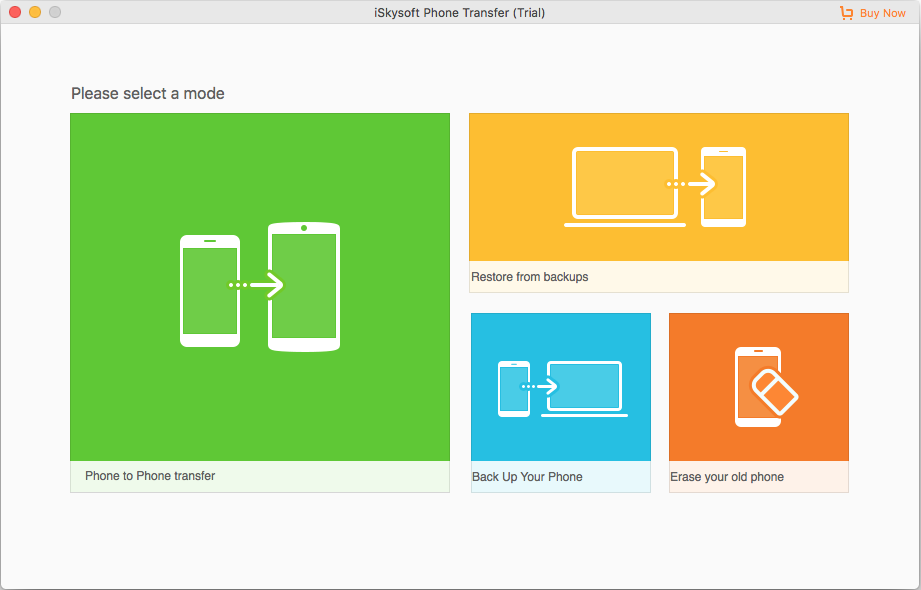 Next, hook up your iPhone with the computer. Do the same thing with your Samsung Galaxy Note 8. Meanwhile, enable USB debugging mode on Samsung Note 8 to access the memory. On iPhone, simply tap trust on the home screen to continue.
Step 2: Scan the iPhone and mark Text Messages on the checkbox
After both handsets get connected, they will appear on the both sides in screen. There is Flip button on top center. You can click it to swap their position so as to copy SMS from iPhone to Galaxy Note 8.
On the pane are listed various data types along with the number of items for each data type. In this regard, mark Text messages on the checkbox. The same can be done with other file types like Contacts, Call logs, Photos, Music, etc.
Tip: If for some reason you lost some important messages on your iPhone, you still have a chance to get them back. Please check out article on how to recover messages from iPhone with iOS Data Recovery application from Fonelab.
Step 3: Start moving SMS to Samsung Note 8 from iPhone
Click on the button green Start Copy button to begin transferring messages and other data files you selected to Samsung Galaxy Note 8. The whole process should be finished quickly.
Please make sure both gadgets are connected throughout the entire process. Otherwise, the process will stop and you are forced to start from scratch.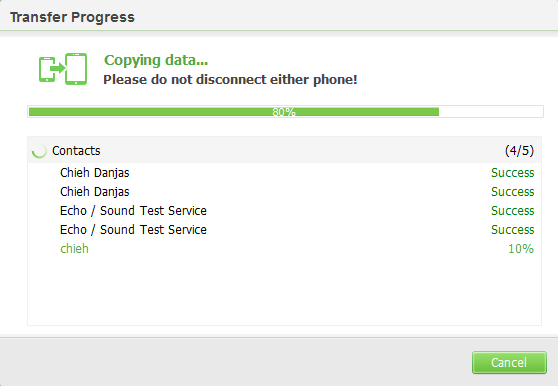 The Bottom Line
No matter how large your database, it should not prevent you from acquiring your desired Samsung Note 8. Phone Transfer is able to help you cope with this and migrate files (SMS, contacts, call logs, photos, music) from iPhone to Samsung Note 8 or other Android phones.