How to Move Music from iPad to Sony Smartphone
Music is the greatest creation of human beings. Nowadays, people use earphone or headphone for listening to music wherever they go at any time. With the rapidly growing devices appearing on the market every year and more and more choice for your preferred genre of music that you can get from the internet, it gives you unlimited access to your music library.
Nowadays, smartphones have become the most portable electronic entertainment as they are small enough to be carried everywhere. For music lovers, the invention and the upgrades of smartphones is great and even exciting that they can put their mobile phone in their pocket with ease and listen to their favorite music everywhere with headphones.
When you have an iPad and Sony Xperia smartphone, for convenience, you may want to get the songs and playlists from iPad to the Sony phone. You may think that iTunes is a good solution. However, iTunes can only transfer songs between iOS devices but not Android. In that case, it may take you a lot of time and effort to get the songs transferred to Sony phone from iPad and vice versa, especially when you have thousands of tracks to be transferred.
Hence, it is time to be wise for you to give up the inconvenient methods to achieve music transfer from iPad to Sony Xperia and vice versa. Today, we'll use an application called Phone Transfer, a quite neat tool that enables you to move almost all kinds of data from iOS to Android and Android to iOS. Besides, you can transfer other things between different sorts of devices with a few mouse clicks in a very short time, like contacts, calendar, text messages, photos, videos, etc.
In addition, you can back up data from your phone to computer and get the retrieved files back to your handset later. When you give away your old device, you can erase the data permanently without any leakage (Mac version only).
Let's see how Phone Transfer works in detail. You can click the above links to download the right version for your computer and follow the tutorial below to transfer all your songs from iPad over to your Sony Xperia Android device. You can also use it to move music from Sony Xperia to iPad.
Step 1: Launch Phone Transfer and connect both devices to computer
After installing the program, double click the icon to run it and you will be presented the main interface with four options: Phone to Phone Transfer, Back Up Your Phone, Restore From Backups, Erase Your Old Phone.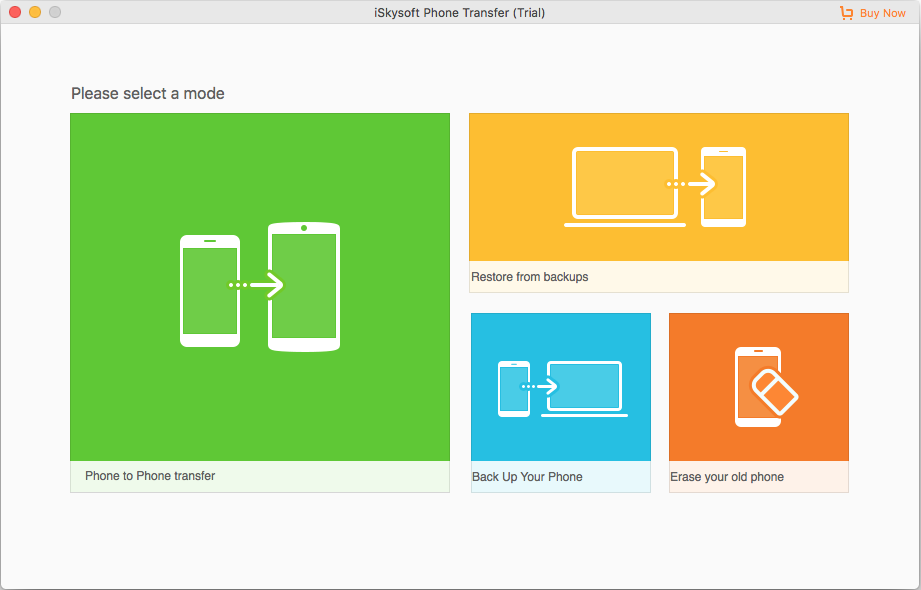 For the purpose of migrating track from an iPad to a Sony phone, you ought to click Phone to Phone Transfer to enter the next screen.
Then, you are supposed to connect your iPad and Sony smartphone to computer via USB cables. And you should tap Trust when a message like "whether trust this computer" popping up to your iPad and enable USB debugging mode on you Sony mobile phone.
Once you have connected both the devices, the program will detect your iPad and Sony phone in a quick way and show them respectively as a device image in the two sides of the interface. You may click Flip button to exchange the position of the two devices.
Step 2: Select "Music" from the data list
The program should begin scanning the source iPad efficiently and then display the transferrable files on the middle pane of the window, such as Contacts, Text messages, Calendar, Music, Photos, Videos.
If you want to migrate tunes merely to your Sony smartphone from iPad, you ought to press the other boxes before file names and remove their marks except Music option.
Note: Before the next step, you may also tick the box next to "Clear data before copy" to clear stuff on your target device to get more storage for the files from source device.
Step 3: Start transferring songs from iPad to Sony phone
In this final step, you just click Start Copy option on the bottom center of the interface to commence the transfer process. BTW, you can click "Cancel" button in the new-opened window at any time to stop the music transfer.
After a while, all you iPad music files will be copied to your Sony Xperia smartphone. Now your songs will now be accessible through the Music app in your Xperia device.
If you want to convert a song or a movie file that's stored on computer to be playable on your smartphone, you may refer to a video converter to handle the conversion tasks.
Enjoy!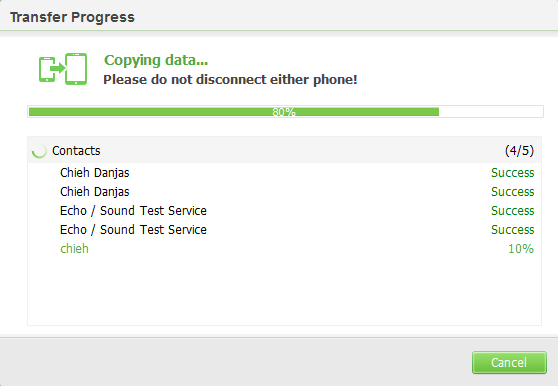 Something Useful: Most of us store our music collection in two places: our computer and our devices (iPhone, iPad, iPod or Android), so we frequently move music and other media files in between. To make the transfer of songs between your computer and iPad more convenient, it is recommended to use an popular iTunes Alternative—iTransfer, a tool that lets you preview the songs from and to your device and transfer what you need.
How to Move Your Tracks from iPhone to ZTE Android Phone
How to Transfer Messages from OnePlus to iPhone
How to Transfer All Your Messages from Old Huawei Phone to New iPhone
Sony Models: Xperia™ XZ1, Xperia™ XZ1 Compact, Xperia™ XZ Premium, Xperia™ XA1 Plus, Xperia® XA1, Xperia® XA1 Ultra, etc.
iPad: iPad 1, iPad 2, iPad 3, iPad 4, iPad Air, iPad Air 2, iPad Air 3, iPad Mini 1, iPad Mini 2, iPad Mini 3, iPad Mini 4, iPad Pro 1, iPad Pro 2, etc.